RC makes some changes...
On the heels of yet another Royal drubbing at the hands of the ridiculously hot Athletics,
RC
is pleased to announce a couple changes that will enhance the quality of our site. First, as you may have noticed, the viewing area of the site is now significantly wider than before. This was a change we had planned for a while, but for various reasons (not the least of which was a fear that we'd screw up the site template), we held off on the shift.
The biggest upshot of the wider screen is that we will now be able to publish images that are over 50 percent larger than the 400 pixel photos we've been using. Of course, as we're sure you noticed,
RC's
official camera really wasn't capable of handling photos any bigger than that. We've been using a cheap 4.0 megapixel camera, so most of our photos taken from any distance are quite blurry, such as yesterday's photos of
Byron Gettis
and
Kory Casto
. However, that too is about to change.
Today,
RC
purchased this beast: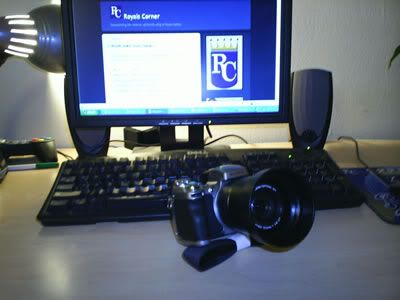 RC's new tool, resting on RC's official Publishing Corner, in front of RC's official computer.
This is an exciting day for not only
RC
, but also for all of you. The new camera will allow us to zoom in on the game action with incredible clarity. And perhaps the coolest thing about the camera is that it has a rapid-photo feature that will allow us to get even better photos of swings and pitching motions. What used to take us 10 swings to accomplish can now be done in one, with increased clarity to boot.
OK, enough about the camera. You'll see its effect soon enough, as
RC
will be in Kansas City this weekend for the 20th anniversary of the 1985 Championship team.
While we're talking about the site, however, RC is also pleased to announce that early this weekend, visitor number 10,000 logged on to Royals Corner. In fact, number 10,000 logged in precisely on our two-month anniversary. RC has enjoyed bringing you the scoop on the Royals for the last two months, and we pledge to continue doing so for the next two and beyond. Thanks to all our loyal readers, and even to those of you who aren't very loyal.
There wasn't a whole lot of interesting action in the minors tonight. Luis Cota had a rough start, getting lit up for 8 ER in 6.1 IP in Burlington's loss. He was cruising along until the fifth inning, but then successive innings of allowing two, two, and three runs did him in.

Gary Perez got a day off in Burlington's game, but in Idaho Falls, shortstop Chris McConnell had another fine game. McConnell collected four hits in six at bats, and in doing so raised his batting average to .356.





Chris McConnell



Justin Huber had a decent night, going 2-for-5 and raising his batting average above .200. It doesn't appear that Matt Stairs is going anywhere for the rest of the season, so it doesn't seem likely that Huber will be in KC before September. Hopefully he'll get hot and carry some momentum into his call-up, and then into the Arizona Fall League during the offseason.

Also in Omaha's game, Matt Diaz continued his torrid pace, going 3-for-5 with yet another homer, while raising his batting average to .414. Diaz is an interesting player to watch, and only further evidence of why Terrence Long really shouldn't be on the KC roster any longer. It would make all the sense in the world to give Diaz a shot to show he belongs in KC before this offseason, so the Royals will know exactly what they have. Hopefully RC's Official Hero is listening.