Royals make some changes...
Frustrated by the mounting losses,
Allard Baird
on Friday and Saturday made a series of roster moves:
| IN: | OUT: |
| --- | --- |
| Mike Wood | Kyle Snyder (to AAA) |
| Denny Hocking | Ruben Gotay (to AA) |
| Jonah Bayliss | Leo Nunez (to AA) |
| Paul Phillips | Alberto Castillo (released) |
First, we'd like to say that
RC
applauds each of these moves. Wood for Snyder is a no-brainer, as is Bayliss for Nunez. Both moves should easily be upgrades. The two most controversial roster moves are the promotions of both Hocking and Phillips.
Not long ago,
RC
argued for exactly what the Royals had previously decided upon -- having Gotay and Murphy platoon in a pseudo-competition for the 2B job in 2006. Of course, we never really expected an actual competition, even when the Royals announced that a competition was exactly what they had in mind.
We assumed it would be the same type of "competition" the Royals held in Spring Training between
Ken Harvey
and
Calvin Pickering
, even though we already thought the Royals were going to bring Pick north instead of Harvey. We figured then that the Royals already knew Pickering was a more productive player than Harvey, but announced the competition just to placate Harvey's fans in KC. Likewise, after watching both Gotay and Murphy in successive seasons at Wilmington, we knew that Murphy was the superior player, and we figured that if it was so easy for us to figure out, the Royals surely must also know it to be true.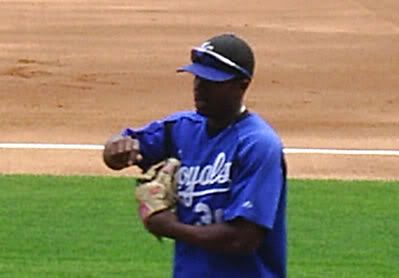 Ruben Gotay: Not as good as Murphy
Well, they do know, and today's demotion of Gotay proves it. If it had been an actual competition, Murphy certainly wouldn't have won it after starting out 7-for-37 (.189). The fact is that Murphy is far better defensively (although we have no idea why he keeps making errors), and he's better offensively, in terms of both power and plate discipline.
The reason we were happy to see both Gotay and Murphy on the roster at the time of Murphy's promotion was that we figured Murphy would inheret
Tony Graffanino's
at bats. In other words, we expected to see him start at 2B vs. lefties, but we also expected him to get some other occasional starts at 3B and SS. That didn't happen, but that's fine with us as long as the Royals view Murphy as their second baseman of the future.
So why did the Royals call it a competition when Murphy was promoted back in July? We're not sure, but we have a theory: the Royals are simply terrible with public relations. Just horrid. It's not a big deal, because it has no practical effect on the game, but frankly, it probably wouldn't hurt if the Royals just stopped talking to the media altogether, or at least about roster decisions. When asked tonight about the sudden reversal regarding the "competition," manager
Buddy Bell
simply said "That was probably not the greatest approach on my part."
Well, duh. If Murphy is only going to play second base, it doesn't make any sense to have both him and Gotay on the Major League roster. And therefore, it's a good move to send Gotay away to get regular playing time in the minors. We don't expect Gotay to ever be a quality starter in the big leagues, but it makes sense to have him get as much playing time as possible in the minors just to see if he improves.
As for Hocking, his promotion is completely insignificant. He'll be the second utility player off the bench, behind
Joe McEwing
, so he'll be lucky to play once a week. Contrary to what's being said on the radio and the Internet, his promotion does NOT signal anything about a reversal of the Royals youth movement. Rather, it enhances it, as the Royals will now roll with Teahen at third and Murphy at second at least five out of every six games.
Now, as for Castillo's release, it was inevitable, and it signals to us that Baird is thinking precisely as we are. Back in June,
RC
posted what we thought was a best-guess estimate of what the Royals will look like next year. We argued then that:
"[We'd] like to see the Royals fill their backup catcher and utility infield spots with players from their minor league system...There's really no reason to keep a veteran like Castillo around when a younger, cheaper, better option is available within the system."
At the time, we argued that
Matt Tupman
would be a good option for backup catcher in 2006. That may still happen, but it can't hurt to give Phillips a shot first, and we're happy to see the Royals trying to figure it out now, rather than next spring. Yes, it sucks for Castillo, who has done everything the Royals asked of him, but the Royals have to look ahead. We hope that Castillo can catch on somewhere else, but this is a good move.
We were also pleased to learn that Billy Butler was finally promoted to Wichita. We listened to about half of the Wranglers' game tonight, and Butler hit a screamer off the third basmen's glove in his first at bat for his first AA hit. On the night, he went 1-for-4 with two strikouts in Wichita's 5-4 squeaker over the Tulsa Drillers.

On a side note, this was the first Wichita broadcast we ever listened to, and we must say that Wichita's play-by-play man cannot hold a candle to High Desert's. That's a shame, but we'll manage.
There's really little reason to even listen to High Desert games any more, because most of the top prospects who started the year there have now moved on to bigger and better things. However, three interesting players still remain -- Kila Kaaihue, Chris Lubanski, and Chris Demaria.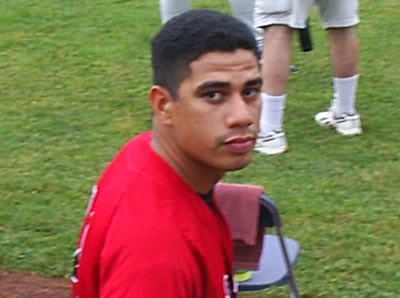 Kila Kaaihue: Lonely in High Desert



Frankly, with the recent minor league reshuffling, we were expecting Kaaihue to get a promotion to Wichita by now. His power numbers aren't very impressive for the California League (14 HR, .485 SLG), but his on-base numbers deserve some serious attention. Kila is currently second in the league in both walks (75) and on-base percentage (.435). In fact, his OBP is even higher than Butler's, which is very surprising. It will be interesting to watch Kaaihue as his career progresses, because the 21-year-old shows some signs of becoming a very good ballplayer.
Some more good news from the minors: J.P. Howell made another nice start for the Omaha Royals tonight. Howell picked up the victory with a line of 5.2 IP, 6 H, 1 R, 3 BB, and 4 K. After a tough first start following his demotion, Howell has done a nice job showing that his close proximity to Chris George has not yet caused any of George's influence to rub off on him. That's good, because we were a little concerned. Hopefully Howell can finish the year off well in Omaha and vie for a spot in KC's rotation next season.
Finally, we are aware of the Royals' last two games vs. the A's. We'd just prefer not to talk about Jeremy Affeldt's meltdown on Friday, or the 16-1 drubbing KC took tonight. They're really not all that significant, and perhaps it's good that RC is insulated by over a thousand miles from the pissing and moaning in KC. It puts us in a position to remind everyone that every team loses 16-1 occasionally, and we urge Royals fans to keep in mind that neither of the pitchers against whom the majority of the damage was done tonight (Jose Lima and Jimmy Gobble) will be on the Royals' roster on October 3.
We haven't yet had a chance to watch this weekend's games, because we've been checking out prospects at a couple minor league games. Here's a few photos, in case you're interested. The first is a photo of Nationals prospect Kory Casto.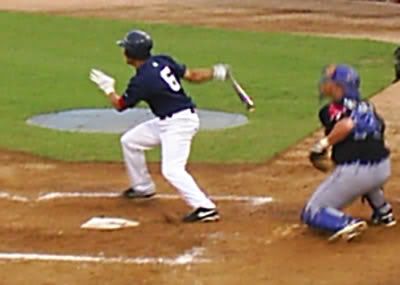 Casto strokes an RBI triple on August 5, 2005



Casto is a third baseman who we'd really like to have. He's currently blocked in the Nationals' system by 2005 first rounder Ryan Zimmerman, although if he continues hitting like this (.305/.398/.547/20 HR -- very impressive for the Carolina League), the Nats won't have any trouble finding him a place in the outfield.

At tonight's game, we were particularly interested in checking out the potential Tiger SS of the future, Tony Giarratano. Coming into the season, Giarratano was ranked by Baseball America as the Tigers' sixth-best prospect, on the heels of a fine season in A-ball last year. This year, he's been a disappointment, hitting only .263/.332/.378 while playing his home games in a hitter's park.





Giarratano signs for a fan before a game on August 6, 2005



The 22-year-old SS is built very similar to Mendy Lopez, and in the game tonight, he looked just like him. Giarratano made a horrible error that led to two Baysox runs, and he looked pretty bad at the plate.

Finally, RC saw an old friend tonight, although we did a double-take when we saw both him and his position for the evening.



An old friend, a bit fatter than we remember...

You could be forgiven if you didn't realize that the player in the photo above is none other than Byron Gettis, the 2003 Royals Minor League Player of the Year. It seems as though Gettis has added about 40 lbs. of fat since his KC days. But if that wasn't funny enough, the SeaWolves (Editor's note: What the hell is a SeaWolf?) had Gettis starting in center field tonight! RC is convinced that we've never seen a fatter center fielder in our life, but the joke was on us...Gettis made an amazing diving catch on a soft liner in the seventh inning. The earth literally shook...