That's why they play the games...
Coming into this game,
RC
wasn't optimistic. Whenever you see a pitching matchup of
Jose Lima
vs.
Mark Buehrle
, it doesn't look good. We even called tonight's game a mismatch in yesterday's post.
Well, we got that last part right. It was a mismatch, but who could have known it would be Lima doing the dealin' instead of Buehrle? Who'd have imagined the Royals would be the team playing solid defense, while the White Sox -- they of the 65-33 record -- looked like a team sponsored by Chico's Bail Bonds. Who'd have imagined the Royals would hang seven earned runs on Buehrle?
(Editor's sidenote: Why AREN'T the Chisox sponsored by a bail bondsman? Seems to us they'd probably do some great business together, a perfect marriage of sorts.)
Lima was genuinely good tonight, just like he was the last time he pitched, and the time before that...In fact, over his last five starts (31.2 innings), Lima's ERA is 3.41. He's only walked seven batters in that stretch, while striking out 15 and averaging slightly over six innings per start. This was Lima's final appearance before the July 31 trading deadline, so it may have been his last in a KC uniform. Of course, we expect that Lima would have no trouble clearing waivers, so the actual deadline to deal him is still over a month away. It will be interesting to see what happens, but we wouldn't be at all surprised if Baird is able to trade Lima to a desperate team like the Nationals, and actually get something decent in return.
RC sort of went off last night on the fans who cheered about getting doughnuts, even though the Royals were losing the game. Well, for the second night in a row, we found ourselves irked by the behavior of our fans. In the Royals' six-run sixth inning, something truly remarkable happened: Angel Berroa was intentionally walked with first base open and nobody out. And what did the crowd do? They booed! They freaking booed! RC was doing cartwheels around RC Headquarters, and a large contingent of Royals fans was actually booing! No joke.

Folks, when an opposing team wants to intentionally walk your shortstop with nobody out in a one-run game, and that shortstop is carrying an on-base percentage of .301, you don't boo. You laugh hysterically. You can even point at the opposing manager while you're doing it. But never, under any circumstance, voice displeasure over such a gift. We know it's standard practice to boo when a hometown player is intentionally passed, but Jesus, we're talking about Angel Berroa here!

Anyway, when Mark Teahen stopped laughing, picked himself off the ground and composed himself long enough to step into the box, he hit a 27-hop screamer down the first base line that the White Sox played into a four-run double. Another gift, but this time the crowd didn't boo. That effectively ended the game, as the bullpen took over and shut the Sox down.

The Royals' record against the Sox this season now stands at 1-10, and they'll go for the series win tomorrow with Royals ace Runelvys Hernandez on the mound. It's a lousy day game, so RC will have to record it, but we'll try to watch it in the evening and post our thoughts.
The Mariners today signed Jeff Clement, the third overall pick in the 2005 draft, to a signing bonus that is reportedly just shy of $3.5 million. The speculation all along has been that Alex Gordon's agents were waiting until Clement signed before beginning serious negotiations with the Royals.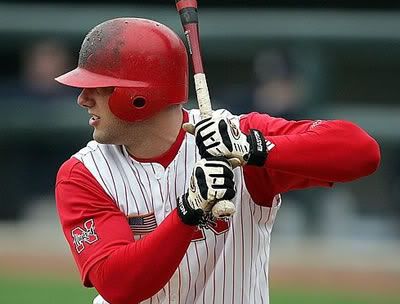 Now that the parameters have been set, RC wouldn't be surprised if Gordon is signed quickly. The main stumbling point is most likely to be whether or not Gordon will receive a Major League contract, but we're not worried. The Royals will not let him get away.
Tonight's minor league report carries some good news and some bad news. J.P. Howell was rocked tonight in his first start for the Omaha Royals since his demotion. Howell lasted only 4.0 innings, surrendering 9 H and 6 ER, and raising his Omaha ERA to 8.68. We haven't heard any reports on his performance other than what we saw in the box score, but this is pretty discouraging.

But to end tonight's post on a positive, we're happy to announce that after his 2-for-28 slump, Billy Butler is back! In tonight's 15-3 win over Visalia, Butler exploded by going 4-for-5 with his 23rd HR and 3 RBIs, hiking his batting average back up to .339. Maybe all he needed to get back on track was yesterday's off-day.