The grades are in...
Today
RC
has decided to cast judgement upon the Kansas City Royals. Since midseason report cards are not exactly an original idea,
RC
has decided to take a unique angle by grading every single player on the 40-man roster. Today, we'll start with the pitchers, and tomorrow, we'll finish up with the position players.
RC
grades on several criteria, but the most important is a player's performance relative to his preseason expectations. Therefore, some grades may seem a bit odd, but please bear with us -- everything will be explained. Without further delay, lets get to the grades:
Jeremy Affeldt (14 IP, 14 H, 7 BB, 12 K, 3.21 ERA)

Grade: C

Affeldt has had an interesting year. Quibbling over a few hundred thousand dollars, Affeldt took this year's salary negotiations to arbitration, despite having been injured for much of his first three years in the majors. Affeldt lost the case, having to "settle" for $950K, but the biggest damage was done to his reputation among KC fans.

Though Affeldt has pitched well when healthy this season, two stints on the DL have limited him to just 14 innings, and KC fans are tired of his steady stream of injuries -- not to mention his occasional whining about his new setup role. Affeldt is a leading candidate to be traded this month. Affeldt still has talent, however, and RC would hate to see him go without securing a solid prospect in return. We are particularly excited about his 3.38 G/F ratio, which is a massive shift (albeit in an extremely limited sample size) from his previous Major League track record.
Brian Anderson (6 starts, 6.75 ERA)

Grade: Incomplete

Tough break for BA, as it was officially announced yesterday that he has been shut down for the remainder of the season. Anderson is a great guy, and we truly hope he can revive his career next season somewhere.
Bryan Bass (AA - 100.0 IP, 111 H, 36 BB, 62 K, 5.67 ERA)

Grade: D-

Bass, who was actually ranked as the Royals 8th best prospect by Baseball America in 2004 after a good campaign for Wilmington in '03, is steadily pushing himself down the minor league depth chart. After a poor, injury-riddled season last year, Bass found himself at #19 on BA's list. There is no doubt that he's already removed himself entirely from next year's list on the basis of his poor performance this season.
Denny Bautista (7 starts, 5.80 ERA)

Grade: Incomplete

The injury bug hit us again. Bautista is clearly a very talented pitcher, but it appears as though he will be shut down for the remainder of the season because of shoulder pain. RC saw what Bautista is capable of in his first start of the season, in which he completely shut down the Angels. We hope that one day we'll be able to see him replicate that performance on a regular basis. But with the Royals' history of pitching injuries, only a fool would expect such a thing.
Jonah Bayliss (AA - 50.0 IP, 40 H, 22 BB, 53 K, 2.50 ERA, 7 sv)

Grade: B

In his first season as a reliever, Bayliss, 24, has had a really nice season, even earning a promotion to KC for a short stint in June. He could become a quality arm for the Royals out of the bullpen in the next year or two.
Ambiorix Burgos (24.1 IP, 25 H, 4 HR, 12 BB, 28 K, 4.44 ERA, 2 sv)

Grade: B

Burgos, who has been on the D.L. since June 19, has had a quality debut for the Royals. When he's on, Burgos just might be the most exciting pitcher to watch in the entire organization. He hasn't looked overwhelmed since joining KC, but he will have to work on his control before he becomes a reliable reliever. Nevertheless, his performance thus far has been better than we expected.
D.J. Carrasco (68.0 IP, 73 H, 3 HR, 23 BB, 28 K, 3.57 ERA)

Grade: A

Carrasco's grade is weighted because we weren't even sure D.J. was even still with the organization at the beginning of the year. But since converting to a starter, Carrasco has been the Royals' best starting pitcher. The million dollar question is, can Carrasco continue being a quality starting pitcher?

Many people are concerned about D.J.'s poor 3.71 K/9 ratio. It's nearly impossible to be a consistently good pitcher with such a putrid strikeout rate. However, RC has pointed out before that his K rate was likely a statistical outlier, as his career K/9 was over 9.0 in the minors, and over 6.0 in the majors prior to this season. Indeed, Carrasco has been slowly improving his K rate back to his average, striking out 5 per 9IP over his last four starts. Hopefully that improvement continues.

As for how he's managed to be so effective in spite of his poor strikeout rate, we think we've pinpointed three reasons, represented in the table below:


| Year | G/F ratio | BB/9 | HR/9 |
| --- | --- | --- | --- |
| 2003 | 1.64 | 4.48 | 0.90 |
| 2004 | 2.06 | 3.82 | 1.27 |
| 2005 | 2.17 | 3.04 | 0.40 |


Essentially, Carrasco has been getting it done by reducing his walks, inducing ground outs, and keeping the ball in the ballpark.
Jaime Cerda (19 IP, 21 H, 11 BB, 18 K, 3 HR, 6.63 ERA, .833 OPS against)

Grade: F

His line speaks for itself, but KC fans must remember not to mention Cerda's name without also mentioning that of Shawn Sedlacek. Cerda has been murder against lefties throughout his career, so hopefully he'll be able to get himself straightened out.
Nate Field (6.2 IP, 13 H, 5 BB, 4 K, 9.45 ERA)

Grade: F

RC has no comment.
Jimmy Gobble (10.0 IP, 11 H, 0 HR, 7 BB, 9 K, 8.10 K/9, 5.40 ERA)

Grade: B-

RC likes Gobble-the-reliever. His K rate has been very good, and he's held lefties to a .267/.267/.267 line. Gobble may have found his niche.
Zack Greinke (97.1 IP, 126 H, 11 HR, 26 BB, 58 K, 6.20 ERA)

Grade: D

Ignore Greinke's 1-11 record. According to Baseball Prospectus, Greinke's record should be more like 5-8, but he's been the second most unlucky pitcher in all of baseball, due mostly to poor run support. Of course, Greinke has still been pretty bad. He's looked better lately, and RC is hoping that Zack will turn things around in the second half. He certainly has the talent to do so. Perhaps nothing has been more depressing for Royals Nation this season than Greinke's struggles.
Runelvys Hernandez (109.1 IP, 111 H, 51 BB, 65 K, 1.48 WHIP, .266 BAA, 4.53 ERA)

Grade: B+

RC grades on a curve. Prior to the season, if you had told us Elvys would pitch over 100 innings of quality baseball by the midpoint of the season, we would have gladly taken it. Hernandez's peripherals are not too exciting, and the walk rate is somewhat troubling (although consistent with his career numbers), but he's been the only pitcher on the staff who has consistently given the Royals a chance to win. After his start on June 19, we noticed something that fascinated us. Check out this comparison:


| Year | IP | H | R | ER | BB | K | ERA |
| --- | --- | --- | --- | --- | --- | --- | --- |
| 2003 | 92.2 | 87 | 51 | 47 | 37 | 48 | 4.62 |
| 2005* | 91.2 | 90 | 49 | 47 | 42 | 55 | 4.62 |
*-through 6/19/05



Hernandez put up nearly identical stats through his first 15 starts in 2005 as he did in the 16 starts he made in 2003. Of course, the difference was that in 2003, he was getting worse, whereas in 2005, he was getting stronger. Looking at the whole of Hernandez's 2005 performance, RC is incredibly encouraged with what we've seen thus far. Elvys' workload so far doesn't concern us like it does some, because he has the type of body that can withstand a lot of innings, even on a surgically repaired elbow. We look forward to seeing what he'll do in the second half.
J.P. Howell (26 IP, 34 H, 17 BB, 16 K, 1.96 WHIP, 8.65 ERA, .330 BAA)

Grade: Incomplete

Howell gets an incomplete because RC feels it would be unfair to judge him at this point. J.P. did excellent in the minors this year, and he still likely has a bright future ahead. Allard Baird took a big risk in promoting him after just 16 professional starts, and thus far it appears that the risk has backfired. However, Howell has Major League stuff, and if he can find his control again, he could have a decent second half. It's far too early to give up on him.
Ryan Jensen (who cares)

Grade: C-

Every team has to have a marginal pitcher with stupid looking facial hair to eat some meaningless innings, and in that capacity, Jensen has been as bad as anyone else.
Jose Lima (93.1 IP, 121 H, 20 HR(!), 34 BB, 46 K)

Grade: F+

There are a million different ways to point out how big a failure Lima has been this season, but this post is long enough already. The '+' was awarded because we still sort of enjoy his antics on the mound. Entertainment has some value in our grading system, after all.
Devon Lowery (bad)

Grade: Incomplete

Lowery hasn't pitched enough this season to warrant comment.
Mike MacDougal (40.2 IP, 37 H, 19 BB, 43 K, 11-of-13 sv opps, .243 BAA, 3.76 ERA)

Grade: A-

Mac has been very good this season, but RC is still waiting for the other shoe to drop. Virtually left for dead at the beginning of the season, MacDougal has bounced back to reclaim his stranglehold on the club's closer role. In the process, he has enhanced his trade value to the point where we could reasonably expect Mac to fetch a quality prospect in a trade, and RC continues to hope that Baird jumps on any such opportunity. But in the meantime, we like watching his nasty stuff.
Leo Nunez (29.2 IP, 39 H, 5 HR, 9 BB, 17 K, 6.98 ERA, .320 BAA, .869 OPS against)

Grade: C

We briefly considered giving Marvin an incomplete, because he's pretty clearly over his head in the majors, but we think a 'C' is an appropriate grade, considering expectations. After all, Baird plucked him from the Pirates organization before the season in exchange for Benito Santiago, so the Royals are playing with the house's money here. Nunez has some serious stuff, and he has fallen victim to some pretty rotten luck. He could definitely use some more time in the minors, but in the meantime, we're still pretty pleased with this 21-year-old's potential.
Andy Sisco (43.0 IP, 33 H, 26 BB, 45 K, 9.42 K/9, .216 BAA, 1.37 WHIP, 2.72 ERA)

Grade: A

What a find! Sisco, despite some control problems, has been the best reliever out of the Royals' pen this season. Sisco has held lefties to a ridiculous .174/.278/.239/.517 line, and at 22-years-old, he's a player with seemingly unlimited potential. RC prays, however, that his dominating performance out of the pen this season hasn't convinced the Royals to settle on him being a career reliever. We feel Sisco could be a front-line starter someday, and we'd love for him to get a shot at such a role next spring. By the way, here's a cool photo of Sisco we snapped in Colorado.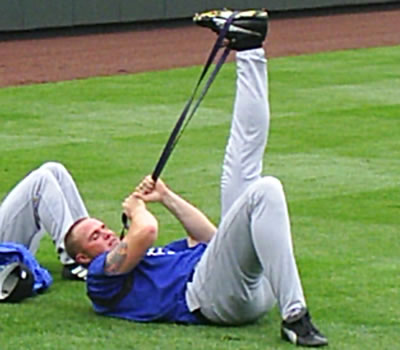 Kyle Snyder (13 IP)

Grade: Incomplete

Snyder has been injured for most of the season, but we expect him to claim a rotation spot within a couple weeks.
Steve Stemle (10.2 IP, 10 H, 4 BB, 9 K, .256 BAA, 5.06 ERA)

Grade: C

Stemle only gets a grade because we didn't even know who he was before he showed up to pitch in KC. He pitched in seven games, and all the damage he allowed happened in one game against the Rangers -- the other six games were fine. He's been on the DL since June with back spasms, but we suppose he could be back sometime this year in a mop-up role.
Scott Sullivan (has not pitched)

Grade: Incomplete

Sullivan won't pitch again this year.
Mike Wood (52.2 IP, 50 H, 25 BB, 33 K, .253 BAA, 1.42 WHIP, 3.59 ERA)

Grade: B

We really like Wood. Every team needs a pitcher who can enter the game in any situation and throw strikes. Though we're not convinced of Wood's reputation as a ground ball pitcher (1.70 G/F ratio this season), we feel comfortable whenever he enters a ballgame. Wood is the least heralded player of the Beltran trade, but we're sure Baird is just as happy with Wood as we are. He's a useful guy to have.