The Royals didn't lose tonight...
With the Royals mercifully off tonight, we decided to spend a little time looking at the progression of
Mark Teahen
. And after some detailed analysis, we've concluded that while Teahen hasn't improved as quickly as we might have hoped, there is no doubt that he is getting better. Here's a look at his monthly progression:
| Month | AB | XBH | BB | K | AVG | OBP | SLG | OPS |
| --- | --- | --- | --- | --- | --- | --- | --- | --- |
| April | 15 | 1 | 1 | 2 | .200 | .294 | .333 | .627 |
| May | 80 | 7 | 4 | 20 | .250 | .286 | .388 | .673 |
| June | 85 | 6 | 5 | 21 | .282 | .322 | .353 | .675 |
| July | 86 | 9 | 11 | 24 | .233 | .320 | .384 | .703 |
| August | 19 | 2 | 3 | 2 | .211 | .318 | .316 | .634 |
No, none of his months have been particularly good, and while it's too early to conclude anything about August, you can clearly see that Teahen has been steadily, albeit slowly, improving every month.
RC
noticed that for the last month or so, Teahen has appeared to be a much more patient hitter, working the counts much better while laying off more pitches out of the zone. Indeed, this observation was confirmed by Teahen's increase in walks in July. In fact, his 11 walks last month led the club, and while that probably says more about the lack of discipline throughout the roster, it's still significant. Even though he hasn't hit much so far this month, his plate discipline has continued to improve. If he can begin pulling the ball the way the Royals want him to, while continuing to improve his plate discipline, Teahen very well may become the type of hitter the Royals had in mind when they acquired him last year.
Teahen could still hit a wall in his development, but his progression in plate discipline, as well as his steady rise in OPS, gives us all we need to remain cautiously optimistic about his future.
RC is pleased to announce our latest poll. We want to know which Royal on the current roster you would most like to see removed in order to give a younger player more playing time. We suspect we know what the consensus will be on this one, but we want to hear it from you. So tell us, who should the Royals get rid of immediately?
Once again, there's good news to report from the minors. Omaha was the victor in a slugfest, despite Kyle Snyder's rough outing (4.2 IP, 5 H, 4 ER, 4 BB, 3 K, 1 HR). Matt Diaz went 1-for-5 but banged out his 11th homer of the season, and big Calvin Pickering hit homers number 16 and 17, including a two-run walkoff shot in the bottom of the tenth to secure the victory.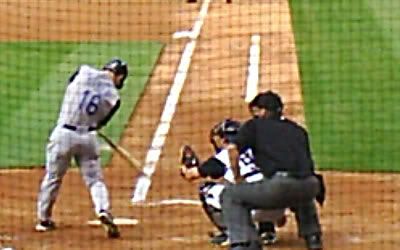 Justin Huber is starting to heat up in Omaha.



Most notable, however, was Justin Huber's second straight good night at the plate. Huber went 2-for-4 with a double and a triple, raising his batting average to .243. It looks like he may be adjusting to triple-A pitching after his slow start following his promotion.

In Wichita, Billy Butler pretended as though he was still facing California League pitching, going 3-for-4 with a double and 3 RBIs. Butler hit everything hard tonight. The only time he was retired was on a line drive that he hit off the pitcher's leg, which then bounced right to the first baseman, who stepped on the bag to retire him. His double came with the bases loaded, and had it not bounced over the fence, Butler would have had a three-run triple.

Ruben Gotay also had a nice night in his double-A debut, going 1-for-3 with a double and two walks. It will be interesting to see how his stats in Wichita compare with Donnie Murphy's.

High Desert won yet another slugfest tonight by a score of 14-7 over Island Empire, with Kila Kaaihue pacing the offense with a career night. Kaaihue went 4-for-5 with three doubles, a bases-loaded walk, and six RBIs. A streaky player by nature, Kila is heating up again, going 10-for-25 over his last six games.
Finally, we couldn't resist showing you the improved quality of RC's new official camera, which we had the opportunity to test for the first time tonight at the Carolina League game between the Potomac Nationals and the Frederick Keys. First, here's an example of what the rapid-fire feature will bring, a photo that we snapped on our first try:





We have 15 other frames on this one swing alone, but this was the coolest.



Beyond that, we also got an opportunity to see the difference in the zoom quality. Both pictures are of Nationals prospect Kory Casto, taken from the exact same spot in the stands. The first was taken with our old camera on Friday, and the second was taken tonight with our new beast. The difference is striking, and it should give you an excellent idea of what you can expect in the future.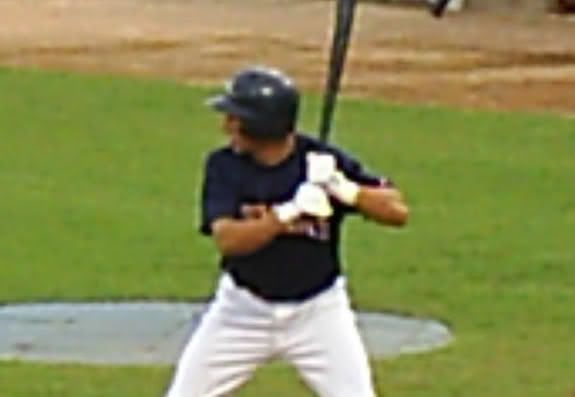 Yuck!!! This looks like what RC would see if he forgot to wear his contacts.

Wow!!!

OK, you're probably not terribly interested in hearing any more about RC's new official camera, so we promise not to spend any more time talking about it. It's just that we take great pride in the photos we present to you, and we are ecstatic that we'll now be able to offer professional-quality photos on our site on a regular basis. As we mentioned yesterday, it greatly improves the quality of our site, and that is, after all, our continuous pursuit.