RC returns with some optimism as Royals drop number 103...
Fresh off our journey to Yankees country, in which we saw what we assume was a sizeable chunk of
RC's
official inheritance spent on a six-hour party (but a beautiful party at that) for the sake of our sister and her Yankee fan husband, we return to action with a fresh perspective on life. We got back to town in time to watch the Chiefs' miserable performance on Monday Night Football, and until some miserable dude on the Broncos forgot how to tackle with a minute or so left in the game, we were planning to write a column lauding the fact that the Royals had actually outscored the Chiefs on Monday. Of course, that didn't materialize, but
RC
still went to bed last night with a sly grin on our face.
Anyway, we also were able to watch a good deal of the Royals game, and several things we saw reinforced our tremendous optimism about the future of the Royals.
We watched as
J.P. Howell
threw five no-hit innings, working both sides of the plate while mixing in a great curveball and nasty change up. We saw
John Buck
continue his outstanding September (.329/.351/.543) by lacing a key two-run double down the right field line. And we laughed as
Andy Sisco
,
Ambiorix Burgos
, and
Jeremy Affeldt
combined for four innings of scoreless three-hit ball to close out the game.
Of course, with us being who we are, it was two completely unnoticed and unheralded events that got us most excited.
Although
Mark Teahen
only went 1-for-4 with two strikeouts, we saw him absolutely smash a foul ball down the right field line. He put a beautiful swing on a belt high fastball, and had he not been a smidge early on the pitch, he would have added a Metrodome upper deck homerun to his resume. It was the type of foul ball that we, in the 120 games or so we've watched this season, had never seen Teahen hit. Now, before you jump all over us for getting excited about a foul ball, allow us to explain.
It is no secret that Teahen's biggest weakness thus far in his Major League career has been his inability to pull pitches that a big league third baseman needs to be able to turn on. Throughout the season, we've heard everyone from
Allard Baird
to
George Brett
lamenting the fact that Teahen hadn't yet started using his natural power and size to his advantage by hitting the ball to right field more often.
Folks, that is no longer the case. It is no coincidence that Teahen's great September (.293/.352/.500) has come at precisely the same time that he started pulling the ball. We've seen a gradual improvement in this respect throughout the season, but it looks as though Teahen has finally put it all together.
RC
saw it with the 441-foot grand slam he hit at Kauffman last week, and we saw it with that foul ball he smashed last night. It's taken longer than anyone expected, but Teahen is finally hitting the ball the way a guy of his size ought to be hitting it.
The other thing we saw that impressed the hell out of us was one of the most athletic defensive plays we've ever seen. Why haven't you heard about it? Because the people who pick out which highlights to show don't know anything about baseball.
In the seventh inning,
Michael Cuddyer
led off the inning with a single off of Sisco.
Justin Morneau
stepped to the plate and hit a soft line drive one-hopper to Teahen, who backed up, fielded the ball, and fired off-line to the first base side of second base. What happened next can best be displayed with an
RC
original pictoral: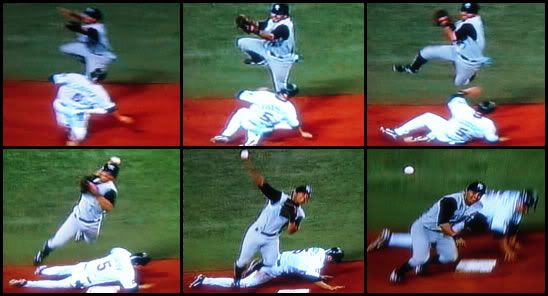 It was amazing enough that Blanco was able to catch Teahen's throw while keeping his left foot on the bag long enough to retire Cuddyer, who was quickly bearing down on him to break up the double play. Most second basemen in this position would have no choice but to put the ball in their pocket...but not Blanco. In one smooth motion, Blanco made the acrobatic catch, somehow leaped OVER Cuddyer, and threw a hard strike to
Matt Stairs
in an attempt to complete the twin-killing. Morneau beat out the throw by a half step, but if he had been a tad slower, this play would have gone down as the double play of the year.
Blanco's athletic ability is astounding. When searching for comparisons,
RC
can only look to guys like
Ozzie Smith
and
Omar Vizquel
. In today's game,
RC
is already able to confidently say that Blanco has no defensive peer at second base. Yes, his talents could be better used at shortstop, and he may wind up there eventually. But in the meantime, we just want to sit back and enjoy the highlight-reel plays, even the ones that don't wind up in any highlight reels.
As for tonight's game, it was pretty much a stinker. Runelvys Hernandez battled with his control again but registered his first quality start in quite some time (6.1 IP, 3 ER, 4 BB, 0 K), but there was little else to celebrate, sans another great play by Blanco. The series is now even, but that figures to probably change in the Twins' favor tomorrow as Jose Lima takes the mound vs. Kyle Lohse. Of course, there is some good news...this will be Lima's last appearance in a Royals uniform. Maybe he can go out with a bang.

Let's hope he does well, but not well enough to give the Royals any funny ideas about next season.