RC takes a look at the 2004 draft...Royals take series from Sox
After reviewing the 2005 draft a couple of weeks ago, RC correspondent Craig Weddle is back with analysis on the performance of the Royals' 2004 draftees. With the players selected having over a year of professional ball under their belts, Craig checks in on how they are progressing.
The Royals' top pick in the 2004 draft,
Billy Butler
, has exceeded everyone's expectations thus far. The 14th overall selection was panned by many on various message boards as another example of how "cheap" the Royals are. Butler has proven himself to be one of the best players in the entire draft and has a realistic shot at making the big club out of spring training next year. Not bad for a 19-year-old.
J.P. Howell
was taken with the 31st overall pick. Howell will probably never be a top of the rotation kind of guy, but he
has
been pretty much as advertised. When drafted, we were told he had good but not great stuff, would battle hitters, and would progress through the system rapidly. He looks to be a guy who can be a middle of the rotation starts for years to come.
Matt Campbell
, drafted #29 overall, has disappointed. After being drafted by KC, Matt became rather wild the last few games of his college career. This wildness has followed him into the professional ranks. Shoulder problems shut down his season early this year and his results up to the injury were poor. He should start 2006 in Burlington again, but could start in Idaho Falls instead.
Billy Buckner
, a Gamecock teammate of Campbell's, came in with lower expectations, but has produced better results. Buckner (2nd round) was promoted to Idaho Falls this year and did well in a hitter's league, with a K/BB ratio of 2/1 and a K/IP ratio of 1/1. He should begin 2006 in Wichita.
The Royals went young with the next two picks.
Erik Cordier
(2nd round) is a raw right hander with a power arm. He got his feet wet in rookie ball last year, but was injured all of 2005. I don't know what his prognosis is for 2006.
Josh Johnson
(3rd round) has progressed with sold play. Josh was moved up to Idaho Falls this year, where he posted an OPS of .757. Adding to the plethora of good young middle infielders in the Royals' system, he's viewed as slightly below the likes of
Gary Perez
,
Chris McConnell
and
Jeff Bianchi
. Burlington is likely where Josh will start 2006, but it's possible he could start out in Idaho Falls.
Speaking of McConnell, he was the Royals' 9th round pick in 2004. Chris was very good in Idaho Falls this year (.919 OPS). Although he did commit 23 errors, the club is very high on him. Jumping to High Desert is possible, but Burlington is likely where he will start 2006.
Other notables include
Henry Barrera
(5th round),
Chad Blackwell
(6th round),
Gilbert De La Vera
(15th round) and
Oscar Gonzalez
(23rd round). De La Vera (3/1 K/BB & ~1/1 K/IP) and Gonzalez (.785 OPS) were draft and follow guys who just completed their first year of professional baseball in rookie ball. Blackwell started slow, but pitched very well as Burlington's closer before struggling at High Desert to finish the year. I don't think his production will continue at the higher levels, but he did pitch well this year. Barrera has great stuff, but was as raw as they come when drafted. His first few weeks of rookie ball this year were disastrous. However, he pitched very well down the stretch as a closer.
It's still early, but the 2004 draft looks like it will be very productive for KC. Butler appears to be a star in the making. Howell should be a solid starter, Campbell and Buckner are just 22, Johnson and McConnell are very promising, and Cordier and Barrera have high ceilings. -CW
RC forgot to record today's game, so we are unable to report much of anything other than what we've heard. First, we understand Zack Greinke had another good start, working six strong innings while allowing two runs and seven hits. That pushed Greinke's ERA down to 5.95 on the season and 3.16 in September (over 17.1 IP). It's true that Greinke's had a historically bad season, but if you want to feel a little bit better about him, consider that if that horrible start in Arizona on June 10 had never happened (4.1 IP, 11 ER), Greinke's ERA would be almost a half point lower, at 5.49. True, that's still bad, but it would be considerably better.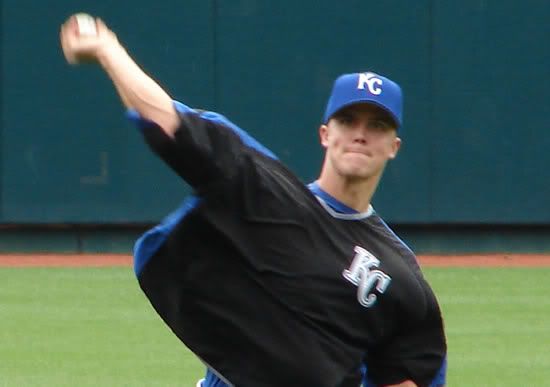 Which Greinke pitched today? RC wants to know.

As for which Greinke pitched today (the hard thrower or the crafty veteran), we have no idea, but we invite anyone who saw the game to chime in. We heard a brief portion of an interview with John Buck after the game in which he lauded the way Greinke changed speeds today, so we suspect that maybe it was the crafy veteran version again -- the same Greinke who shut down the Tigers on September 9. We sure hope so.

We also understand that Andres Blanco made two more defensive gems, both on throws to gun down White Sox runners. Actually, the throw in the second inning to nail A.J. Pierzynski didn't look all that impressive, other than the fact that he threw a perfect strike to Buck from about 120 feet away. You can check it out here. Blanco can throw way harder than that, but whatever...it got the job done, and the ball was wet. He also gunned down Carl Everett by throwing behind him at third base, but we've been unable thus far to see a replay. Carl must have been in deep thought about religion and archaeology or something...





Emil Brown is killing the ball in September.



Emil Brown is looking to finish the season on a tear, as he added a 3-for-5 effort today to raise his September line to .314/.407/.549 in 51 at bats. Brown seems to be hitting almost everything hard again, and RC maintains that there's a very high liklihood that E-Brown is patrolling right field for the Royals on at least a part-time basis in 2006. That's fine with us for the time being.