A quick defense of Royals management...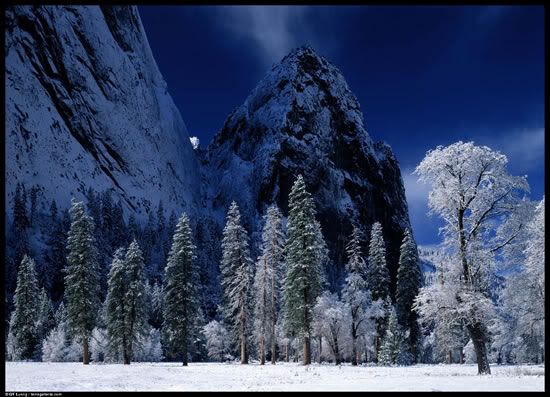 This is a big picture. We should not lose sight of it.
When in the course of human events it becomes necessary for one blog to outline why its official hero isn't as stupid as everyone seems to think, it must tread carefully. The Royals have certainly made some controversial moves of late – moves that have provoked scorn across all corners of Royals Nation, with the exception of our sizable enclave here at
RC
. And yet we remain undeterred. Allow us to explain.
Outlined below are the questions that seem to be on everyone's mind. They have prompted "great" baseball minds such as
RC's
official A-hole
Rob Neyer
to proclaim that
Allard Baird
"has gone completely 'round the bend", and they even have Neyer talking to himself.
RC's
friends at
Rotoworld.com
frequently chime in with rather snide and bitchy comments about the Royals' moves, and several people who
RC
respects are beginning to question their own confidence in the present management. So what are they concerned about? Here's our list:
Why do the Royals continue to give Jose Lima starts when he gets a $250K bonus for every two starts he makes over 20 (and up to 30 starts)?

This is probably the easiest question to dismiss, which we think we can do by posing a question of our own: Does it really matter? The way we see it, if David Glass is willing to pay Lima an extra $1.25 million, then that's his problem – the Royals still have one of the lowest payrolls in baseball by a wide margin. And the fact is that $1.25 million is pretty insignificant when your payroll is still well under $40 million. The way we see it, this probably means that Glass will make $9 million in profit this season rather than $10+ million. Or whatever it is. The fact is that Glass is going to make a significant profit on the season, regardless of whether or not Lima gets his bonus. So as we said, if Glass ain't crying about it, neither are we.

Of course, that's merely the financial defense of the move. Let's explore the performance/roster aspect of it. Who, may we ask, would you rather see getting the starts in Kansas City? Ryan Jensen? Chris George? Danny Tamayo? Dennis Tankersley? After all, someone has to start the games.

Among that group, only Tankersley would figure to be an improvement, but even that might not be the case. There's an equal chance that Tank would… ummm… tank (bad pun absolutely intended), and we here at RC would be forced to hear the whining about how the Royals ruined yet another "pitching prospect" because they rushed him to the majors.

The fact is that the same people who are whining about Lima getting his bonus 1) are not paying his salary, and 2) never mention who Lima's rotation replacement should be. RC says let the guy eat his five innings per start, let him dance and sing and generally make a fool of himself, wish him goodbye for good in October, and acknowledge that the Royals need to do better when picking which free agent pitchers to sign. There's just no need for fresh outrage over this. Moving on…
Why do the Royals continue to play Terrence Long over Chip Ambres and Matt Diaz???

This one gives us a little more heartburn, but not much. Folks, the Royals are not as stupid as you think. They KNOW that T-Long won't be here next year. And since we know that the Royals know that Long won't be here in 2006, we think that the Royals' refusal to play Ambres and Diaz says more about Ambres and Diaz than it does about the competency of Buddy Bell and Baird. It's become increasingly clear that the Royals don't view either as a viable option for a starting role on the ball club in the future, and that quite likely is a very reasonable view.

It's easy to figure out that Diaz's horrible defense is probably what's keeping him out, but with Ambres, it is admittedly more difficult to figure. However, we must acknowledge that the Royals are privy to much more information on Ambres than any of us – they see him practice, and they see him take BP. And all we're saying is that it wouldn't surprise us one bit if the Royals have accurately judged Ambres to be nothing more than a potential fourth outfielder.

Look, if it were up to us, we'd still have Ambres playing ahead of T-Long most nights. Hell, we would have DFA'd Long months ago, just to keep him out of the lineup. But oh well. We can put up with it for another few weeks. No need to get upset about it, because our left fielder of the future is home in Florida right now, preparing for the Arizona Fall League after a great season in High Desert and Wichita, and our right fielder of the future is either at home in Nebraska or at home in Pennsylvania. The way we see it, Chip Ambres and Matt Diaz and Terrence Long merely give people who like to get upset about things something to get upset about. We will have forgotten the names of all three by 2007 – they will be nothing more than an Aflac trivia question.
Why is Andres Blanco starting at second base over Donnie Murphy and Ruben Gotay?

Something frequently irks us about our sabermetric brothers (RC might be the bastard child of the sabermetric movement, but we still consider its strict practitioners our "brothers"). There comes a point when it becomes clear that some folks who base EVERYTHING upon a stat sheet have forgotten that you can still learn a lot by actually watching a player play. So we get folks like Neyer who can, without even seeing a player like Chris Lubanski play, conclude that the draft pick used to select him "was wasted, nearly as badly as the one used on Colt Griffin." Hogwash! And the same is true of the criticism of playing Andres Blanco.

We wonder, have the folks who are so upset about his starting role actually watched Blanco play? Have they seen Blanco's ridiculous range? Have they seen his arm? No, they've seen that he has a track record of not being able to hit a lick. Blanco's offensive upside may very well be nothing more than that of a hitter who struggles to register even a .650 OPS, but you don't just throw away someone as gifted as he is defensively. After all, there's a chance Blanco could improve offensively in a manner similar to fellow slick-fielding Venezuelan Omar Vizquel, who put up eerily similar hitting statistics early in his career. Keep in mind, Blanco is still only 21 years old, and he has improved his power numbers this season. We don't mind that the Royals are getting a look at him now, particularly when we have yet to see him as overwhelmed at the plate at the Major League level as Donnie Murphy has been.

Of course, if we had our druthers, we'd still make sure that Murphy gets every opportunity to win or lose the 2B job for next season. We still prefer Murphy over Blanco as the second baseman of the future. But there's still time. If the Royals roll with Blanco at second next season, then Murphy is still going to get his at bats to show what he can do, either in Omaha or as a utility player in KC. If the Royals develop the offense we think they should be able to with a core of David DeJesus, Mike Sweeney, Justin Huber, Billy Butler, and Alex Gordon, then they very well may be able to afford a second baseman who hits lightly but fields at a Gold Glove level. In fact, with the young pitching the Royals hope to develop, it very well might make a whole lot of sense to field an infield that is adept at flagging down balls that defensively challenged players like Ruben Gotay couldn't even dream of getting to.

Sabermetricians can figure out whether or not Blanco's superior defense saves enough runs to justify the differential in offensive production between Blanco and Murphy/Gotay, but we suspect that at this moment, Blanco just might be the best option. At least he does one thing well right now.
Why did the Royals re-sign Matt Stairs?

Because Matt Stairs is the man! RC is going to have major problems next year if the Royals give Stairs anywhere close to 400 at bats, but in the meantime, Stairs offers KC a cheap source of quality at bats. And with Sweeney's history of injuries, it's not a bad idea to have someone like Stairs on the roster. There are fears that Stairs' presence on the roster will rob Huber of at bats next season, but we're going to withhold our outrage on this matter until it actually happens. We think it's a good sign that Huber is getting the majority of at bats right now, and we expect him to become a full-time starter next season, regardless of Stairs.
Why hasn't Aaron Guiel been in Kansas City all season?

If you think Aaron Guiel should have been in KC all season, then we invite you to stop visiting this website. He's a sentimental favorite of ours as well, but Jesus, there are about three million better things to worry about, and 2.68 million of those things weren't blind last year (approximately).
Well, that concludes our defense. Please feel free to tear us a new one, because it's about 50/50 that we're completely full of crap.