Downtown stadium movement starts to get serious...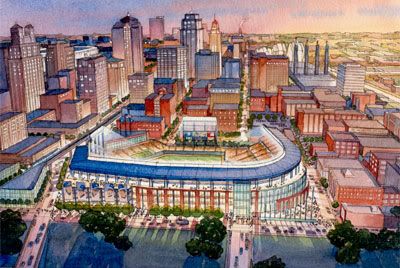 In a media event today at the Liberty Memorial, the Downtown Council of Kansas City unveiled its
plan
to build a new stadium for the Royals in downtown KC. They wheeled out all the bells and whistles, including a very convincing
presentation
, and they made a strong case that both the Royals and Kansas City would benefit greatly from a new downtown baseball stadium.
RC
isn't sure what to think. First and foremost, we must say that we LOVE Kauffman Stadium. It's our favorite place in the entire world. And while we realize that it's old, run-down, and doesn't generate a ton of revenue, we also know that even if the Royals do get a brand new shiny downtown stadium, they'll still be operating from a competitive disadvantage, due to the market size.
Building a new stadium isn't going to magically erase the $180 million payroll disparity between the Royals and the Yankees. Just ask the Pirates. In fact, much of the increased revenue might be offset by the reduction of the Royals' share of revenue-sharing dollars. Frankly, we just don't buy the argument that a new stadium will make it easier for the Royals to compete. It's still going to take an intelligent small market approach to return the Royals to their glory days, regardless of venue.
We also have big issues with public financing for stadiums. Of course, Kauffman Stadium is already publicly owned, so the main issue here (unfortunately) isn't whether or not public funds should be used, but how they can best be used. And on this count, the folks at the DTC may have a shot at winning us over. The fact is that public money is going to have to be spent, either on renovation of Kauffman or on the construction of a new ballpark, and the folks in Kansas City are going to have to decide on what is the best possible use of those dollars.
RC
has seen games at many of the new downtown stadiums, including the ballparks in Baltimore, San Diego, Detroit, Pittsburgh, and Denver, and we must say that it would be pretty sweet to be able to celebrate a KC victory in a bar near a new Royals stadium. In particular, Camden Yards and PNC Park have transformed their respective communities from dumpy, desolate eyesores to vibrant, exciting districts. If things are done correctly, there's no reason a similar renaissance couldn't happen in KC.
Now, it's no secret that
RC
is headquartered in the Northern Virginia/DC area, so some may question our credibility to discuss this matter. However,
RC's
heart remains in Kansas City, and the dirty little secret passing through the offices at our corporate headquarters is that an
RC
relocation to KC may be in the cards as soon as this coming July. We are in no position to confirm or deny these rumors, as the ultimate decision on this matter will most likely rest with an admissions counselor at the UMKC School of Law. But the point is, whatever is decided by the city in the coming year could very well have significant ramifications for the good folks who work at
RC
, in terms of taxes, traffic, etc...
Therefore, we broach this subject carefully, and we want to hear more. Renovations on Kauffman Stadium will be extremely expensive, as the DTC is correct in saying that a band-aid approach just won't work. Kauffman Stadium MUST undergo massive, expensive renovations to avoid defaulting on the lease with the Royals, so doing nothing is clearly not an option. Something has to be done, and today's press conference aided in making the options a bit more clear.
So take a look at the proposal and tell us, what do you think?
Editor's Note: RC also highly recommends that you check out Craig Brown's excellent piece on this issue over at Royals Authority.