RC Exclusive!!! Affeldt to rotation, new 2006 home uniforms revealed!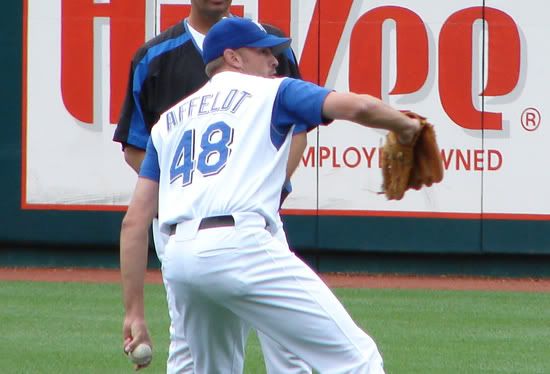 RC
is pleased to announce we have two
world exclusives
for our readers tonight.
RC
staff today learned the Royals will attempt to convert
Jeremy Affeldt
to a starter next season. Speculation on this matter had been rampant, as
Buddy Bell
and
Allard Baird
have said in the past they were keeping the option open. However, today at Kauffman Stadium, a trusted
RC
source heard directly from Affeldt's mouth that the plan is for him to become a starter. The conversation unfolded like this:
RC trusted source
: "So, Jeremy, is there any truth to the rumors that you'll become a starter again next season?"
Jeremy Affeldt
: "That's the plan."
Sounds good to us. If he's up for it, we're up for it...
The other exclusive we have for you is the
first look
at the Royals' home uniforms for next season. As we have reported, the Royals have ditched the sleeveless jerseys and returned to a more classic style. They've dropped the black outline on the script, and they've added blue piping to the sleeves. Also, we couldn't tell for sure, but it looks like the "Royals" script across the chest might be a bit larger. Decide for yourselves:
Mark Teahen shows off his new digs...or is it diggs? Whatever...
We didn't want to depress Royals fans last night, so we "failed" to mention that Billy Butler went 0-for-5 in his Arizona Fall League debut. In fact, he was the only starting player on the Surprise Scorpions who failed to get a hit. But tonight, Butler made up for it in a big way. Butler tonight went 4-for-5 with a three-run homer, a double, and 4 RBIs. Give the kid a break...it just took him some time to get adjusted to the league, but we think he'll be fine now.
Be sure to check back tomorrow night for our reports on the final 15 players on our top 25 list. We had hoped to be able to bring them to you tonight, but due to the breaking news, we decided to hold off another day.