Royals fight their way out of trashy city
RC
likes baseball fights. While we're convinced that any civilian over the age of 18 who engages in fisticuffs is probably a big dumb moron (self-defense excluded), there's something about baseball fights that gets us excited. After all, baseball is ultimately entertainment, and what's more entertaining than seeing a group of guys in peak physical condition (plus
Matt Stairs
) take a few swings at each other?
RC
had a softball tournament on Sunday (where
RC
went 5-for-6, but our team lost the second game, ending the season), so we missed watching the game live. However, thanks to DVR, we were able to watch the game upon our return. And as always, we have some comments.
Before he was ejected, Runelvys Hernandez was throwing a great game. We think he was probably pissed off all afternoon, because the Tigers prior to the first pitch made him remove the spandex sleeve he wears on his right arm during all his starts. Rather than let it affect him, he turned that anger into a stellar performance. His control was very good, and his pitches were dancing all over the place. Through five innings (plus two pitches in the sixth), Hernandez threw 65 pitches, 35 for strikes. He walked only one, allowed two hits, and struck out a pair of Tigers.

His first pitch of the sixth inning was low and inside, and Carlos Guillen began to walk to first base, but was called back by the umpire. Replays were somewhat inconclusive, but it appears that the ball may have brushed his back foot. Guillen argued with the umpire for a bit, and then Tigers manager Alan Trammell came out and argued some more. Unable to convince the umpire to change his mind, Guillen stepped back into the box. Hernandez most likely took that as another attempt by the Tigers to upset his rhythm, and he put the next pitch, a 90 mph fastball, in Guillen's ear.

RC has a couple things to say about Hernandez's actions. First, we don't like headhunting, and while we're pretty sure the HBP was intentional, we don't know if he was intentionally trying to hit Guillen in the head. It's quite possible that the ball got away from him, but we understand why Guillen was upset. John Buck was holding Guillen back, but he and Elvys continued jawing at each other, and things escalated from there into a full blown melee.

Our opinion of the whole thing is this: we liked seeing that fire and attitude from Hernandez. Yes, we'd definitely have a different opinion if we were Tigers fans, but we think it's about time we had a pitcher who asserts himself the way Hernandez does. Maybe his actions were a bit juvenile, but we think the notice he served to the league will probably benefit him in the long run. We could be wrong, but again, at least it was entertaining.
Kyle Farnsworth, however, is an idiot. Just when the situation appeared to be under control, Farnsworth ran around the outside of the congregation of brawlers and attempted to body slam Jeremy Affeldt.




As Farnsworth approached Affeldt, you could see Affeldt with a stunned look on his face, as he was no doubt wondering why this big SOB was charging toward him on the Holy Day. Farnsworth managed to lift Affeldt off the ground, but at the last second, Affeldt twisted and stepped back a bit, and Farnsworth wound up doing a faceplant on his takedown. Affeldt got in a few shots, and the altercation seemed to end in a draw. Farnsworth for his effort received an ejection, as well as what is certain to be a suspension, and Affeldt stayed in the game to pitch a scoreless inning in the 8th.

Farnsworth is a big guy, and we're very pleased that Affeldt came out of his charge much better than Paul Wilson did a couple years ago. Affeldt even managed not to tweak his groin, rib cage, or aggravate his blister problem.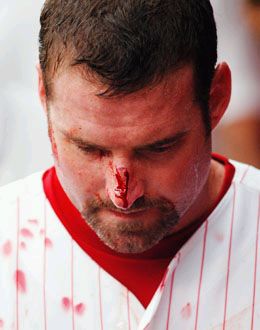 Unfortunately, RC was again forced to watch the Tigers broadcast, and the unprofessionalism of the Tigers booth again presented itself. Immediately after Farnsworth's tackle, all we heard from Rod Allen was that "you don't want to mess with Farnsworth," and that "You know that once big boy got der' it was gon' be on!!!" After lambasting Hernandez with criticism (which is understandable), Allen and his partner were clearly proud of Farnsworth's escalation, which was, in almost any way you look at it, far dumber than Hernandez's actions. We expect a little homerism from any broadcaster, but Allen is clearly just a child who holds a grown-up's job.
The Royals ultimately won the game, 5-0. Mike Sweeney hit a two-run HR in the first, and Mark Teahen smashed his third HR of the season in the second (to left field, of course). Marvin Nunez came in after Hernandez left and put up two excellent innings, and both Affeldt and Mike MacDougal worked around trouble for the remaining two innings to record the shutout. KC leaves Motown having split a four game set, and they now head to Cleveland to face the Indians, who are reeling after being swept by the Chisox in their four game series.
Has anyone noticed what Chris Lubanski has been doing for the last month or so? Before tonight's game (in which he went 1-for-4), Lubanski had improved his line to .282/.332/.536 with 20 HR, 23 doubles, and 72 RBI. It wasn't long ago that Lubanski was slogging along with a batting average in the .240s, and a sub-.300 OBP. Now he's elevated himself into one of the California League's top sluggers. If he keeps this up, he just might find himself on RC's Top Prospect list again. Not yet though.
While we're on the minors, Donnie Murphy has also been going nuts lately. Murphy slammed two more HRs tonight, giving him 10, and he went 4-for-5 in an 11-10 Wranglers victory. After tonight, Murphy has raised his batting average all the way up to .313. His stats at press time weren't yet updated, but we wouldn't be shocked if his new line is something like .313/.360/.480. Not bad for a slick-fielding middle infielder.

Editor's note (7/18/05): We were way off on Murphy's slugging percentage. His present line, after last night's explosion, is .313/.362/.523! That's an OPS of .885, sports fans.