Alex Gordon headed to AFL, will play first base...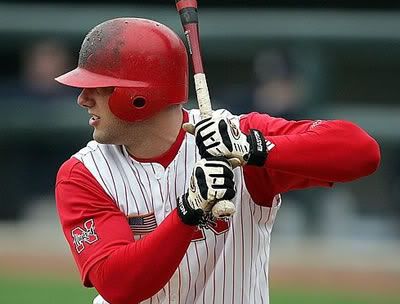 Now playing 1B for the Surprise Scorpions...

The Royals tonight announced that RC #1 Prospect
Alex Gordon
will replace
Justin Huber
on the Surprise Scorpions' roster this weekend. They also announced that Gordon will play first base for the Scorpions, although he will still come into Royals Spring Training as a third baseman.
Some folks may read more into this than they should. The Arizona Fall League teams are put together in a very collaborative process to ensure that each team has a certain number of players at each position. When Huber was withdrawn from the club, that left a hole at first base, as the Angels'
Kendry Morales
was the only first baseman on the team. Gordon has experience playing first base from his days with the U.S. National team, when teammate
Ryan Zimmerman's
defensive prowess at third base forced Gordon to move across the diamond. In essence, this was a perfect match, as the Royals were hoping to be able to get Gordon on the team anyway.
We like this move, and we can't wait to see what Gordon does in the AFL. These will be his first swings against actual competition since the College World Series, so don't be surprised or disappointed if he struggles a bit at first. He'll come around. Also, don't be surprised if Gordon gets the start in Saturday's game. Morales has started every game for the Scorpions thus far, and we're sure he could use a break.
Billy Butler and Alex Gordon -- together at last!