A few notes on Angel Sanchez, the Rule 5 draft, and the Diaz trade...
RC
today picked up our official copy of the latest print edition of
Baseball America
, and we were pleased to learn it includes some new information that helps further explain the mystery behind
Angel Sanchez's
addition to the 40-man roster. According to
BA
, Sanchez last season reported to spring training carrying an additional 15 pounds of solid muscle. Sanchez, who had been little more than a skinny, slick fielding shortstop who couldn't hit, proceeded to lead all minor leagues in base hits (183) while logging career highs across the board (.313/.356/.409 - 5 HR).
It's easy to chalk up those improved numbers to the altitude of the California League and High Desert, and that still may be the case. However, this new information sheds some light on the Royals' decision to add Sanchez to the roster over other players with more prospect hype, such as
Mitch Maier
.
Royals farm director
Shaun McGinn
was quoted by
BA
as saying that several scouts and baseball personnel who hadn't seen Sanchez in High Desert were amazed when they saw him in Puerto Rico this winter, saying "he looks like a completely different player."
"Angel's hands are very, very soft," said McGinn. "We were waiting for him to mature physically and waiting on his bat, his swing to catch up. He still needs to work on a few things, but I think he's going to be a pretty good player."
That explains quite a bit. As we've mentioned in the past, Royals GM
Allard Baird
raved about Sanchez during the 2005 season, and this helps provide us with some additional information about why, exactly, he was so excited about a player who had such a poor track record in the minors prior to last season. It also goes a long way in explaining why the Royals thought Sanchez might be vulnerable, and why they feel he's a better long-term bet than Maier.
Additionally, the free agent signings of last week also help shed more light on the Royals' seemingly questionable roster strategy in the lead up to the Rule 5 draft. Remember, we wondered why the Royals left Maier vulnerable to the draft while stiffs like Shawn Camp remained on the roster. Of course, we never expected the Royals to sign four free agents, and when those four players were added to the 40-man roster, the Royals designated for assignment Camp, Ken Harvey, Matt Diaz, and Chris Demaria.

And when that happened, the method to Baird's madness was revealed. Adding Maier to the roster would have either limited Baird's flexibility in bringing new free agents to the team, or it would have forced him to remove a considerably better prospect from the roster when he added those free agents. Looking at the roster now, it appears that either Devon Lowery or Kyle Snyder would be next on the chopping block, and one or both of those players will probably have to be removed if Baird succeeds in bringing one or two more outfielders to the team. In other words, he still needs to keep those roster spots flexible.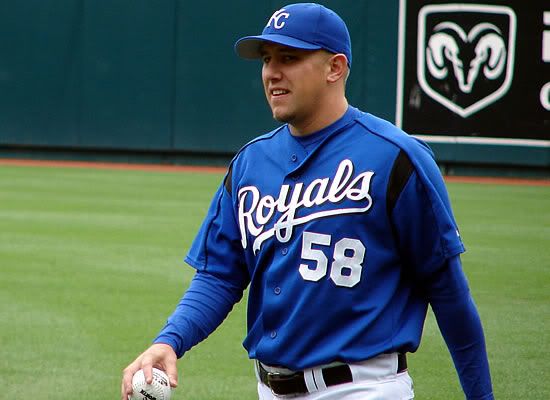 RC has pinpointed the cause of Shawn Camp's struggles last season: He REALLY WAS throwing a softball up there!

This makes the Maier gambit far more palatable, particularly when you consider that Baird was absolutely correct in his belief that no team would select him in the Rule 5. In essence, Baird got EXACTLY what he wanted -- he got the free agents he desired, AND he got to keep Maier. RC now considers this matter closed.
Speaking of Diaz, the Royals today shipped him off to the Atlanta Braves for 24-year old pitcher Ricardo Rodriguez. Rodriguez gained some notoriety in April, when he was suspended for 15 games for violating MLB's illegal substance policy. When he returned to action, he had a rough season pitching for the Myrtle Beach Pelicans of the Carolina League, logging a disappointing ERA of 5.34 in 86.0 innings of work.

However, Rodriguez -- a converted infielder -- is still relatively new to pitching, and he has a live arm that has generated good strikeout numbers. In his 136.2 minor league innings, Rodriguez has struck out 144 batters while walking 64 and yielding 124 hits. The chances of a 24-year-old succeeding in the Majors after such a disappointing season in the pitching-friendly Carolina League is not very good, but Diaz clearly had no future with the Royals. It's nice that the Royals were able to turn him into a live body with at least one promising tool.