RC ponders some offensive Rule 5 possibilities...
RC
really has no idea what the Royals are planning to do with the first overall pick in the upcoming Rule 5 draft, but if we had to guess, we'd bet they'll probably select a pitcher. We know very little about the pitching prospects available, and outside of the Indians'
Nick Pesco
and the Red Sox knuckleballer
Charlie Zink
(neither of whom figures to be a logical selection), we've seen very little of the pitchers who have been left exposed. That being said, there are a few offensive players we would consider, and
RC
is pleased to provide you with a short list, in no particular order:
Ryan Mulhern (1B/OF) - Height: 6-1 Weight: 210 Bats: Right Throws: Right Age: 25
On sheer offensive ability alone, Mulhern figures to be the cream of the Rule 5 crop. Due to playing through his senior year in college, Mulhern was a tad bit old for the Carolina League, but that was tempered a bit by the fact that 2005 was also his first look at advanced-A pitching. And in that short exposure, Mulhern dominated the pitcher-friendly Carolina League to the tune of .321/.395/.711 with 17 HR in just 159 at bats.
RC
saw him play three games for Kinston, and he homered in all three, showing power to all fields. When the Indians jumped him a level to AA, he didn't slow down one bit, wrecking Eastern League pitching (another pitcher's league) at a clip of .311/.386/.594 with 15 HR in 244 AB. Mulhern's bat is his ticket, as his defense is questionable, but if the Royals truly want
Justin Huber
to get more time in Omaha, then Mulhern may be a feasible option, and a good right handed bat off the bench.
Brandon Sing (1B) - Height: 6-4 Weight: 210 Bats: Right Throws: Right Age: 24
Sing is another guy the Royals might want to take a look at in the same role as Mulhern.
RC
only saw a little of Sing in Arizona (where he went 0-for-2), and we are embarrassed to admit we really weren't paying any attention to him. However, Sing, when healthy, has unquestionable power (58 HR the last two seasons between A and AA), and he displays an excellent eye at the plate, posting OBPs of .399 and .404 the last two seasons, respectively. A high school draftee, Sing has been in the minors since 1999, but his last two seasons have reignited his prospect status.
Kevin Howard (2B/3B) - Height: 6-2 Weight: 180 Bats: Left Throws: Right Age: 24
After a strong AFL season in which he hit .409/.475/.557, Howard was identified by
Baseball America
as having the "biggest buzz" heading into this year's Rule 5 draft. Throughout his three-year minor league career, Howard has been a model of consistency, logging On-base Plus Slugging percentages (OPS) of .756, .774, and .774 as he advanced through each level of the minors. He's a line drive hitter with occasional power, and since he plays both 2B and 3B well,
BA
labeled him as the best overall position player available in the draft.
RC
saw Howard throughout the 2004 season, when he played for the Potomac Cannons of the Carolina League, but shamefully, we didn't pay any attention to him. However, since the Royals are looking for both a 2B and a utility infielder, Howard is as safe a bet as any to be selected by the Royals.
Dan Uggla (2B/SS/3B) - Height: 5-11 Weight: 190 Bats: Right Throws: Right Age: 24
Uggla may be another option for the Royals in the middle infield/utility spots. While he doesn't carry the same reputation for glovework as Howard, Uggla does possess some nice power from the right side of the plate. In his second shot at AA last season, Uggla hit .297/.378/.502 with 21 HR, and he continued that pace in the AFL, where he hit seven more dingers. Uggla figures to be a long-shot for selection by KC, but if the Royals traded their first overall pick, perhaps Uggla would be worth a flier in the second round (although
RC
isn't clear on the rules about whether or not a team who trades their first pick can still select later in the draft). Nevertheless, here's a photo we took of Uggla in the AFL: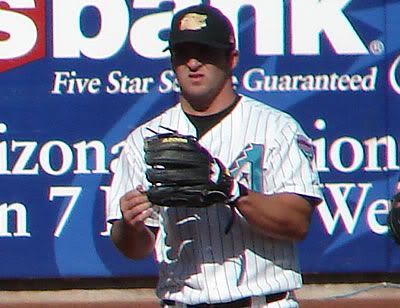 Uggla is a strong kid.

Adam Boeve (OF) - Height: 6-1 Weight: 216 Bats: Right Throws: Right Age: 25
Boeve might be the most attractive option available in the outfield, as he has decent speed and plays a fine right field. Boeve burst onto the scene with 28 HR at Hickory in 2004, and in 2005, he was selected as a Carolina League All-Star with a line of .313/.419/.538 before his promotion to AA. As much as we've seen Boeve play, it's embarrassing that
RC
doesn't have a photo for you, and we apologize.
RC
figures Boeve is a pretty good bet to be picked up by someone, although we doubt it will be the Royals. And frankly, we dispute that 216 lbs...he looks much smaller than that in person.
Kevin Kouzmanoff (3B) - Height: 6-1 Weight: 200 Bats: Right Throws: Right Age: 24
Kouzmanoff is not very athletic, and since his position and size limits him to 1B if he does switch positions, the Royals will most certainly not select him. However,
RC
finds him very intriguing, as he swings hard and possesses very nice power. Reports are that he works extremely hard evaluating his at bats, and even though he's been older than most of the competition he's faced at each level, he's also put up consistently good numbers. Injuries derailed Kouzmanoff during the early part of the season, but he returned to put up a line of .339/.401/.591 in 254 Carolina League at bats. He might be someone to watch on draft day, but most likely, he'll stick with the Indians. Here's a photo: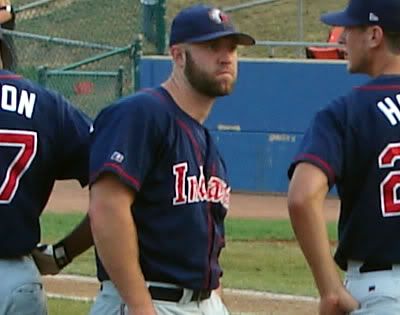 Kouzmanoff sports a great beard...but that's probably not a good enough reason to select him.
Thomas Collaro (OF) - Height: 6-4 Weight: 210 Bats: Right Throws: Right Age: 22
Collaro is the
Preston Wilson
of the minor leagues. The kid has absolutely ridiculous power -- slamming 29 HRs last season in the Carolina League as a 22-year old -- but he's also got the type of strike zone commmand that makes you sick to see so much talent get wasted (153/25 K:BB ratio in 2005). However, he's one of the younger players in the draft who actually has talent, and if he can learn to take a few more pitches and strike out a little less (which is admittedly a tall order), he's the type of guy who can hit oodles of homers in the big leagues someday. Defensively, he's nothing to get excited about, and he's played a little first base in addition to the OF. Here's a photo: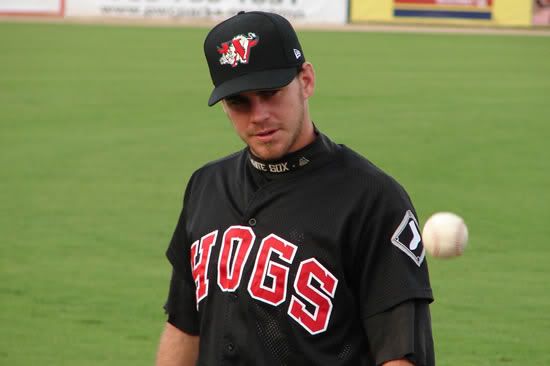 RC has always liked this photo we took back in September.
Brett Harper (1B) - Height: 6-4 Weight: 180 Bats: Left Throws: Right Age: 24
Harper is another potentially intriguing option at 1B. In his five professional seasons, he's taken the grand tour of the Mets' minor league system, and despite some injuries, he's always hit, albeit with little power. However, at a stop in the Florida State League in 2004, Harper finally began driving the ball with authority, and he carried that over into 2005, when he slammed 36 HR between A and AA. Yes, he had already logged significant time at both stops prior to last season, but 36 homers is still pretty impressive, although he did also strike out over 140 times. Odds are that Harper is staying put, but just to give you as complete a list as possible, we decided to include him. Here's a crappy photo of him we took with our old camera. And oh yeah, we also dispute that 180 lbs...He looks much bigger than that.
If Harper hadn't been standing next to Lastings Milledge,
we wouldn't even have a photo of him.
That concludes our report. We figure a few of these guys will probably be selected, even though we doubt the Royals will take any of them. Among those listed, Howard probably has the best shot at getting taken by the Royals, followed by Mulhern, but that's nothing but pure speculation. As for us? We'd roll the dice on Mulhern, but that's likely because we're biased after seeing him go 6-for-9 with three dingers and four walks.