Report: Royals to trade first pick in Rule 5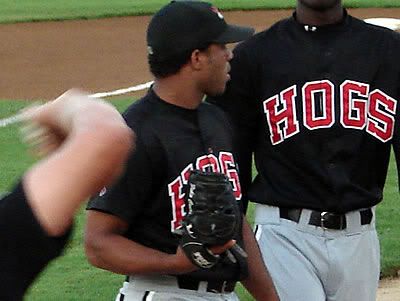 Sorry about the crappy photo, folks, but hey, who else has an original photo of Fabio Castro?
Jonathan Mayo
of MLB.com is
reporting
that the Royals are set to trade their first overall pick in tomorrow's Rule 5 draft to an undisclosed team, which will then select LHP
Fabio Castro
. There has reportedly been much interest in the 5'-8" White Sox farmhand, although there is as of yet no news about who or what the Royals might receive in return. This blasts a hole in our
Kevin Howard
theory, but oh well. We'll be interested in hearing what the Royals get in return, and we suspect it very well may be something we can really use.
In other news from tonight, the expected signing of backup catcher
Todd Pratt
has reportedly hit a "snag." KC Royals beat writer
Dick Kaegel
failed to elaborate, but
RC
suspects it likely has something to do with the Atlanta Braves, who earlier today traded
Johnny Estrada
to the Diamondbacks and are now in search of a backup catcher.
Kaegel also
reports
that
Allard Baird
expects to sign a middle reliever as early as Thursday (presumably
Elmer Dessens
, who was not offered arbitration today by the Dodgers), and he may complete a trade for an unknown 2B. Stay tuned, as
RC
promises to continue providing the best coverage you'll find anywhere of the Royals' activity at the Winter Meetings.