Random notes -- Salvation lies within...
We know we should be studying for the LSAT this weekend, but
RC
just can't shake a few things out of our head. There is simply too much going on in the baseball world, so here are a few notes and thoughts we've compiled over the past couple weeks.
First, what can we say about this free agent market? Never before have we been so disgusted by salary inflation, and it was clear we were in for a big letdown as soon as Scott Eyre -- a lefty specialist with a 4.52 career ERA -- was inked by the Cubs to a three-year, $11 million deal. A few days later, we learned of Bobby Howry's three-year, $12 million deal, and the spending bonanza was in full gear. In the last week alone, we've seen a pair of closers signed to long-term deals at around $10 million per season, and a very average starter -- Esteban Loaiza -- signed to a three-year, $21 million deal.

Folks, we know the Royals have promised to hike their payroll to $50 million, and we know that promise was well-intentioned, but this just isn't shaping up to be the right offseason to go on a spending spree. The talent pool just isn't there, the few premier free agents available have seemingly already been priced out of KC's market, and the odds are the Royals will be left to choose between 1) severely overpaying for a quality free agent, 2) fighting with other small market teams over the leftover scraps, or 3) refusing to participate in this year's madness.

Not that we have a problem with that. The truth is that RC has never been too enthralled with the idea of hiking payroll this offseason, unless the increase helps the ballclub in 2007 and 2008 -- when RC fully expects the Royals to be competitive. The fact is that $22 million in spending money is not going to turn a 106-loss team into a contender. Sure, $22 million spent wisely can make a team more competitive, but keep in mind that even a 20-game improvement over last season still only gets KC to 76 wins. Therefore, every move the Royals make MUST be made with 2007 and 2008 in mind, when the offensive core of Justin Huber, Billy Butler, and Alex Gordon should be firmly ensconced in the middle of the lineup. If the Royals must sign placeholders at 2B and OF, it makes little sense to break the bank on those placeholders simply to fulfill the $50 million promise.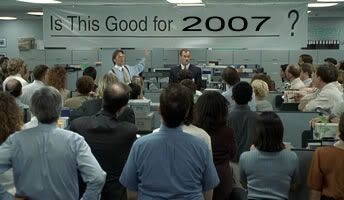 Bill Lumbergh knows the score.



For instance, signing a solid free agent pitcher to a multi-year deal would make loads of sense (at a reasonable price, of course), but signing a mediocre, declining outfielder like Reggie Sanders to an overpriced one or two-year deal does not. Unfortunately, decent starting pitchers this offseason figure to be even more ridiculously expensive than last year, which is really saying something when you consider the three-year, $24 million contract Eric Milton signed last December.

So what are the Royals' options at this point? Assuming they're not going to panic and go crazy on a few overpriced veterans, and assuming they're not secretly in on the Furcal/Giles/Burnett/etc. sweepstakes, it appears the only way they'll raise the payroll to the requisite $50 million threshold is by taking on money via trade. With all the bad contracts to which teams have recently chained themselves, there could be ample opportunities to do so without giving up too much in return.

For instance, Javier Vasquez has requested a trade from the Diamondbacks, and the D-backs would love to unload as much as possible of the $24 million he's owed over the next two seasons. The Nationals have reportedly shown the most interest, but the Royals are actually in a position -- in terms of both financial flexibility and minor league depth -- where they could outbid the Nats if they wanted to. We're not sure what kind of prospect it would take to get Vasquez, but we doubt it would take much if the Royals also offered to pick up two-thirds of the remaining contract, especially since the D-backs are required to trade him anyway. That's just one option, but we wouldn't be surprised if the Royals explore a similar route.

The bottom line is that while we may be disgusted by the irresponsible salary growth throughout baseball, it's not enough to depress us. The fact is that small market teams don't build winners through the free agent market. Instead, it's done through years of solid drafts, intelligent trades, focused development, and -- equally important -- patience. RC firmly believes the Royals are on their way to meeting the first three criteria, but we hope they don't let the pressure of fan impatience lure them into doing something that might set their plan backwards. We're really curious about what path the Royals will ultimately take this offseason, but we have faith our Official Hero will do the right thing.


A couple weeks ago, RC's official copy of the 2006 Bill James Handbook arrived, and we absolutely love it! Aside from the 2006 player projections, perhaps the coolest feature of the book is all the crazy stats that James includes in his "2005 League Leaders" section. Below are a few stats you may not have been aware of:

-David DeJesus had the 4th-highest OPS among AL center fielders.

-DeJesus had the 6th-highest OPS of all AL players under the age of 25.

-Among the same group, DeJesus ranked third, behind only Mark Teixeira and Jhonny Peralta, in runs created per 27 outs.

-DeJesus was 7th in the AL in percentage of pitches taken (60.9 percent).

-DeJesus had the 4th-worst BPS (Batting avg. plus slugging pct.) on pitches outside the strike zone (.140) .

-Emil Brown's average home run distance was 402 feet, which was sixth-best in the entire American League.

-Brown also had the sixth-highest OPS among AL right fielders.

-Mike Sweeney had the highest BPS on pitches outside the strike zone in the entire American League (.635) .


RC highly recommends you purchase this book. Even if you don't like Bill James, you can spend hours upon hours looking up stats and reading projections (and completely screw up your LSAT score, if that's your prerogative).

And by the way...does anyone else think it might be time to give David DeJesus a nice chunk of that $22 million by signing him to a long-term contract this offseason? RC can't think of a better way to spend that money.


RC and Jimmy Gobble agree that it's time to pay DDJ.

One final note before we go. RC wants to throw a plug out to the Pine Tar Rag (PTR) for an outstanding interview with Sam Geaney, founder of Calleaguers.com. Geaney runs perhaps the best amateur scouting site around, and he got a great look at the Royals prospects who went through High Desert last season. He's got a lot of interesting things to say, and PTR did a great job with the interview. PTR has now been added to our Official Royals Blogroll of Honor, so you should feel free to check it out regularly.

Also, in case you missed it, RC's buddy Kevin Agee is back and posting on his blog. You can check out his latest column by clicking here.