Exclusive report from down under, and other random tidbits...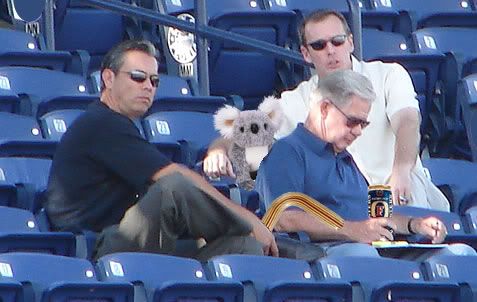 Allard Baird and co. are presently in Australia taking in the local culture and planting organizational roots. (Full Disclosure: RC may have taken a few liberties with this photo. RC means no harm by our gratuitous stereotypification of the land down under. On the contrary, Australia is the Official Ally of RC.)

There are certain advantages in having one of Australia's most popular players in your minor league system. Not only is
Justin Huber
a top notch prospect, but his fame in his home country has prompted the Royals to send a small delegaion, led by
Allard Baird
and
Dan Glass
, to conduct a one-week scouting and goodwill tour around Australia. Details of the trip have been limited to small blurbs in the KC media, but thanks to
RC's
new Australian Correspondent,
Adam Ramsey
, we've obtained some new information.
Adam reports that "Baird and sundry are currently in Melbourne at the moment, 'perusing' the National U/18 Championships." He continues, "Justin Huber (who I have played with a couple of times in club ball back in my younger days) has been instructed that he is NOT allowed to play any baseball while home. That includes any club games (Upwey Ferntree Gully Tigers) or for Victoria in our Claxton Shield competition. Claxton Shield is a short tornament for senior players (as opposed to juniors), where Australia's states play against each other."
Adam also mentioned that the Royals are reportedly interviewing around five people for a scouting position in Australia, and he added that
this
is a good site for news on Australian baseball.
RC
will be sure to check it regularly, and we encourage our readers to do the same.
Folks, this is a seemingly minor development, and it may indeed yield minor results, but it shows us the Royals are constantly looking for new ways to add talent to the organization. While countries like the Dominican Republic and Puerto Rico are already heavily scouted, Australia is a largely untapped resource. If these efforts produce even one decent prospect, it will be well worth it, and we already find this trip very encouraging. A big thanks to our newest foreign correspondent, and we hope he will continue to keep us informed of the goings on down under.
RC is also pleased to announce that we've received permission to use Midwest League photos taken by a professional photographer. In fact, Emily Smith is a photographer for MLB.com, and she covers the Midwest League from her home base in western Michigan. Thanks to RC correspondent Chris Ray, we came across some of her fantastic photos this morning, and Emily graciously granted us use of her photos for our various features. Here are a couple photos she took last season of Luis Cota, which serves as an excellent preview of what you'll get this season, right here on Royals Corner: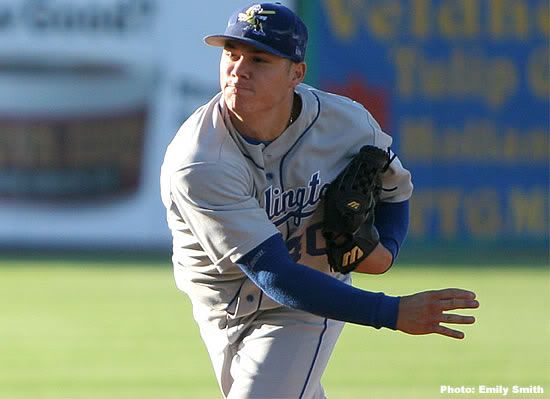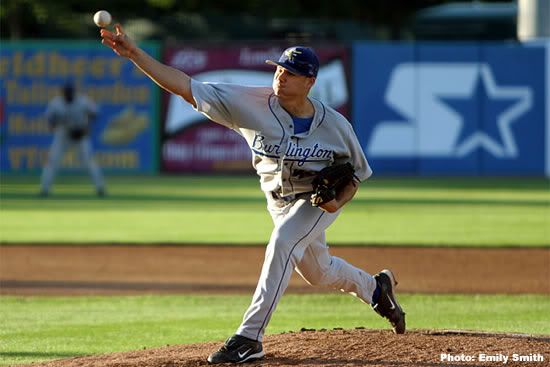 A huge thanks goes out to Emily, as her efforts will no doubt be a fantastic addition to RC. Also, we highly encourage you to visit her site, where you'll find some of the best baseball photos around.
We suppose we should comment on the roster cuts the Royals finally made last week. As you should know by know, the Royals designated for assignment pitchers Devon Lowery and Kyle Snyder to make room for Reggie Sanders and Joe Mays on the 40-man roster. We knew Lowery would get the axe, and we figured Snyder was a good candidate. Neither move disappoints us, as the odds of either ever becoming a solid Major League contributor are quite low.

Unfortunately, Lowery's removal from the roster brings us one step closer to the possibility that 2001's disastrous draft won't yield a single Major League player. We suppose first rounder Colt Griffin still has an outside chance of breaking in as a reliever, and shortstop Angel Sanchez made some great strides this season, but beyond those two, there's really nothing left. Thank God we haven't had any more drafts like that...
On a more positive note, we are pleased to unveil the newest T-shirt design for the Official RC Store. The new shirts boast RC's newest logo on the front, and our innovative RoyalsCorner.com logo on the back:



Was little Billy disappointed with what Santa Claus brought him for Christmas? Make it up to him by buying our hottest RC T-shirt, a must-have for this season's fashion.

The new design is available on both the long and short sleeve T-shirts, and for a limited time only, we're offering both at base cost. That's right. For only $13.99, you too can be the envy of your neighborhood, and if you pay $5 more, we'll even throw in long sleeves. You can't beat those prices anywhere!