RC is ready for 2006!
RC
sincerely wishes everyone the best for the new year, and we hope 2006 brings everything you may want (with the notable exception of a Democratic majority in Congress). As for us,
RC
has plotted out an incredibly ambitious schedule for the upcoming season, a schedule that promises to bring exponentially more information to our readers while significantly expanding our readership. Here's a brief list of our plans:
In addition to our coverage of professional baseball, RC this season will also bring amateur baseball updates for the first time in the lead-up to the 2006 June draft. RC Headquarters in northern Virginia is within easy driving distance of several major collegiate programs, and we'll have excellent access to watch and report on some of the top amateur players in the country, such as preseason All-Americans Andrew Miller (P - University of North Carolina) and Wes Hodges (3B - Georgia Tech), among others. In addition, RC plans to be in Kansas City for Opening Day, and the weekend immediately preceeding the opener has Mizzou visiting KU, where RC hopes to get a good look at top pitching prospect Max Scherzer. The games start in early February, so it won't be long before we begin this new endeavor. With the Royals holding the first overall selection of this year's draft, this coverage promises to be an exciting new feature to RC.
Sometime this month (hopefully), Royals Corner plans to undergo a radical format change that will significantly improve content organization and reader interaction with the site. We're not ready to release any details beyond that, but we've already designed the concept, and we're certain it will take RC to a level that will rival the top fan sites in the country. Stay tuned!
RC is also pleased to announce that we've already booked travel to Arizona for six days of Royals Spring Training in late February/early March. We'll catch a few days of practice and the first three games, and we promise to provide you with outstanding photos, video, and commentary from Surprise, much as we did with our coverage of the Arizona Fall League.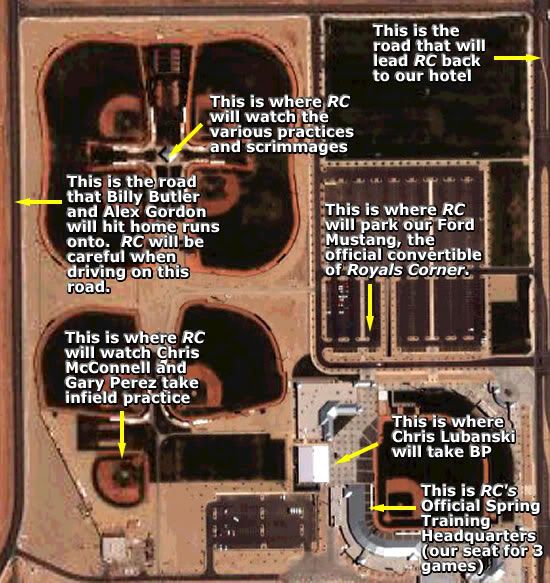 Finally, RC is pleased to announce that we're piloting a new project, Bus League Baseball, which will focus solely on minor league baseball. This endeavor is still in the initial planning stages, but when we go live it will give RC and our correspondents an opportunity to report on the dozens of minor league games we attend each season that feature non-Royals prospects. It may initially be heavily weighted on the Carolina and Eastern Leagues, and it should also include a smattering of South Atlantic, International, and NY-Penn League coverage. Of course, the goal will be to gradually add correspondents to expand our format to include all leagues. It's probably too early to even mention this project, but it's just another thing on RC's plate. If you're a minor league fan who might be interested in writing or taking photographs at games, please contact us by shooting us an e-mail.

Now that the Chiefs' season is over, it's time for Kansas City to turn its attention to the Royals, and RC is looking forward to what promises to be an exciting year of baseball. Cheers!