RC obtains interview with Billy Butler and some roster/spring training notes...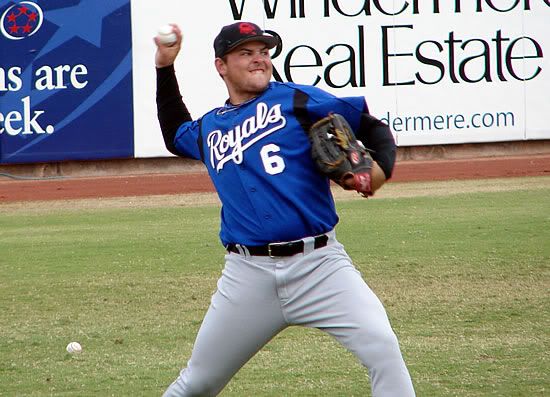 In high school, Butler sported a 90+ mph fastball from the mound and a .612 batting average his junior year.
Thanks to our newest correspondent,
Jon Rosen
,
RC
is pleased to provide for you an audio file of an interview Jon conducted last season with
Billy Butler
. The interview is from the first couple months of the season, when Butler was still at third base, but it reveals some interesting information about Butler's high school career, as well as his approach at the plate. It runs about eight minutes, and you can listen by clicking on the icon below.

In other news, there's not a whole lot to report. The Royals offseason minicamp should get into full swing today, but we still have no word about who, exactly, was expected to attend. However, we do have some new information for you.

Every year, the Royals update their roster the weekend prior to the minicamp, at which point numbers are assigned to the players. A few days ago, RC noticed that John Buck was listed on the official roster as #14, and Paul Phillips was listed as wearing Buck's old #2. Sensing a possible typo, RC resolved to get to the bottom of this. Our efforts have confirmed that Buck has indeed switched numbers, and he will enter next season wearing #14, Tony Graffanino's old number.
We also found out that Alex Gordon will wear #70 during spring training, and Billy Butler won't report until the rest of the minor leaguers report on March 5, two weeks after the Major League squad and non-roster invitees.

Unfortunately, RC's official spring training trip ends on March 5, so we will be unable to follow his and other minor leaguers' progress. There is hope, however, that we will be able to see a couple minor league players whose 2005 seasons were cut short by injury, such as 2005 draftees Shawn Hayes and Jeff Bianchi. We'll keep you posted on what we find out.
We're pleased to report that RC has purchased a new digital camcorder, with which we will be able to provide much improved video from spring training and throughout the season. It will be a major upgrade over the splotchy video we took at the Arizona Fall League.

In addition, RC sat down this weekend and plotted out our amateur baseball schedule for the coming season. Thus far, we're planning to see several top ranked teams and perennially successful programs, including North Carolina, Clemson, Georgia Tech, Miami, NC State, Virginia, and the University of Missouri. So that means we should have reports on amateur prospects such as Andy Miller, Wes Hodges, Max Scherzer, Daniel Bard, and John Jay, among others. This promises to be an excellent addition to RC, and we're really looking forward to the start of the collegiate season, which begins in just three weeks.
Finally, RC plans to have an updated Top Prospect list for you sometime this week. Baseball America is planning to unveil its top 10 Royals prospects on January 27, and we want to make sure we beat them to the punch. Our list is already finalized, and it's just a matter of updating our prospect reports and improving our formatting.

We won't reveal the list just yet, but we can tell you we've expanded our list to include the Top 30 Royals prospects, and the top of the list is essentially unchanged. There's quite a bit of movement in the middle, as RC has taken into account additional information and criteria. Anyhow, we look forward to hearing your feedback once the list is published, so stay tuned!