Murphy and Ambres tell C.C., "Take THAT, you crooked hat-wearing clown!"
You couldn't have hoped for better debuts out of
Donnie Murphy
and
Chip Ambres
, as the Royals topped the Tribe, 5-3. Both rookies went 2-for-4, and Murphy had two RBIs, including his first Major League HR -- a solo shot just to the right of dead center off of
C.C. Sabathia
-- in his first at bat. Later, Murph drove in a big two-out run with a single to right, again off of Sabathia. For his efforts, we have crowned a new Official
RC
Beer: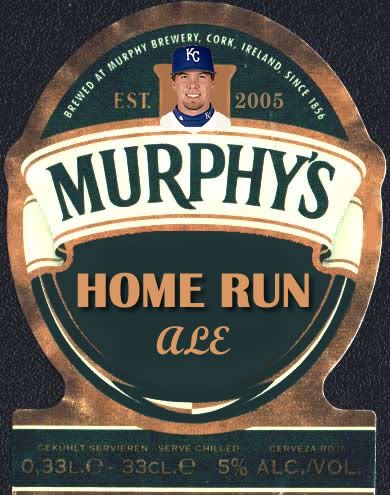 Ambres (pronounced
AM
-bers, as we learned tonight) recorded his first Major League hit in his second at bat, a double off the left field wall.
RC
was pretty impressed in our first look at him. He layed off some close pitches and didn't look overwhelmed in any at bat. He's got a high leg kick that we weren't expecting, and we're convinced -- even after seeing him for just a few at bats -- that he's got very fast hands.
Both Ambres and Murphy had some trouble in the field -- Ambres on a throw to the cutoff man, and Murphy on the first Indians batter -- but that was probably just first game jitters. We know Murphy is money at second, and Ambres has the speed to cover some serious ground in left.
Of Murphy's promotion, Rotoworld.com wrote the following:

Royals recalled infielder Donnie Murphy from Double-A Wichita.
While he's no Justin Huber, Murphy was hitting .313/.362/.523 with 10 homers for Wichita. It seems like a bad idea for the Royals to have both Ruben Gotay and Murphy accumulating service time at such young ages, but that's why they're the Royals. Expect Murphy to take Tony Graffanino's at-bats.

Now, we generally like Rotoworld, but this shows us how difficult it is for a publication to try to properly cover every Major League team. We usually appreciate Rotoworld's sarcasm, but today they really ticked us off. The fact is that Murphy's promotion was a no-brainer on several levels. First, Ruben Gotay is absolutely worthless (.216/.328/.255) against lefties. Second, Murphy can play every infield position, so getting Tony Graffanino's at bats and then some won't be any problem. Third, Murphy had very little left to prove in the minor leagues. Fourth, the Royals are in a massive youth movement, and it's important for them to learn right now who can play at the Major League level, and who cannot. Fifth, the Royals needed another versatile infielder on the roster, and among the four realistic candidates (Muphy, Mike Aviles, Denny Hocking, and Luis Ugueto), Murphy is not only the best player of the bunch, but also the one who best fits the organization's rebuilding movement.

Service time? Completely insignificant. Murphy's call-up comes late enough in the season that there's no chance he becomes a "Super-Two," nor will it affect his free agency clock. As for Gotay, there's very little chance that he'll ever develop into the type of player who's going to cost the Royals big money down the road, so there's no reason to worry about his clock either.

Anyway, we figured we'd address this, because we've been hearing similar mumblings from other corners of Royals Nation.
Jose Lima looked pretty darned effective tonight (6.0 IP, 8 H, 2 R, 1 BB, 3 K). In fact, this was Lima's fourth effective start in a row. During that span, stretching back to July 2, Lima has a 3.86 ERA with only four walks and 10 Ks in 25.2 innings. No, he's still not a good pitcher, but he's been eating some innings lately, and the Royals may actually be able to trade him for something with a pulse.
In the minors today, Justin Huber continued to rekindle his power stroke, as he smashed his 13th HR of the season and second in as many days, going 2-for-4 in Wichita's 5-2 win. A loyal RC reader was planning to attend the game, so hopefully we'll get some photos from him of newly acquired Juan Cedeno, even though he didn't pitch tonight. Jeffrey Bianchi was absent from the Arizona Royals lineup for the second straight game, so we're a tad bit concerned he may have been injured. Hopefully we'll get some news for you, and you can bet we'll pass it along as soon as we hear anything.
In RC's first official poll, 52 percent of RC readers believe that Runelvys Hernandez will be suspended 10 games for his role in the brawl over the weekend with the Tigers. It's not too late to vote, so make sure your voice is heard on this matter by registering your vote on our sidebar poll.
Finally, does anyone else think that C.C. Sabathia looks like a clown with his crooked hat? We sure do: