The trade...
This afternoon,
RC
Official Hero
Allard Baird
pulled off another one of those trades that made him our hero in the first place. In exchange for
Tony Graffanino
, who has been playing over his head all season, Baird managed to get pitcher
Juan Cedeno
and outfielder
Chip Ambres
from the Boston Red Sox.
Cedeno, rated as Boston's 17th-best prospect by
Baseball America
this year, is a lefty with a 96 mph fastball. Recently converted to the bullpen, Cedeno will join AA Wichita. His
stats
at Wilmington this season aren't great, but the Royals are excited about his arm, as well as his retooled curveball. Cedeno's biggest problem has been the number of hits he surrenders, and the Royals are hopeful that his move to the bullpen, as well as his potentially devastating breaking ball, will help him become less hittable. Unfortunately,
RC
hasn't seen Wilmington play this season, so we don't have any original information to pass on, but we do think the following quote from
BA
sums up Cedeno pretty well: "He can be frustrating, but few southpaws can match his sheer arm strength." Sounds to us like a pretty good guy to have.

The Royals insist that Cedeno was the key to the deal, but frankly,
RC
just might be more excited about Ambres. A first round draft pick in 1998, Ambres struggled with injuries his first few years, while showing good plate discipline and speed. The Marlins dropped him off of their 40-man roster last season to make room for an A-ball pitcher, Logan Kensing, and the Red Sox wisely snapped him up as a minor league free agent. This season -- his first at AAA -- Ambres has been outstanding:
| Ambres | Age | AB | AVG | OBP | SLG | HR | BB | K | SB | CS |
| --- | --- | --- | --- | --- | --- | --- | --- | --- | --- | --- |
| 2005 | 25 | 279 | .294 | .401 | .495 | 10 | 47 | 64 | 19 | 5 |
So what are the ramifications of this trade? Well, the speculation is that Ambres will join the team immediately to take Graffanino's roster spot. If that's true, then further moves will be forthcoming.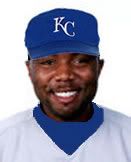 RC
predicts that Ambres will become the new starting left fielder, but that will require the Royals to make a couple more changes. To solve the crowded outfield situation, either
Terrence Long
will be traded or released immediately, or
Shane Costa
will be optioned back to the minors. We also maintain, as we have said all along, that
Donnie Murphy
is likely to be called up now to share 2B duties with
Ruben Gotay
, and to serve as the main utility infielder on days when Gotay starts.
The end result is a better Royals ballclub. We can't figure out if we're happier about this trade or the new Supreme Court nominee,
John Roberts
. It probably depends on who throws the bigger conniption fit: Red Sox fans or Democrats.
------------------------
UPDATE: Murphy promoted, Costa sent down

MORNING EDIT (7/20): RC knew something was up when Murphy didn't appear in Wichita's lineup last night. Our suspicions were confirmed this morning, as Allard Baird said on 810 WHB that Murphy would be recalled prior to tonight's game, and Costa will be optioned back to the minors. Expect Murphy to get the start tonight with a lefty on the mound.




This is wonderful news, because Murphy is one of RC's favorite players. We saw him play over half a dozen games last season (including a playoff game in which Murph hit a GW 3-run HR), and we're convinced that he's a much better all around player than Ruben Gotay. We're certain that Murphy will eventually take over the starting job.