RC World Exclusive!!! We have Alex Gordon photos!
Ahhhh, the first glimpse at the future. Why is RC always so optimistic? Because we've pictured this photo in our heads for almost a year. Now, if Justin Huber was in the hole, we'd be all set...
Long before
Alex Gordon
was drafted in June,
RC
harbored fantasies about a Royals lineup that included both
Billy Butler
and Gordon in the middle of it. In fact, we had penciled Gordon into our 2007 lineup before the Royals even selected him. Well, today those fantasies became reality in the Arizona Fall League.
Gordon, after going 0-for-4 in his debut for the Surprise Scorpions, was not in today's starting lineup. However, he entered the game in the seventh inning as a defensive replacement for
Kendry Morales
, who was batting fourth behind Butler.
Lucky for us, RC's newest correspondent,
Brooke Bennett
, happened to be at the game to document the proceedings. And a fine job she did!
RC
is pleased to present to you the
FIRST
photos available anywhere of Alex Gordon playing in a Royals uniform, all courtesy of Brooke: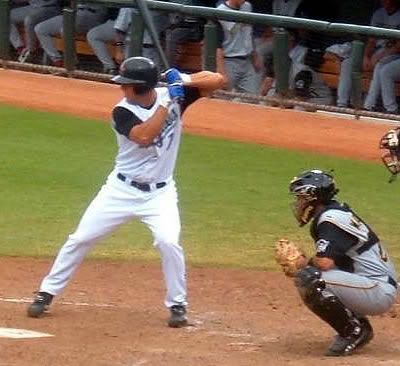 There's the stance we came to love when Gordon was a Husker...
Gordon's superior batting eye told him that pitch was a ball.
RC appreciates the old school doughnut. Or is it "donut"? We're not quite sure how to spell it when it's not made out of dough.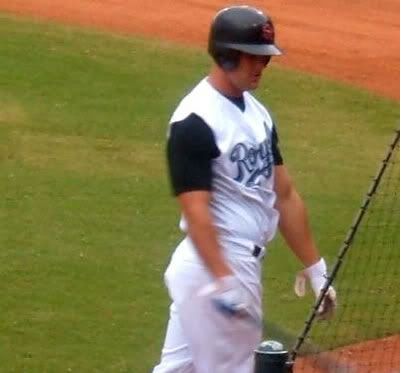 Gordon's getting ready to do some damage.

The swing...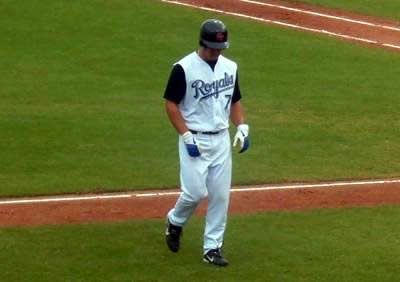 Dammit! Gordon was retired on a fly ball to left in his only at bat, but we're pretty sure the left fielder had to jump over the fence to rob him of a homer. Oh well, he still has time to exact his revenge.
Thanks again to Brooke, who came through for us in a big way today!
RC
is also pleased to announce that we will have more photos from the AFL forthcoming. In the next couple days, we'll publish some photos Brooke snapped of Butler, and in a few weeks,
RC
is taking a three-day trip to Arizona, where we'll take some high resolution photos with
RC's
official camera. Stay tuned, and keep checking back with us regularly.