RC opens up the Mailbag, and takes on Kauffman Confidential...
Editor's Note: From time to time, RC likes to take questions from our legions of loyal fans. Here are a few of the better questions we received, along with our responses. To ask RC a question, simply click on the obnoxiously large "RC Mailbag" icon underneath our main logo on the right sidebar.
Q
:
John from Ohio asks:
Hey RC, love the blog - great job! Not much mention of the 2006 MLB Amateur Draft, though. I know it's early, but the Royals are "on the clock". Any thoughts? Seems like a pitcher being picked number 1 by the Royals would be the most likely scenario, and if Andrew Miller continues his ascent, he might get the nod. If the Royals did take Miller, what would his chances be of playing for the big league club in 2006?
A
:
RC
: Hey John, we don't really like to speculate too much on the 2006 draft, because too much is left to be settled. The 2006 amateur baseball season hasn't even started, and it will be a key determinant of where guys like Andy Miller, Drew Stubbs, and Max Scherzer go. Another factor we're not yet aware of is who these guys will choose as their "advisors". As you know, the Royals aren't bloody likely to take anyone represented by Scott Boras, and he's sure to grab a couple of the top guys, like he does every year.
We do think you're right, however, about the Royals drafting a pitcher. We don't think there's much doubt about that, unless a position player just completely blows them away. It could be Miller, but we'll see. As for the chances of him playing for KC in 2006, we'd say there is virtually no chance. Teams don't rush starters the same way they rush relievers. While you see guys like Huston Street make immediate splashes in the Majors, teams generally are much more cautious with starting pitchers, particularly those taken with the first couple picks of the first round. Unless Miller is a Mark Prior-type stud, we doubt he'd be in KC any earlier than Sept. 2007/April 2008.
This spring,
RC
is going to make a concerted effort to see some of the east coast prospects like Miller. We're hoping UNC comes to Maryland, but if not, we'd be perfectly willing to drive to the University of Virginia to see him pitch, because we're pretty sure they have a series there. We're still bummed we didn't even consider going anywhere to see Ryan Zimmerman play last year, so we're going to do our best next year to see who we can.
Q
:
RM from Kansas City, MO asks:
Hey RC, did you get any photos of the Surprise complex when you were in Arizona? I've been wondering what all the fuss was about.
A
:
RC
: We sure did.
RC
has been to minor league stadiums and spring training facilities all over the country, and we've never seen anything that even remotely compares to Surprise Stadium. Here are a couple photos: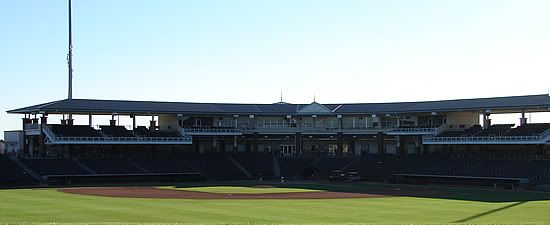 Q
:
Jason Erickson from Kansas City, MO, asks:
GREAT WEBSITE!!!!!! But I have this burning question for you. Being a Kansas City resident and a supporter of KC sports. Are the Royals ever going to be able to compete in MLB as long as there are teams like the Yankees and Red Sox??? Baseball is getting out of hand!!!
A
:
RC
: Of course the Royals can compete. It's definitely harder for small market teams, but with an intelligent plan and the willpower to stick to it, it is certainly possible. The Athletics and the Twins have proven this over the past five or six years, and the Royals have begun to build a young core similar to what those two clubs had prior to their great runs. Keep in mind, things looked helpless for both the A's and the Twins immediately before they started piling up winning seasons. The margin for error is certainly not very big, but
RC
likes our chances in the coming years.
By the way, if any of our readers live in Dallas and are looking for a good dentist,
RC
will put you in touch with Jason, who will move out your way sometime next year. No anti-dentites, please.
Q
:
Dustyn R. from Warrensburg, Missouri asks:
Do you think that Alex Gordon will be ML-ready by the All-Star break next
season?
A
:
RC
: Dustyn, it's hard to say, because we still haven't seen Gordon face top notch pitching. Clubs send their best hitters to the Arizona Fall League, but the only top tier pitching prospects who go are those who, for various reasons, need to log a few more innings. However, based upon what we saw in Arizona, we think there's an excellent chance Gordon will debut in KC sometime next season. The only delay we anticipate may occur when/if Gordon moves to right field next season. Offensively, he's not far from being ready right now -- he's got a beautiful swing, he squares up on the ball very nicely, and he's friggin' STRONG. In fact, check out Gordon's arms in this picture we took on our first day in Arizona: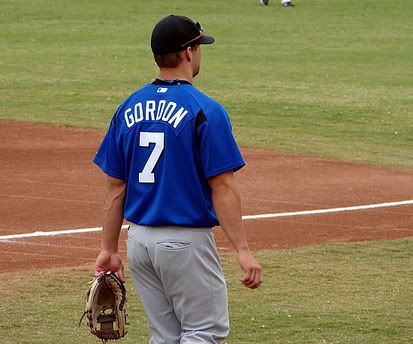 Hey Gordon, Popeye wants his arms back...
Q
:
Rick from Kansas City, MO, asks:
How is Tupman doing down in Arizona? I know he has a strong arm and great defensive skills, but how is his bat holding up? He looks pretty good on paper.
A
:
RC
: Matt Tupman did indeed have a fine fall season, logging a final line of .279/.354/.442 with two homers in 14 games. His reputation has always been that of a defensive catcher, but when we saw him, his defense faltered while he had an excellent offensive game. We saw him throw one ball into CF on a steal attempt, and another missed badly to the left side of second base. He probably just had a bad game, which happens, and since we only saw him play once, we really can't offer much in the way of useful analysis. However, we can tell you that we did like his swing. You can check out a short video we shot of Matt Tupman by clicking
here
.
Q
:
Keith W. from Rogers, AR, asks:
First off, I'm a big fan of the website, you do a great job! My question is, with Glass's stated intention of raising the payroll by $15-20 mil, do you think the Baird will go after some speed for the top of the lineup, ala a Rafael Furcal. I think it would ideal, albeit a long shot, for us to sign Furcal to be a second baseman and bat leadoff, allowing DD to bat 2nd.

Also, who is your prediction as an innings eater (Byrd, Suppan)?
A
:
RC
: We got a lot of questions about potential free agent and trade acquisitions, so we'll use this question to address them all. The answer is that nobody really has any idea what the Royals are planning to do with that money. We understand they're in on every significant free agent, but they know there's an awful lot of competition with such a weak FA market. We don't like speculating on media reports, because more often than not, they're based upon incomplete or inaccurate information. However, if
RC
had to compile a wish list of free agents, Rafael Furcal would almost certainly be our number one target. Not only would he provide speed on the bases, but he'd be a tremendous upgrade to the infield defense. Second on our list would be Brian Giles, but beyond that, there's really not much that gets us excited.
As for starting pitching candidates, both Byrd and Suppan would be acceptable innings-eaters, but we're not sure we'd be comfortable paying them the ransom they're almost certain to command in this market. If no reasonable contracts ultimately present themselves,
RC
would be content if the Royals simply saved their money until the next offseason, when we believe they'll be much closer to competing for a division title. The public outcry would surely be deafening, but it would ultimately be for the best. However, with owner David Glass's public promise to raise payroll, we're not sure if that is even possible.
Q
:
Lisa from Kansas City, MO, asks:
Hey RC, do you have any more photos of RC's Official Baby?
A
:
RC
: As a matter of fact, we do:
We understand young Brett Ray has demanded
a hat that actually fits for his next photo shoot.
Well, that's it for this mailbag segment. If we didn't get to your questions this time, we'll do our best to do so next time. In the meantime, keep those questions coming, Royals fans!
Not long ago, RC noticed that Bill Heeter over at Kauffman Confidential put RC's Official Hero, Allard Baird, on trial for crimes against Royals Nation. RC swooped in to Baird's defense, and our opening statement is now available at Bill's site. We also took the time to create a graphic to mark the occasion:




Be sure to check back at Kauffman Confidential frequently, as our defense promises to swiftly cut holes in the prosecution's case.