Season in Preview: Catchers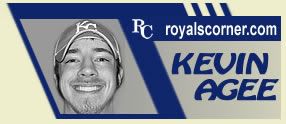 As Opening Day 2006 is right around the corner, it's time to take a look at where the Royals stand heading into this season. With the help of two great player projection systems (
Baseball Prospectus
'
PECOTA
and
Dan Szymborski
's
ZiPS
), I'll be discussing the state of the organization position-by-position over the next few days. First up, catchers:

JOHN BUCK  C  AGE: 25                  PAUL BAKO  C  AGE: 33  
==================================     ==================================
PROJECTION     AVG     OBP     SLG     PROJECTION     AVG     OBP     SLG
PECOTA        .258    .303    .420     PECOTA        .238    .322    .327
ZiPS          .257    .309    .407     ZiPS          .203    .284    .275
==================================     ==================================
AVERAGE       .258    .306    .414     AVERAGE       .221    .303    .301
.
PAUL PHILLIPS  C  AGE: 28
==================================
PROJECTION     AVG     OBP     SLG
PECOTA        .246    .277    .340
ZiPS          .254    .291    .362
==================================
AVERAGE       .250    .284    .351
Ever since
Mike Macfarlane
finished his very underrated career with Kansas City in 1998, the Royals have shuffled through a lot of different starting catchers (21, to be exact), trying to find somebody – anybody – who'd prove himself capable enough to handle the job over the long haul. However, that never materialized, as every candidate was either inept with the bat like
Hector Ortiz
and
Mike Tonis
, viewed as unable to handle the defensive responsibilities like
Mike Sweeney
, or, in the case of
Gregg Zaun
, just wasn't appreciated enough by the organization. The only player who stuck for a considerable amount of time was
Brent Mayne
, who earned more than $6 million and posted roughly a .610 OPS during his second go-around with the club.
The past seven years definitely haven't been good to Kansas City catchers, so the Royals are hoping that
John Buck
will place a stranglehold on the position for the foreseeable future. Acquired along with third baseman
Mark Teahen
and pitcher
Mike Wood
for
Carlos Beltran
in 2004, Buck has shown periodic signs that he's capable of being at least a league-average receiver both offensively and defensively. The Royals have praised his work ethic and prevalent leadership skills, but undoubtedly want to see him take the next step towards becoming a better on-field player and, perhaps, team captain after Sweeney's playing days are over. Doing so starts with becoming more dependable on a day-to-day basis.
To date, the only dependability Buck's brought to the table has been his defense and handling of the pitching staff, which is all the Royals initially asked of him after bringing him to the Major Leagues immediately after the trade. In a little over 1550 innings behind the plate, Buck's committed only six errors and 10 passed balls, testaments to his very fine technique in blocking balls in the dirt. He's no
Mike Matheny
, but is very, very good in his own right. Additionally, Buck worked very hard at shortening his release when attempting to throw out a basestealer, and threw out 34.1 percent of those trying to steal against him, a seven percent increase from 2004.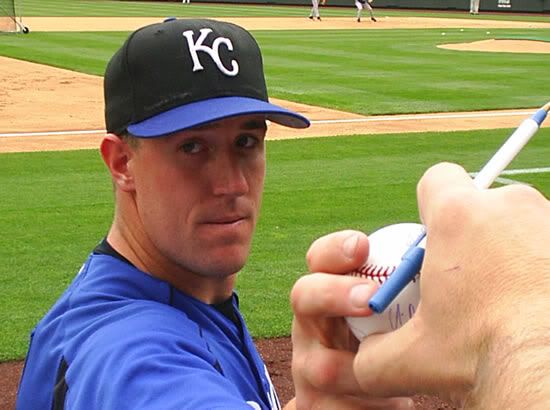 Despite looking like a masher and carrying 220 pounds on a 6-3 frame, it's been a different story for the 25-year-old offensively, as he's struck out 173 times and posted an on-base percentage of only .284 in 688 career plate appearances. The strange thing is that in both of his seasons, Buck has put on an incredible show of home run power in September after being nothing more than a very big singles hitter from April to August. Just take a look at his isolated power (ISO), which can be found by subtracting a player's batting average from his slugging percentage:

MONTH     AB     ISO
April     63    .080
May       63    .207
June      78    .103
July     131    .084
August   143    .179
Sept     150    .260
Encouraging? Sure, but only before you take into consideration his strikeout-to-walk ratio, which is actually worse in September (6.33-to-1) than it is from April to August (4-to-1). As a general rule, any time a player's power spikes, it should be because he's being more selective at the plate. That definitely doesn't apply to Buck, whose poor pitch recognition skills haven't get better as the seasons have worn on. As a result, his liking to late-season hitting is very difficult to explain. All I know is that he won't keep it up until he can distinguish between a hittable slider and an in-the-dirt slider.
However, improving his plate discipline is only one thing Buck needs to do to become a more consistent and better hitter. While looking at his month-by-month splits, I stumbled upon this, which shows how he performs against one pitcher from at-bat to at-bat during the course of a game. As fantastic as John's work ethic is, I was surprised to find that he gets appreciably less productive as the game progresses:

vs P     AB     AVG     OBP     SLG     OPS
1st     362    .262    .311    .436    .747
2nd     176    .222    .249    .392    .641
3rd      99    .192    .252    .303    .555
Hitting a baseball is the most difficult thing to do in sports, and that's why those who do it with such great consistency are a pleasure to watch. It's an art form. In my mind, a hitter understanding how the pitcher is trying to get him out is a prerequisite to long-term success. It's about making adjustments. Quite simply, pitchers have adjusted their approach towards Buck after the first plate appearance, and John hasn't adjusted back. If the light ever comes on and he can maintain that .750ish OPS pace after his first time up, he'll be a more-than-adequate starting catcher.
In the end, it's time for John Buck to step it up and become more refined in his hitting approach. The strength is there, but it has to be supplemented with better knowledge and understanding of what he's doing at the plate. If that happens, I wouldn't be surprised if Buck's career mirrors Macfarlane's.
Despite already having a future backup catcher in
Paul Phillips
on the 40-man roster, Royals GM
Allard Baird
wanted a veteran to serve as a mentor to Buck in 2006, desiring to achieve something similar to the effect
Terry Steinbach
had on a young
A.J. Pierzynski
with Minnesota in 1998 and 1999. According to Baird, the plan of attack would be to have the veteran's playing time gradually scaled back as the season progresses, presumably easing Buck into a spot where he's more comfortable playing every day.
Initially, that search looked like it would have a very positive end when Baird had a handshake agreement with free agent
Todd Pratt
, but that fell through when Pratt reneged on the deal to join the Braves. Pratt's long been among the best offensive catchers in the game, posting a .753 OPS over parts of 13 seasons. Even at age 39, he'd likely be more productive than the starting backstops for most teams.
After a guy like Pratt is off the board, the free agent market for reserve catchers becomes like a grab bag: every player available is of a "defense-first mindset" and is "good working with young pitchers," which is code for "None of 'em can hit." Baird settled on
Paul Bako
, a 33-year-old journeyman whose claim to fame is being
Greg Maddux
's personal catcher for two seasons, one in Atlanta and one with the Cubs. Beyond that, he really hasn't done much with the exception of making more than $4 million to get to call himself a baseball player and catch once a week, almost always on a sunny Sunday afternoon.
Bako probably won't hurt the Royals any as long as he doesn't get many chances to hit. In essence, the Royals are going to pay him $750,000 this year to be a positive example for Buck. With a capable younger guy like Phillips already on the roster, that could easily be considered a questionable use of resources for a small-market club, but the reality is that it just doesn't matter. He'll be on the roster for a year and move on to another team in 2007. If Buck is better for taking Bako's advice, the goal of the acquisition will have been accomplished.