RC Spring Training Report -- Part IV
RC
returned to Eastern Command this evening, and we immediately began compiling all the data and photos we collected during our five days in Arizona. All told, we took 969 photographs and collected over 100 MB of digital video. As you can imagine, figuring out how to organize the massive quantity of information and provide it to our readers in a coherent format can be a nightmare of a task, but it is truly a labor of love.
After much internal debate, we've decided the best way to proceed is to break down our report over a few days -- there is simply too much information to digest in one post. Today we've decided to discuss the position players, including a breakdown of those who most impressed us. In the coming days, we'll report on the pitchers we saw. Most of the video we shot will be used for other
RC
features down the line, but we are including a few clips here.
In addition, before the season begins,
RC
will unveil a revised top 30 prospect list, which will incorporate everything we saw in Arizona, as well as photos of nearly every top prospect in the organization. On Thursday,
RC
hit the photo jackpot, as we watched every minor league pitcher and catcher in the organization work out, and we can't wait to provide you with the first look (including some video) at players such as
Brent Fisher
,
Billy Buckner
,
Kiel Thibault
,
Danny Christensen
,
Chris Nicoll
, and many more.
Anyhow, there's much more to come, but it's time to proceed with today's post:
---
The position players who most impressed us---

---
Also Impressive---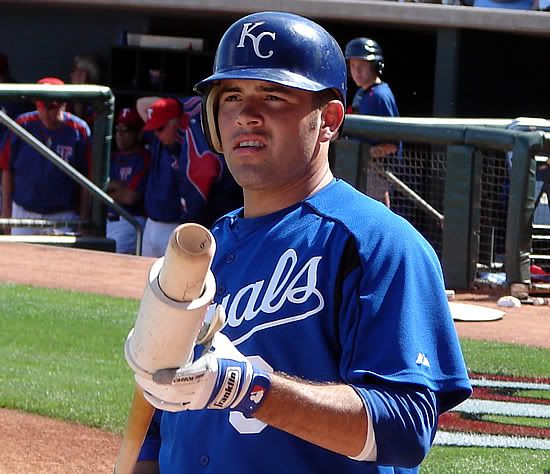 David DeJesus
is another player who reported to camp looking much stronger, and he's off to a great start. As we mentioned on Friday, DeJesus hit a 420 ft. bomb (
RC's
guess) to right center, and we don't recall ever seeing him hit a ball that far.
Esteban German's
speed is every bit as advertised, and he figures to be a near lock at the utility infield position. We saw him easily swipe two bases during the games, including a steal of third base on Saturday. He played at both second and third, and he looked comfortable at both positions.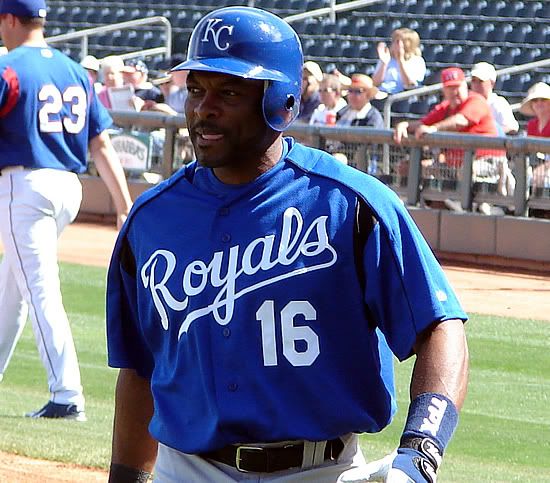 Reggie Sanders
is more physically fit than 99.9 percent of his fellow 38-year-olds, and he looked solid in the few at bats we saw, pumping two singles through the hole between third and short. Let's hope he can stay healthy.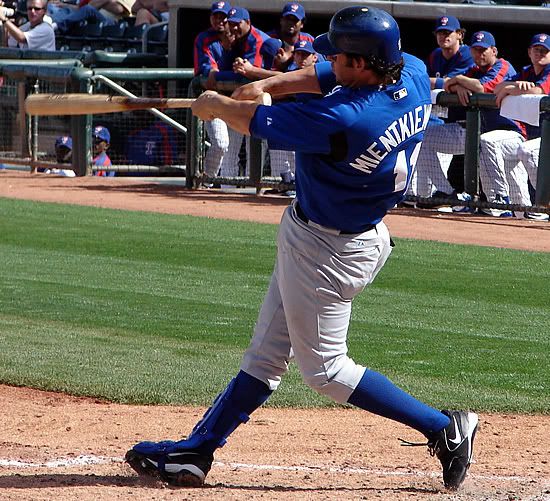 Doug Mientkiewicz
had a nice game on Saturday, collecting two hits (including a double to right center off the wall) and three RBIs. We didn't, however, get a chance to see any of his dandy glovework.
---
Other Notes
---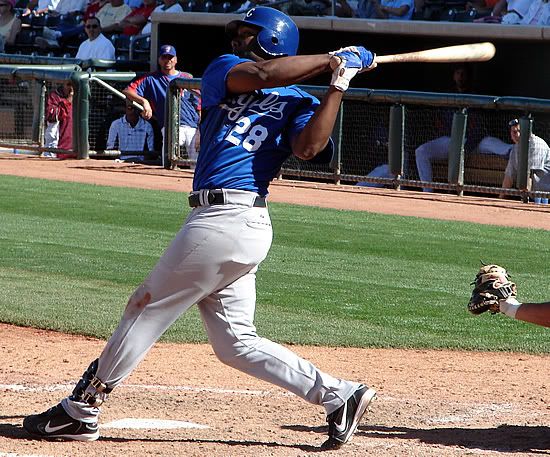 Chip Ambres
certainly hasn't impressed anyone with his glovework thus far, and his baserunning has also been a problem early this spring. He dropped a fly ball during the simulated game, and he just hasn't looked comfortable tracking fly balls. He had a nice game on Thursday, reaching base four times, but he'll need to show improvement if he wants to make the team as the Royals' fourth oufielder. We only saw
Aaron Guiel
play in the simulated game before he departed for the WBC, but he's a better defender, and he was hitting everything hard.
RC
gives the early edge to Guiel, but that can still change.
The
Kerry Robinson
"craze" in the KC media is a joke. Anyone who has ever seen the ridiculous swings by Robinson while trying to hit a decent offspeed pitch knows there is no way that
Buddy Bell
and
Allard Baird
are going to put him on the roster. With the exception of an opposite field line drive single, none of Robinson's hits were hit hard, including his well-placed triple down the LF line.
John Buck
also has us mildly concerned. With the exception of his towering home run in the intrasquad game, he's looked pretty bad at the plate thus far. Of course, it's so ridiculously early that it's probably silly to even bring it up. If he had a track record of offensive success in the Majors, we wouldn't have even mentioned it. But he doesn't, and we haven't noticed any difference in his approach at the plate.
Well, that's it for today. Stay tuned for our report on the pitchers, which will appear in the next couple days.