Spring Training is finally here!
** Update - 2/18/06 ** As expected, today's game was a washout. RC drove through the night, only to be turned away at the gate. It will be made up tomorrow as part of a doubleheader, beginning at 11:00 AM. Usually, doubleheader games are limited to seven innings apiece, but RC was pleased to learn today that both of tomorrow's games will be full-length, nine-inning games. That's a hell of a lot of baseball, and we're looking forward to it.
---------------------------------------
It's been almost five agonizing months since the Royals last took the field, but alas, pitchers and catchers officially reported to camp today. You may have deduced that
RC
isn't all that thrilled with the senseless distractions of football, basketball, and hockey seasons, and today marks the first day of 2006 that we feel "whole" again. The Royals take the field at 9:15 AM tomorrow morning, and from that point, "March Madness" is the only remaining nonsense baseball fans must suffer through before the world becomes right again on Opening Day.
About the same time the Royals hit the field tomorrow, RC will be in Chapel Hill watching pitcher Daniel Bard go through his pre-game routine before he makes his first start of the season for the Tar Heels. We pushed back our departure to North Carolina when we learned that neither he or Andrew Miller would start today, and we extended our trip when we found out Miller is scheduled to go on Tuesday vs. Coastal Carolina. Rain is in the forecast for tomorrow, so RC wouldn't be shocked if the game is rescheduled as part of a Sunday doubleheader, but since the whole point of the trip is to see Miller and Bard, we're not taking any chances. Keep checking back with us all weekend, as we'll post photos and video as soon as we get them.
We are also pleased to announce yet another feature to the site. As part of our 2006 draft coverage, RC has picked out the 10 collegiate players we feel are most likely to be selected by the Royals in June. On Monday, we will debut our list, and we'll add a link on the sidebar that will take you to a page that provides updated stats for all 10 players. RC Correspondent Chris Ray has agreed to update the stats daily, so our readers will be able to track the progress of the nation's premier amateur players throughout the season. This promises to be an excellent new feature to RC, and we're very excited about it.
Speaking of Chris Ray, we have some new photos of his son, the Official Baby of Royals Corner. We understand young Brett already gets fussy when he sees a Yankees logo, and while his raw power hasn't yet developed, he makes good contact and shows signs of becoming an excellent switch hitter.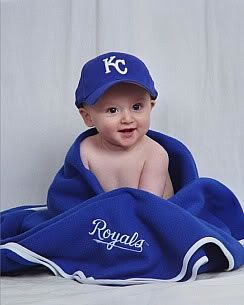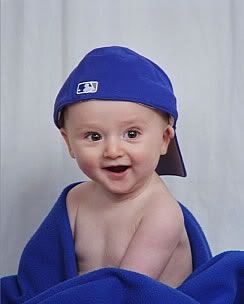 That's it for today. Be sure to tune in throughout the weekend for our updates from North Carolina.