Season in Preview: Middle Infielders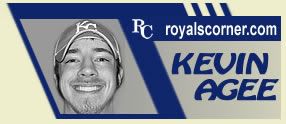 As Opening Day 2006 is right around the corner, it's time to take a look at where the Royals stand heading into this season. With the help of two great player projection systems (
Baseball Prospectus
'
PECOTA
and
Dan Szymborski
's
ZiPS
), I'll be discussing the state of the organization position-by-position over the next few days. We
covered the catchers on Monday
and the
corner infielders on Wednesday
, and continue today with a discussion about the middle infielders:
MARK GRUDZIELANEK  2B  AGE: 35         ANGEL BERROA  SS  AGE: 28  
==================================     ==================================
PROJECTION     AVG     OBP     SLG     PROJECTION     AVG     OBP     SLG
PECOTA        .280    .317    .394     PECOTA        .262    .299    .379
ZiPS          .290    .330    .394     ZiPS          .276    .318    .401
==================================     ==================================
AVERAGE       .285    .324    .394     AVERAGE       .269    .309    .390
-
RUBEN GOTAY  2B  AGE: 23               DONNIE MURPHY  2B  AGE: 22
==================================     ==================================
PROJECTION     AVG     OBP     SLG     PROJECTION     AVG     OBP     SLG
PECOTA        .260    .327    .404     PECOTA        .257    .318    .415
ZiPS          .255    .330    .380     ZiPS          .231    .285    .354
==================================     ===================================
AVERAGE       .258    .329    .392     AVERAGE       .244    .302    .385
-
ANDRES BLANCO  2B/SS  AGE: 21          ESTEBAN GERMAN  2B/SS  AGE: 28
==================================     ==================================
PROJECTION     AVG     OBP     SLG     PROJECTION     AVG     OBP     SLG
PECOTA        .244    .286    .309     PECOTA         ----UNAVAILABLE----
ZiPS          .237    .286    .284     ZiPS          .261    .338    .348
==================================     ===================================
AVERAGE       .241    .286    .297     AVERAGE       .261    .338    .348
In a 2005 season preview article, my good friend and longtime Cardinals fan
Spencer Hendricks
predicted that St. Louis second baseman
Mark Grudzielanek
and shortstop
David Eckstein
would "hammer thirty homers apiece and become forever christened 'The Unstoppable Grudstein.'" Sarcastic as the prediction was, each player fell only 22 home runs short of making Spencer look like a genius. I guess that would make them "The Passable Grudstein."
I'll make no such prediction in this space, although I do like the idea of new Royals second baseman Grudzielanek and incumbent shortstop
Angel Berroa
being so much fun to watch defensively, they're dubbed "The Incredible Acrobats of Berzielanek" by season's end. That scenario may have to unfold for the Kansas City starting middle infielders to avoid dragging their team's chances at winning into the muck.
For Grudzielanek, we'll look at the good news first: Signed for one year and $4 million, the 35-year-old native of Milwaukee has made a name for himself with solid defensive play at second base since he shifted there from shortstop in 2000 while playing for the Los Angeles Dodgers. The numbers bear it out: in 775 games, Grudzielanek has posted a .984 fielding percentage, a 4.58 Range Factor (with the league average over that time being 4.30), and a Zone Rating of .844, which is approximately equal to three-time Gold Glove winner
Luis Castillo
's .843.
Not only does Grudzielanek do a terrific job of getting to a good number of batted balls and making the play afterwards, he also has a cannon for an arm and a willingness to stay in on the double play pivot that Royals GM
Allard Baird
described as, at times, reckless. By all accounts he's also a player with fantastic character and leadership skills, but I don't think I'd blame any young Royals infielder if he doesn't follow Grudzielanek's lead and gets out of the way of a runner sliding in spikes up.
The bad news has to do with Grudzielanek's offensive skills, but while his plate discipline and power are both underwhelming, I'm less concerned with that and more concerned with the way the Royals plan on utilizing him at the plate. Ever since the day he signed, the Royals have made it known that he and his career .330 on-base percentage will enter 2006 as the second hitter in the lineup behind
David DeJesus
. That's bad enough as-is, but the reason that's being given for the decision is even more baffling:
"He's a pretty good No. 2 hitter. He just grinds out at-bats -- I think that's the best way to describe him, offensively."
-
Scott Elarton
kcroyals.com
"He's just solid. He's a ballplayer."
"He's [hit second] before, he understands situations. He doesn't freak out."
-
Buddy Bell
kcroyals.com
"I'll let Buddy (Bell) make that call but he sure fits nicely as the No. 2 guy."
-
Allard Baird
kcroyals.com
I've
made mention of this before
, but I'll repeat it here: Being a "grinder" or a "ballplayer" are not justifiable reasons for a mediocre offensive player like Grudzielanek to be in a position to accumulate the second-most plate appearances on the team.
Craig Biggio
has also been dubbed a "grinder" and has hit high in the order for his entire career too, but players like him also have the on-base and power skills that are necessary to rightfully bat leadoff or second.
Grudzielanek is more than capable of doing the things number two hitters are "supposed" to do, like getting a bunt down, moving a runner over, or not striking out, but the Royals' brass should be entirely too smart to fall for idiotic and archaic baseball adages such as those. Besides, while he was never the type to avoid outs in the first place, his batting average and on-base percentage have steadily declined three years in a row, and a move to the spacious Kauffman Stadium is not going to reverse that trend.
Still, the bottom line is that when everything is taken into consideration, Grudzielanek isn't a bad baseball player. Given the situation the Royals are in, the decision to sign him wasn't a bad one either. However, it's necessary for his team to use him correctly – read: hit lower in the order – so his tendency to make weak contact doesn't become a hindrance on the offense.
From both offensive and defensive standpoints, the Royals are hopeful that Grudzielanek's presence will help Berroa elevate his game back to the level he displayed in 2003 when he won the American League Rookie of the Year award by hitting .287 with 17 home runs, all the while showing massive improvement at shortstop. Then 25 years old, Berroa played an integral role in the Royals' unlikely run to a division title and, aside from
Carlos Beltran
, was easily the most electric player on the roster. Thinking they had their shortstop for the foreseeable future, the Royals rewarded Berroa with a four-year, $11 million contract in May of 2004.
Unfortunately (but perhaps not unexpectedly), Berroa hasn't returned the favor in any way, shape, or form since that time. In the past two seasons, Berroa's posted on-base percentages in the low-.300s, has hit for absolutely no power and, worst of all, doesn't really seem to care about how sub-par his play has been. Or perhaps even worse, he's totally ignorant to the whole situation. It's probably a combination of both. Last September,
Berroa told the Kansas City Star's Bob Dutton
that "You're never going to see me walk a lot. Because there are times, if I'm trying to get a walk, I'll get good pitches and not swing. That's not good."
Spoken like a man who walks up to the plate without a plan of attack or any idea of what a strike zone is, which his low walk totals bear out. Though their patience with Berroa's lack of patience is odd, the Royals and Baird have at least recognized that he's never going to be willing to take a walk, and have dumbed down their organizational offensive approach to Berroa's level, something to the tune of "Stop swinging at sliders that are headed for the backstop." In other words, all they're asking of him is to only swing at strikes. It's mind-blowingly simple, stuff kids know when they play in any youth league, but for whatever reason, Berroa just can't understand anything beyond that.
The tragic part in all of this is that Berroa's lack of understanding of how to prepare for his at-bats totally undermines his strength at the plate. Despite being listed at just 6-0 and 180 lbs., Berroa can hit a pitched baseball a very long way. Thanks to his poor approach at the plate, moments like his 427-foot bomb off Detroit's
Ugueth Urbina
last April 15 are few and far between, happening only when he guesses right and gets a fastball. That physical talent will be enough to boost his numbers closer to his ZiPS projection; PECOTA is far too pessimistic.
Berroa's defense is just like his offense: very intriguing at times, but also wildly inconsistent. The tools are all there; his arm is well above-average, as is his range to both his right and left. However, it's been an inability to concentrate and make the routine play – he almost never uses two hands to catch a pop-up – that's caused him to be charged with 77 errors since 2003. That's a shame; because of the outstanding percentage of batted balls that Berroa gets to, he and
Mark Teahen
could legitimately make the left side of Kansas City's infield golden.
If he'd just apply himself, Berroa is a player who could be as good as he wanted to be. That isn't likely to happen. Additionally, seeing as he's already hit the age range (27 to 32) in which most players' production levels off, I don't think any kind of a big improvement would be in the cards anyway. Is he the Royals' biggest problem? No, but he definitely isn't part of the solution. That player could very well be waiting in the wings in the minor leagues.
When it comes to organizational rebuilds like the Royals started in 2003, there's typically one component that must be in place for the movement to be successful: depth. In a general sense, having talented depth on a 25-man roster is important to avoiding large productional dropoffs when a key player or two have to spend a month on the disabled list. However, depth is that much more important to youth movements succeeding. The more talented young players a team has, the better a chance one of them will turn into a reliable everyday player.
The Royals are still in the process of accumulating talent at some positions (most notably in starting pitching), but they've become very well-stocked with a bevy of pretty talented middle infielders. A trio of homegrown players and one intriguing offseason acquisition each have their own unique set of skills, giving the Royals options if Grudzielanek or Berroa go down because of injury.
Interestingly, the most exciting player of the entire group may be the one who practically gets the bat knocked out of his hands on a regular basis. Soon-to-be 22-year-old
Andres Blanco
can't and perhaps never will hit at the Major League level (he's managed only 50 extra-base hits in 1,298 career minor-league at-bats), but make no mistake: the kid is a freaking witch with a baseball glove on his left hand. Just take a look at this play from a game last September against Minnesota: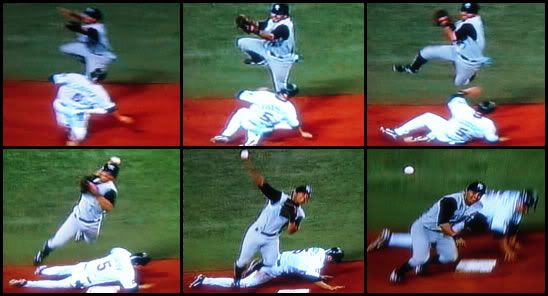 Since
RC
's own
Dave Sanford
captured that graphic, I'll let him describe the play:
It was amazing enough that Blanco was able to catch Teahen's throw while keeping his left foot on the bag long enough to retire Cuddyer, who was quickly bearing down on him to break up the double play. Most second basemen in this position would have no choice but to put the ball in their pocket...but not Blanco. In one smooth motion, Blanco made the acrobatic catch, somehow leaped OVER Cuddyer, and threw a hard strike to Matt Stairs in an attempt to complete the twin-killing. Morneau beat out the throw by a half step, but if he had been a tad slower, this play would have gone down as the double play of the year.
Amen to that. Blanco's range, arm, and ability to leap over baserunners trying to take him out at second base are all freakishly-good talents, but he may never get a chance to display them every day if he doesn't improve offensively. The Royals are planning to send him back to Triple-A Omaha to start the year to work on gaining strength in a low-pressure environment, hopefully as a shortstop where he can really show off. I wouldn't doubt him. Most of Blanco's walks are a result of his inability to make solid contact, but there was a time that
Omar Vizquel
was an awful offensive player too, and things worked out for him pretty well. He's that good, and the shortstop of the future.
Moving over to second base,
Ruben Gotay
and
Donnie Murphy
have seemingly been linked together at the center of "Who's better?" debates between fans and, in all likelihood, front office members as well.
Gotay, 23, has long been considered the better offensive player of the two, while Murphy's defense has been equally praised. Thus far, Gotay's performance with Kansas City hasn't justified his label, although there are positives here: He's shown decent plate discipline for a very young player, drawing 31 walks in 483 career plate appearances, as well as posting a .407 on-base percentage and a .490 slugging percentage in 145 at-bats during the Puerto Rican League's recently-concluded regular season.
To me, Gotay's bat speed leaves something to be desired, and he very well could be a Quadruple-A player. But I'm not about to totally give up on a guy who won't turn 24 until this December and who's shown solid knowledge of the strike zone and good power for a middle infielder in the minor leagues. If everything goes according to plan, he'll go back to Omaha when the Royals break camp, and will probably be the first guy called up if and when Grudzielanek gets hurt.
The 22-year-old Murphy struggled to do much of anything during his 32-game callup, hitting just .156/.241/.260 in 77 at-bats. However, he did hit his first home run, taking Cleveland's
C.C. Sabathia
out of the yard to dead center field. It was an impressive homer, something I think Murphy's capable of doing as an everyday player.
A career .285/.356/.424 hitter in the minor leagues, Murphy's power took a major step forward in 2005, as he posted an isolated power figure of .210 for Double-A Wichita. That he was playing in the hitter-friendly Texas League is reason for skepticism, but any time a player in his early 20s improves that much is only good news. Long-term, he'll probably become a poor man's
Marcus Giles
, and will come very, very close to nailing his 2006 PECOTA.
Finally,
Esteban German
lit up the Dominican Winter League with a .443 on-base percentage and 30 steals in 181 regular season at-bats, and he'll come into camp as the favorite to win
Joe McEwing
's job as the jack-of-all-trades infielder.
Acquiring him for Rule 5 draftee
Fabio Castro
might have been Baird's best acquisition of the winter. German won't hit for much power, but his hit frequency, on-base ability, speed, and defense are all assets on a Royals team that could use as much of each as possible.