RC Spring Training Report -- Day 1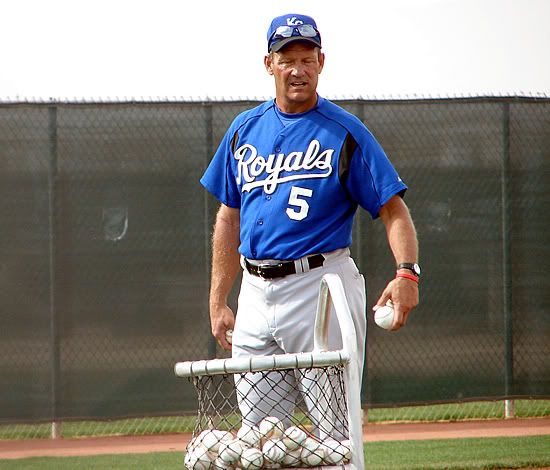 The first day of
RC's
Official Spring Training Trip went well. We arrived at camp shortly after 10 AM, and we moved back and forth between the four fields on which the Royals were taking batting practice. After figuring out who was where, we began taking photos and observing the action.
George Brett
was throwing BP on one of the fields, and it appeared that almost every Royal in camp was either hitting or shagging. Unfortunately, the workout was cut short due to the intrasquad game scheduled for 1 PM, but we still managed to take some pretty nice photos in the hour or so we had.
We assumed the intrasquad game would be open to the public, but of course, it wasn't.
RC
was relegated to watching the action through the left field gate, which offers a relatively poor view of the field from about 500 feet away. Nevertheless, we did see
Ruben Gotay's
homerun, which was a laser to right center off of
Denny Bautista
.
John Buck's
dinger was true no doubter to center off of
J.P. Howell
, and
Justin Huber
looked like he was swinging the bat well.
After a couple innings, half of the
RC
delegation left the game to see if there was anything interesting happening on the practice fields, which were still open due to a tryout on one of the fields. And it was then that we got our first look at
Jeff Bianchi
and
Jeffery Howell
, along with
Shawn Hayes
and a couple of other minor leaguers. We watched Bianchi and Hayes go through infield drills and batting practice, while Howell was working on his throws and footwork with
John Mizerock
on an adjacent field.
After adjourning to
RC's
official hotel for a couple hours, we drove to Tempe to watch Arizona State take on Texas Tech. We came away very impressed with a pair of Sun Devil players -- junior outfielder
Colin Curtis
and freshman pitcher/DH
Ike Davis
. We'll have more to say about them later, but for now, please enjoy some of the photos we took today at Spring Training.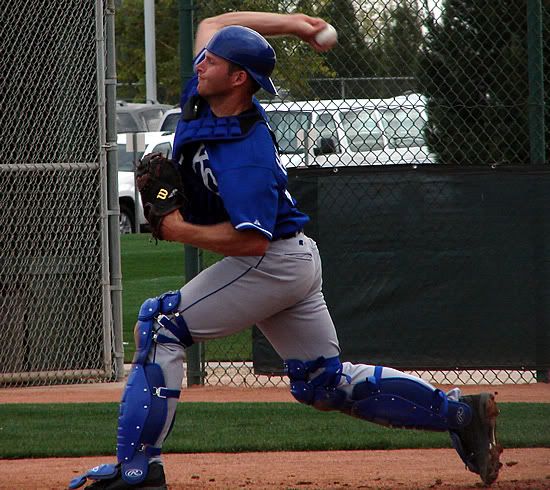 Jeffrey Howell hit .346/.455/.449 last season at Idaho Falls.

Bianchi looked good working out at short, and he showed his quick line drive stroke during BP.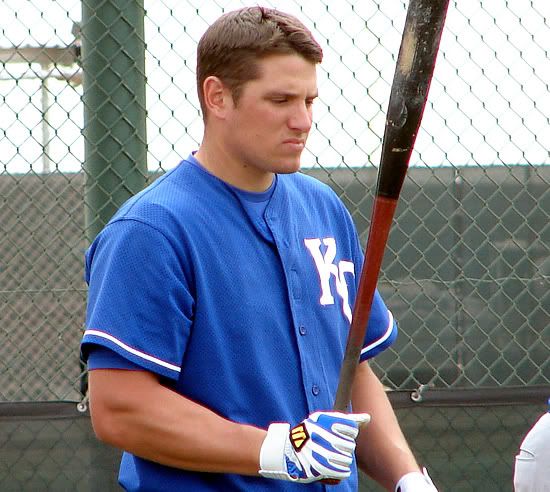 Mitch Maier looked much stronger than he was when RC last saw him in Wilmington, and he was hitting rockets during BP.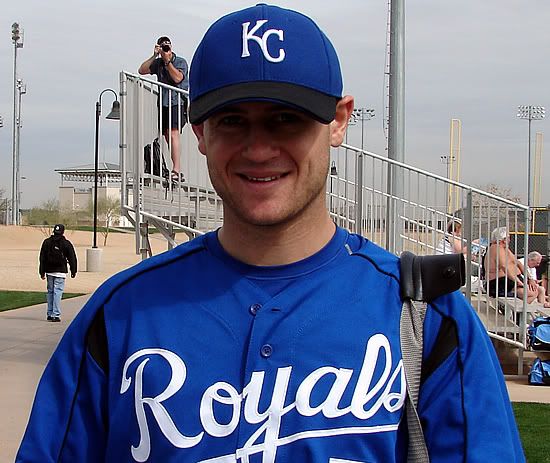 Justin Huber stopped by to say hello.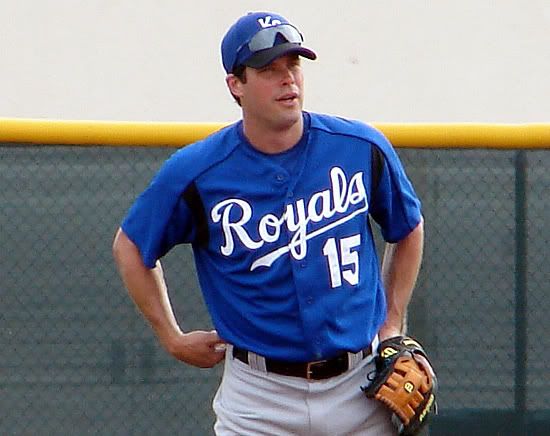 RC was also treated to our first look at Mark Grudzielanek in a Royals uniform.
Be sure to stop by again tomorrow for more photos and commentary.