RC reports on Andrew Miller...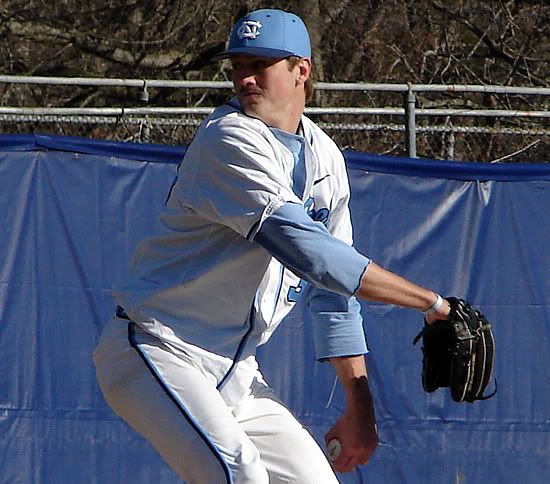 As promised, we are proud to present our scouting report on Andrew Miller. We initially planned to discuss Daniel Bard as well in this post, but we'll give you our take on his first start of the season either tomorrow or Wednesday. Also, a slight snag has caused us to delay the launch of our Top 10 draft prospects feature, but that too will be unveiled in the next couple days.
Andrew Miller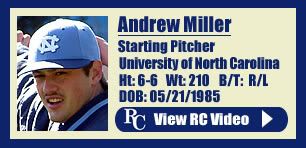 Miller, the pre-season favorite to be selected by the Royals with the first overall pick in the draft this June, began his 2006 campaign with a dominating performance over a very weak Seton Hall squad. Miller tossed six innings, yielding four hits, one walk and no runs while striking out nine. Run support was not a problem, as the game became a laugher in the fifth inning, the second consecutive inning in which the Tar Heels batted around the order (destroying RC's official scorecard in the process).

Miller left the game with a 13-0 lead, and the final result was a ridiculous 21-2 North Carolina victory. Miller was very efficient with his pitches after the second inning, and he probably could have gone another frame or two if it weren't for the consecutive half hour breaks on the bench in sub-40 degree weather spent watching his team assault Seton Hall's thin pitching corps. In fact, through six innings, Miller only faced two batters over the minimum.

Mechanically, we liked what we saw from Miller. He's got an easy arm action, and he doesn't seem to have any problem repeating his delivery. The arm angle on his slider is identical to his fastball, and he retains good balance throughout his delivery. One thing we did notice, however, is that Miller doesn't step directly toward home plate on his delivery. Rather, his front foot lands a few degrees to the first base side, and he then rotates his body and whips his arm around that point. It's certainly not the most efficient delivery, but it clearly adds to his deception, and it doesn't seem to affect his control. Here's a photo we took that does a fine job explaining what we're talking about: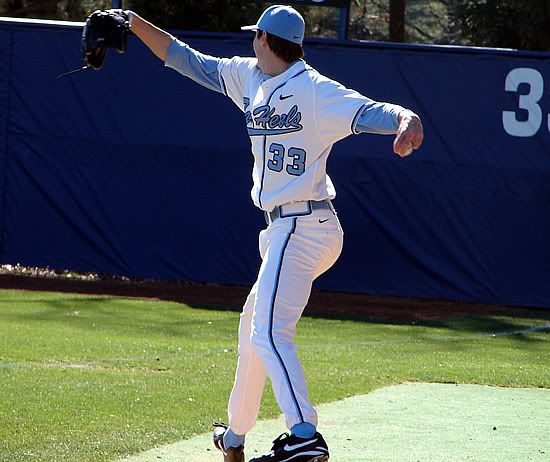 Actually, that photo might make his stride look a little more extreme than it actually is. As you can see in the video we shot behind the plate, it's far less noticeable from a perspective better than the one we had while observing his warmups, but it's still a motion that could put pressure on his arm.

Stuff-wise, Miller was pretty much as advertised. His fastball velocity wasn't great -- he was at 88-92 mph all afternoon -- but that can probably be largely attributed to the seasonably cold temperature (or by another factor discussed below). He located the fastball well on both sides of the plate, and he used it to set up his other pitches. He also showed a nice changeup (we have to assume it was a change), which had good tailing movement and sat at 81-82 mph. Of course, his money pitch is his slider.

The nastiness of his slider is hard to describe with words, but "unfair" probably does it justice. Miller used it frequently during the game, and nobody put solid wood (or metal, for that matter) on it all day. The velocity on his slider was 77-78 mph all day, and nobody on the Seton Hall team had any chance against it. The first pitch you see on the video shows you the insane movement on his slider, and the last two strikeouts show the type of futile swings offered at it all afternoon.

Of course, we did uncover one thing that gives us some cause for concern. Just as we were getting ready to leave, a Tar Heel batter fouled a pitch off in our direction, and RC retrieved the ball. We immediately noticed that the ball felt funny in our hand, and upon closer inspection, we realized the seams on the ball were raised. It came as a bit of a shock to us, because we assumed that all college conferences used a standard ball with the same specifications as a professional ball. When a Tar Heel player came out of the clubhouse to search for foul balls, RC started asking questions, and we learned that all ACC balls have raised seams.

"The pitchers don't like them," explained the player. "They help breaking balls, but they make fastballs seem very sluggish and knock some velocity off the pitch." Indeed, anyone who has ever pitched knows that raised seams improve movement on breaking balls. We have no idea why the ACC uses those balls, but it definitely makes it harder to evaluate pitchers. Does Miller's slider become a more human pitch when thrown with a standard ball? We have no idea, but it's definitely something to consider, as it just might be a factor. Or it could be nothing.

Nevertheless, RC came away from the game very high on Andrew Miller. Much is still left to be determined throughout the course of the season, but the Tar Heels probably couldn't be more pleased with Miller's first start of the year, even if it was against a rather pathetic Seton Hall lineup. We'll continue watching him closely throughout the season, and we hope to get another look at him later in the year. For more photos of Miller, click here, here, here, here, and here. And we agree...the mustache HAS to go.