RC Spring Training Report - Part V
Today,
RC
has decided to discuss what we saw from nine pitchers who hope to make the starting rotation. Clearly, the injury to
Mark Redman
and disappearance of
Zack Greinke
has potentially opened up two additional spots in the rotation, giving new hope to pitchers such as
Mike Wood
,
Denny Bautista
, and
J.P. Howell
. It was reported today that the Royals are close to making a decision about who the first four starters will be when the season opens next month.
Spring training stats are especially useless when it comes to pitchers, particularly early spring training numbers, so everything they've done thus far really ought to be taken with a grain of salt. The same goes for our reports, which are based on very limited observations, often from a poor vantage point. Nevertheless, the reports below are our early impressions of how these pitchers look, based upon the little we actually got to see them throw. If nothing else, just enjoy the photos.
--Starting Rotation Candidates--
Denny Bautista

Like Buddy Bell, RC was probably most impressed with the way Denny Bautista was throwing. His arm has completely recoved, and it's truly amazing how hard he throws the ball with seemingly so little effort -- just watching him play long toss while warming up was something to behold.




We watched Bautista go through his entire warmup routine, including his bullpen, where he was popping the mitt with a nice, easy delivery (click here for video). From our vantage point directly above the catcher, it was difficult to get an idea of the horizontal movement on his breaking balls, but the lateral movement looked sharp. His performance in the games thus far has not been great, but like we said, there's really not much to be learned off of such a tiny sample size. He's throwing hard, he's throwing strikes, and RC believes he's a strong candidate for the rotation. Ideally, he'd probably be better off with more time in the minors, but losing two starters this early in camp isn't exactly conducive to ideal situations.
Runelvys Hernandez

We saw Elvys throw twice -- first in the simulated game on Wednesday and then in the game on Saturday -- and weight aside, we were happy with what we saw. We first reported on Wednesday night that it looked like Hernandez was throwing harder, and sure enough, those suspicions were confirmed on Saturday when he lit up the Surpise Stadium radar gun.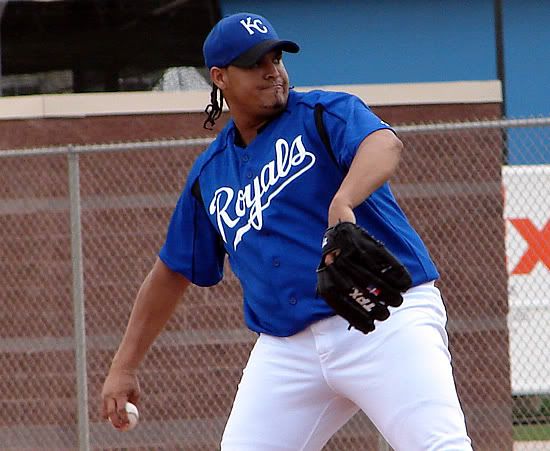 In the first inning of Saturday's game, Hernandez threw almost every fastball 93 mph, which was quite a bit harder than he threw last season in his first year back from Tommy John surgery. During the second inning, Hernandez was topping out at around 91 mph, which could have been caused by anything from fatigue to a lousy radar gun, or perhaps even a conscious decision to avoid overthrowing. Regardless, Hernandez's pitches had good movement, and he looked solid both times out.
Jeremy Affeldt

We saw Affeldt twice -- once at Red Robin, and once on the mound, where he was pretty terrible. He didn't seem to be throwing hard at all, and we didn't see a single decent curveball leave his hand (although he might have not have even been throwing them -- Buddy Bell has said his stuff looks sharp in camp). He somehow made it through his inning allowing only two runs, but he went to a full count on almost every batter he faced, and he didn't come close to putting anyone away.




Admittedly, it's not much to go on, but RC isn't optimistic about his chances of making the rotation. We just don't think he's the same pitcher who blew batters away three years ago. Frankly, he hasn't been that for a long time, and while we hope he can indeed find it again, we certainly wouldn't bet on it. Rather, we fear that we'll see a lot more of this, and a lot more of this from him in 2006.
Mark Redman

Statistically, the lone Redman appearance we saw wasn't too bad -- one run on one hit (a solo HR by Phil Nevin) and no walks. But it was pretty clear that he wasn't throwing hard at all, even for a soft-throwing lefty like him. The Rangers had no problems making good, hard contact off of him, and he was lucky to escape his outing with such minimal damage.




Of course, we later found out that he was sent back to KC complaining of knee soreness and swelling, and as we now know, he'll be out 4-6 weeks with torn cartilage. All told, our observation of Redman really didn't tell us anything. When he returns, his success and ability to eat innings will depend on whether or not he can change speeds effectively while keeping the ball down. If his recovery is a speedy one, he could return to the rotation in time to take over the fifth starting spot, since the Royals will only need four starters until mid April.
J.P. Howell

Howell threw once while we were in Arizona, and he looked pretty sharp, the only mistake coming on a pitch he left up to Ian Kinsler, who promptly knocked the pitch off the back wall of the left field bullpen. He was working his fastball in the mid to upper 80s, and his offspeed stuff had nice movement. Howell tossed two innings, yielding two hits and a walk while striking out two.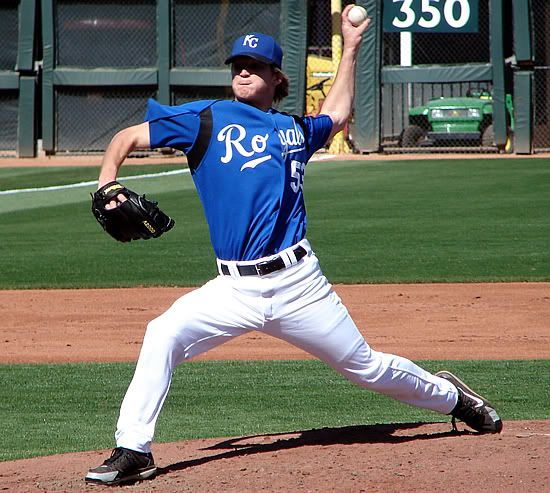 His second outing of the spring was even better, as he struck out four batters while walking none over three scoreless innings. Like Bautista, Howell would probably be better served by returning to the minors this season, but attrition, along with excellent spring command, may force the Royals' hand. It will be interesting to see how everything plays out.


Joe Mays

We got our first look at Joe Mays during the simulated game on Wednesday, where he threw strikes and looked pretty good. He relieved Hernandez in Saturday's game, where he got knocked around a bit by the Rangers and failed to make it through his second inning of work.




Joe Mays is what he is. If he throws strikes, he should be a decent placeholder until the young guys like Bautista and Howell are ready to take their permanent spots in the rotation. His fastball topped out around 88 mph during Saturday's game, and his control and ability to change speeds are vital to him eating enough innings to justify his $1 million salary. RC was neither encouraged nor discouraged by what we saw from Joe Mays in Arizona.
Scott Elarton and Mike Wood

We lumped these two together because we didn't get a chance to see either perform in an actual game. Both threw during the simulated game on Wednesday, but neither appeared during the three spring training games RC attended. Their performances were about what you'd expect. Neither throws very hard, and both rely on an assortment of pitches and speeds to keep hitters off balance.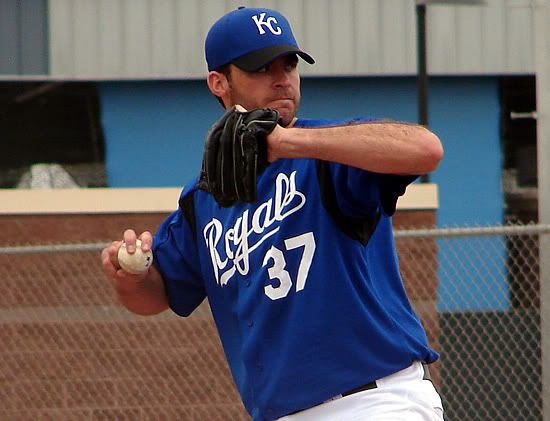 Elarton is the rotation's only remaining lock, though he got knocked around by the Rockies in his first spring start. Wood's first appearance was considerably better, as he went three scoreless innings while striking out a pair of batters. RC assumes that Wood will be given every chance to snag a spot in the rotation, and right now, that's definitely our preference, especially with Elmer Dessens in the bullpen.
Bobby Madritsch

Of course, the only thing we saw "Red Feather" do was sign autographs, as he's recovering from a blown out elbow. However, we're still quite intrigued by Madritsch, and if his recovery goes well, the Royals may have snagged a very good pitcher.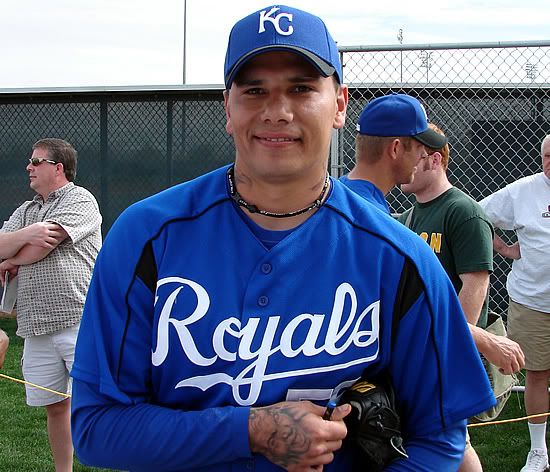 The KC Star had a nice article about Mad Dog a few days ago, and RC highly recommends you check it out. One flaw exists in that article, however. Madritsch's hand tatoo is said to be on his left hand, but this photo tells the true story. Where else will you get that kind of information?
That's all for today. Be sure to stay tuned to
RC
in the coming days, as we plan to provide reports and photos of the bullpen candidates, as well as a new collegiate prospect update.
Editor's Note: This week's Draft Prospect Update has been posted, including updated stats and rankings. Click here to view the update.