Season in Preview: Outfielders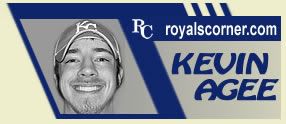 As Opening Day 2006 is right around the corner, it's time to take a look at where the Royals stand heading into this season. With the help of two great player projection systems (
Baseball Prospectus
'
PECOTA
and
Dan Szymborski
's
ZiPS
), I'll be discussing the state of the organization position-by-position over the next few days. We've covered
the catchers
,
the corner infielders
, and
the middle infielders
, and continue today with a discussion about the outfield:
DAVID DEJESUS  CF  AGE: 26             REGGIE SANDERS  RF  AGE: 38  
==================================     ==================================
PROJECTION     AVG     OBP     SLG     PROJECTION     AVG     OBP     SLG
PECOTA        .286    .356    .430     PECOTA        .267    .323    .458
ZiPS          .295    .372    .442     ZiPS          .245    .308    .462
==================================     ==================================
AVERAGE       .291    .364    .436     AVERAGE       .256    .316    .460
-
EMIL BROWN  LF  AGE: 31                MATT STAIRS  LF/RF  AGE: 38
==================================     ==================================
PROJECTION     AVG     OBP     SLG     PROJECTION     AVG     OBP     SLG
PECOTA        .268    .321    .427     PECOTA        .261    .350    .438
ZiPS          .283    .346    .440     ZiPS          .254    .338    .412
==================================     ===================================
AVERAGE       .276    .334    .434     AVERAGE       .258    .344    .425
-
CHIP AMBRES  LF/CF/RF  AGE: 26         SHANE COSTA  RF  AGE: 24
==================================     ==================================
PROJECTION     AVG     OBP     SLG     PROJECTION     AVG     OBP     SLG
PECOTA        .249    .332    .414     PECOTA        .266    .315    .386
ZiPS          .249    .351    .406     ZiPS          .256    .314    .356
==================================     ===================================
AVERAGE       .249    .342    .410     AVERAGE       .261    .315    .371
-
AARON GUIEL  LF  AGE: 33
==================================
PROJECTION     AVG     OBP     SLG
PECOTA        .231    .297    .383                   
ZiPS          .248    .334    .425                    
==================================
AVERAGE       .240    .316    .404
After the Royals played their final game of the 2004 season (a 5-0 loss to
Jose Contreras
and the Chicago White Sox), my roommate and I made our way to the players' parking lot, hoping to end the mother of all disappointing seasons on a good note by getting a ton of autographs. Along with about 30 other folks, we were pleasantly surprised that almost every player on the roster signed and chatted as long as it took for everyone to go home happy.
Zack Greinke
,
Mike Sweeney
,
Joe Randa
, and the rest of the players were outstanding and very generous with their time.
However, none of those guys were more outstanding than centerfielder
David DeJesus
, who came out of the tunnel with two fistfuls of game-used batting gloves and tossed them over the chain-link fence and into the crowd of fans. Like David settling under a fly ball, I caught one of those gloves before it hit the ground, and even got DeJesus to sign it later:
If anything's cooler than game-used memorabilia, it's game-used memorabilia that comes straight from a pro baseball player. And if anybody's cooler than a pro baseball player, it's DeJesus, who's on the fast track towards becoming one of the hippest athletes Kansas City has ever seen.
Between rockin' the sideburns
and the shades
like few others, DeJesus is as cool on the field as he is off it, blending improving power, solid bat manipulation skills, and above-average speed to make him one of the best overall centerfielders in the American League. In a division loaded with talents like
Torii Hunter
and
Grady Sizemore
patrolling center for their respective teams, that's quite the compliment.
In his one-and-a-half seasons since permanently replacing
Carlos Beltran
in June of 2004, DeJesus has given the Royals all they ever could've asked for out of their leadoff man offensively, as the 26-year-old has hit .290 with a .361 on-base percentage and a .427 slugging percentage in 946 career plate appearances. Although he doesn't really draw a lot of walks, he's certainly patient, and he has a really good idea of what he's doing at the plate.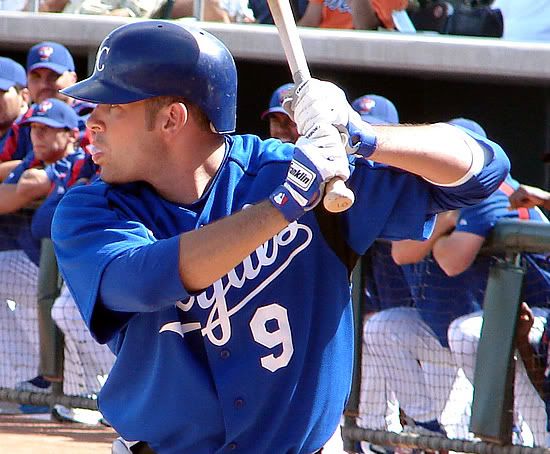 DeJesus essentially personifies Royals GM
Allard Baird
's desire that his offensive players be "selectively aggressive." In other words, he can differentiate between a ball, a "pitcher's pitch" strike, and a strike he can hit very hard. To illustrate that point, take a look at the chart below:

         ISO     BB/PA
======================
2004    .116      .081
2005    .152      .081
======================
As a general rule, for a spike that great in power to be legitimate, it has to be accompanied by a spike in the player's walk rate. I think what we saw out of DeJesus in 2005 bucks that trend, as he's most likely a perfect example of what happens when a talented player with a great swing grows into his natural power. Expecting a 20-homer season might be asking a little bit much out of him, but given the improvement he made from 2004 to 2005, it's definitely within the realm of possibility.
Also encouraging is the big step forward DeJesus took against left-handed pitching in 2005, as his OPS against southpaws jumped from a downright-pitiful .528 in 2004 to a decent .740 in 2005. Ultimately, that's a tribute to his work ethic moreso than talent.
Although DeJesus' above-average wheels probably won't ever translate into stolen bases, they serve him well in the outfield, a facet of his game in which I think he's pretty underrated. In addition to making the diving, tumbling catch his forte, DeJesus threw out seven runners in 2005, tying him for the fourth-most assists among center fielders in all of baseball. He's probably a grade below Beltran defensively, but he gets the most out of his instincts, range, and speed.
The bottom line is that DeJesus is the most complete player on the team, and a guy whose skillset is nothing less than rock solid. If the Royals can convince DeJesus to sign a reasonable contract that would buy out the first year of his free-agent eligibility, they shouldn't think twice about the long-term risks of locking him up. He's almost a sure bet to continue marching towards becoming one of the elite leadoff hitters in the American League.
Speaking of sure bets, none are more certain than Baird using the player-related term "dependable production" at least once in every interview. By now, Royals fans know that a "dependable production" player is, obviously, a guy who can be counted on to make positive contributions to the team in every single game. Baird has been seeking a guy like that to man right field in the long-term for some time now, but since every potential trade to acquire
Austin Kearns
or
Jason Michaels
fell through, he turned to 38-year-old
Reggie Sanders
, signing him to a two-year, $10 million contract this offseason.
Bringing Sanders on board wasn't a popular move, as many believed that a team in the midst of a rebuilding project has absolutely no business signing an aging outfielder to a multi-year deal. That would be a fair criticism if Sanders' presence were blocking a young player who was ready to play at the Major League level immediately, but it isn't, so the pickup makes sense already on that level.
When it comes to his on-field performance, much shouldn't be expected of him beyond providing opposing pitchers a reason to throw
Mike Sweeney
strikes. A number of obstacles are going to be in his way of hitting like he did for the Cardinals in 2005, most notably playing half his home games in a Kauffman Stadium that's infinitely more pitcher-friendly than it was prior to the 2004 season. That he'll also be facing American League pitching for the first time in his career will also slow him down, albeit probably for a short period of time before he makes the necessary adjustments.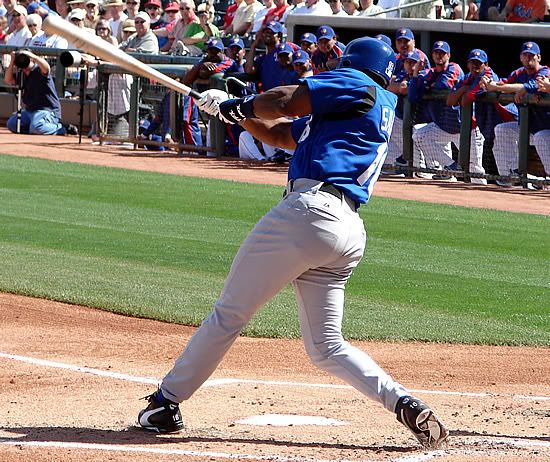 Sanders is one of the streakiest hitters in all of baseball, so Royals fans are going to have to be patient with him whenever he falls into a slump and can barely make contact. Once he pulls himself out of it, he'll start hitting homers and drawing walks like crazy. As long as the hot streaks are longer than the cold ones, I think Sanders will slightly out-perform his projection average by a few points of on-base percentage. He'll also be a big upgrade defensively in right field.
Beyond that, the most important thing Sanders brings to the table is leadership and a winning attitude towards the game, two traits the Royals' young clubhouse really, really lacked last year. I'll qualify that statement by saying that winning baseball games happens because of talent and not because of any kind of magical veteran Jedi mind tricks. However, when a team has a ton of inexperienced players on their roster, it's absolutely vital to have guys with legitimate track records around to keep the club's spirits afloat when struggles come.
Baseball Prospectus
'
Derek Jacques
agreed in an e-mail exchange about the team:
There's a temptation -- particularly among the more sabermetrically-minded folks in the media -- to reflexively rankle when a team brings in "proven veterans" on a club that's considered too young. However, if ever there was an argument for more veteran players, it was probably the 2005 Royals. There were a couple of Royals games I saw where the Yankees staged big comebacks in consecutive games. [...] Each time, you could see these terribly young Royals players [...] with body language that spoke to such thorough defeat that even though I was rooting for the other team, I felt sympathy for them. [...] Maybe these new veterans won't turn the Royals around, but at least they'll be better equipped to deal with losing, and maybe take some of the heat off the youngsters.
Sanders wasn't first on Baird's outfielder shopping list this winter. However, as one of the most respected players in the game, his presence in the clubhouse will be felt. Although they overpaid to get him, the Royals won't regret investing a couple of years in Reggie Sanders while
Billy Butler
,
Chris Lubanski
,
Shane Costa
, and
Mitch Maier
continue to develop.
The Royals targeted a right fielder also so they could move incumbent
Emil Brown
–- who struggled defensively in 2005 –- to left field, an easier position to handle. Still, as much as the Royals struggled last season, almost none of their on-field transgressions can be pinned on Brown, who came out of nowhere to lead the team in a number of offensive categories.
Baird has a knack for finding players who are undervalued in the marketplace, and Brown was no exception. He won the right field job by blistering spring training pitching, and although he struggled to get out of the box early in the season (he posted a .593 OPS in April), the Royals stuck with him, believing they had another
Raul Ibanez
. That, or Raul Ibanez himself:

============MINOR LEAGUE STATS============
                AB     AVG     OBP     SLG  
EMIL BROWN    2922    .295    .365    .452
RAUL IBANEZ   2323    .295    .365    .473
==========================================
It isn't common for guys who're picked up off the scrap heap to repeat career years, but the Royals are hoping Brown can follow Ibanez in another way and continue to hit after his breakout season, as they brought him back for another year and $1.4 million after Brown won his arbitration case.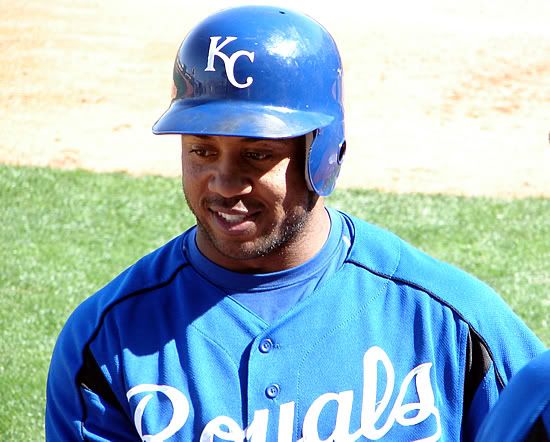 Can he do it? After seeing him hit for a full season, I'm pretty confident that he can have another .800 OPS year as long as he makes the necessary adjustments. This is a guy who, like DeJesus, is selectively aggressive, works the count, and can hit a pitched baseball a country mile because of his raw strength and solid hitting mechanics. Still, the Royals could lower their risk of Brown tanking by platooning him with righty-masher
Matt Stairs
.
By no means is Brown an ideal starting left fielder, but in a world where inferior players like
Quentin McCracken
have made comparable money to produce quite a bit less, he's a very good second-tier talent to have on a team. Like Sanders, he's simply keeping the seat warm while the Royals wait for one of their outfield prospects to step up in the minor leagues.
In fact, Brown would be the club's fourth outfielder if one of those prospects was ready, but the competition for that job is between
Aaron Guiel
, who's currently playing for Canada in the World Baseball Classic, and
Chip Ambres
, who's already shown that he wants the job with two home runs in 13 spring training at-bats.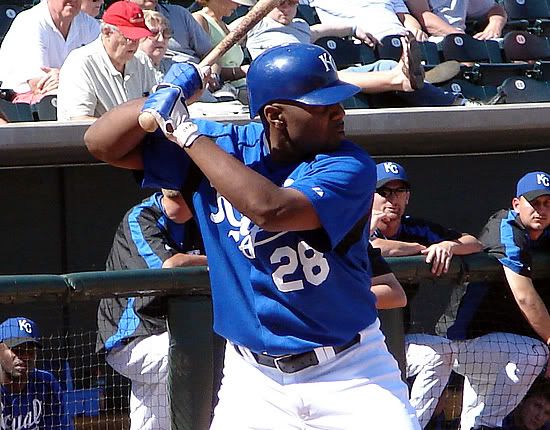 While
RC
is pulling for Guiel to win the job, I'm firmly entrenched in Ambres' corner. Despite his defensive shortcomings, Ambres is out of minor-league options, and the risk of losing the 26-year-old Ambres greatly outweighs the rewards of having Guiel (who provides the exact same things Stairs does) on the 25-man roster.
Throughout his minor-league career, Ambres has shown a good knowledge of the strike zone, some base-stealing ability, and moderate power. In his 145 at-bat tryout with the Royals in 2005, he maintained his solid walk rate and showed decent power (.158 ISO) despite his .241 batting average.
As
RC
pointed out in a recent spring training report, Ambres is still struggling even with catching routine fly balls, but I'm willing to put up with that just to get a longer look at his hitting ability. If the Royals give him a chance, he has a good chance of matching his projection average.