RC Spring Training Report - Part VI

In the time since we returned from Arizona, many of the questions about the pitching staff have been answered, so the bullpen picture has become very clear. The Royals will carry 12 pitchers once
Mark Redman
returns from the DL, so that leaves seven relief pitchers who will head north with the big club. Of those seven,
Mike MacDougal
,
Ambiorix Burgos
,
Andrew Sisco
, and
Elmer Dessens
are locks for the bullpen.
Jeremy Affeldt
and
Mike Wood
are still battling with
J.P. Howell
and
Denny Bautista
for the final starting rotation spot, but right now it appears that Bautista will likely get the nod. That means Affeldt and Wood will probably head back to the bullpen, which leaves one open spot on the pitching staff.
Therefore, the battle for the final spot comes down to two pitchers:
Jimmy Gobble
and
Joel Peralta
. While Peralta appears to be the obvious choice, the fact that Gobble has no options remaining means that the Royals will give him every possible chance to win a spot on the club. If Gobble is exposed to waivers, the Royals will lose him, and they know that. Meanwhile, Peralta has an option remaining, so he could be sent to Omaha for a spell if the Royals decide to keep Gobble around.
Of course, if Affeldt was to win the final rotation spot, the decision to keep Gobble would be that much easier, as
Buddy Bell
has stated that he'd like to have two lefties in the bullpen. In such a scenario, both Peralta and Gobble would head north to KC, while Bautista would return to Omaha to get more starts.
Regardless of what happens, it will be interesting to see how everything unfolds.
RC
fully expects Bautista to win the fourth rotation spot, but anything can happen.
As time passes, our observations from Arizona lose relevance, so we've limited our reports to a few sentences about each pitcher we saw, accompanied by a photo.
The Locks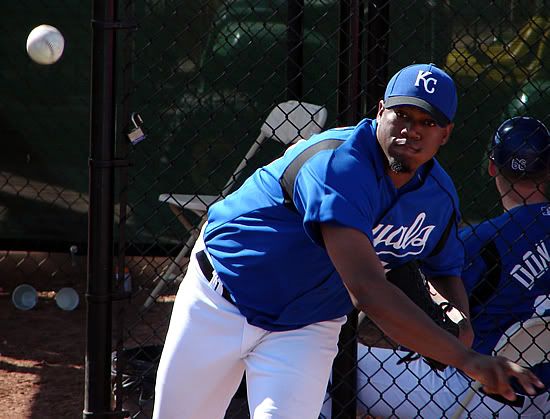 The first thing we noticed about Ambiorix Burgos was that he's put on some weight in his midsection since last season, in addition to adding a mean-looking chin goatee. The second thing we noticed is that he still throws really, really hard, and he's still got that nasty splitter. We saw him throw a perfect inning in relief, dialing his fastball up to 95 mph. He was sidelined for about a week after taking a liner off the forearm, but he's back in action now, and RC expects good things from Burgos this season.




We saw Elmer Dessens pitch once, and he looked exactly like what the Royals signed him to be -- a guy who can throw strikes and eat innings in the middle innings. His presence helps to ensure the Royals won't have to dip into the low minors for innings this season, and that's perhaps his greatest value to the club. Dessens was throwing his fastball consistently in the 88-90 mph range, and he subtracted about 10-12 mph from his breaking ball. He's currently playing for Mexico in the WBC, but he should be back soon, as Mexico has already dropped its first game of round 2.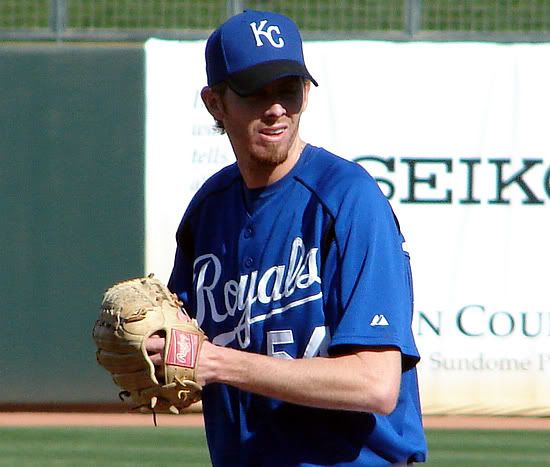 Robert Meiklejohn MacDougal looked like he picked up where he left off in 2005. In the lone appearance we saw, Doogie pumped the radar gun up to 97 mph while tossing a perfect inning, keeping the ball low and coaxing three groundouts. He's made several appearances since that time with mixed results, but hopefully Mac can retain the control he found last season. When he's on, nobody in baseball is as unhittable as Mike MacDougal.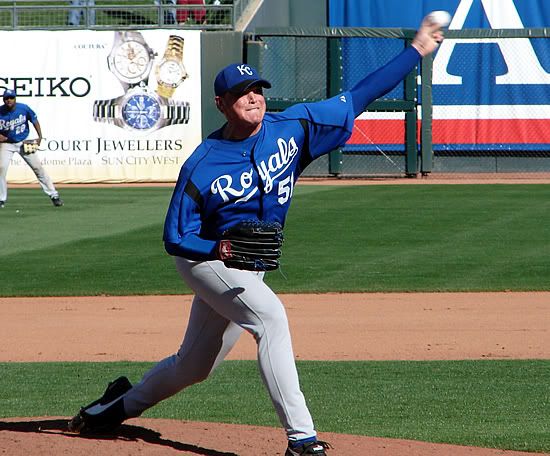 Andrew Sisco threw twice while we were in Arizona. In his first outing, he was efficient and effective, working a quick 1-2-3 inning. His second outing was a disaster, as he failed to get out of his inning while allowing three earned runs on two hits and two walks, the majority of the damage coming with two outs. Sisco did look a bit slimmer than last season, but it didn't seem to affect his velocity. He's now made five appearances this spring, and his poor showing last Saturday is the only blemish on what has otherwise been a fine string of outings.
The Battle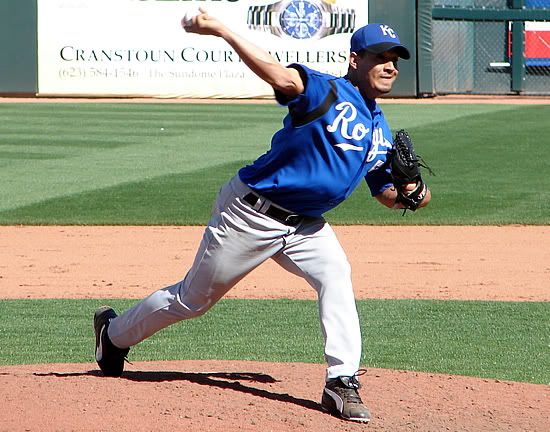 We saw both Joel Peralta and Jimmy Gobble make one appearance apiece, and we were particularly impressed with Peralta. He was summoned to clean up Kyle Snyder's mess, so he entered the game with the bases loaded and no outs. His splitter was nasty, and he stranded two of the three baserunners, the other scoring on a sac fly. All told, Peralta threw two perfect innings in relief, using his fastball, slider, and splitter to perfection.

Jimmy Gobble's performance was less spectacular, but effective. He threw one scoreless inning, yielding one hit and no walks. RC doesn't want to lose a young lefty who's shown occasional flashes of low to mid-nineties fastballs and sharp breaking balls, but we fear his tenure with the Royals may be approaching an end. Most of the teams in baseball were reportedly lining up to claim Peralta off of waivers if the Royals had passed, and we think the bullpen would ultimately be better served if he was a part of it. If it comes down to Peralta vs. Gobble, RC would prefer the former.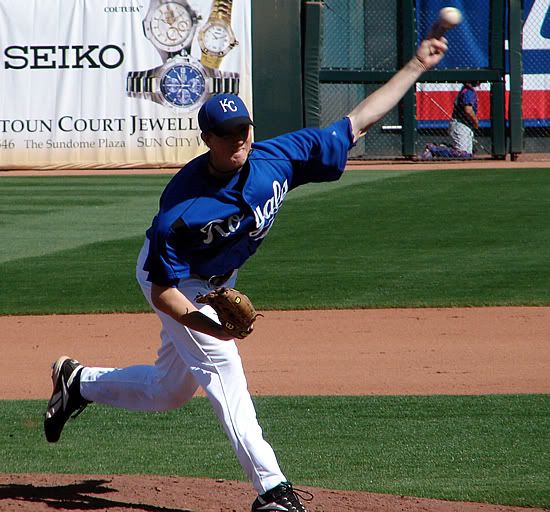 The Prospects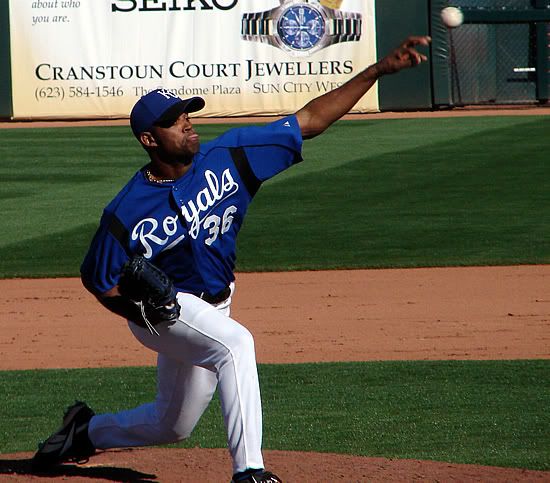 RC was pleased with Juan Cedeno in our first look at him in a Royals uniform, despite a rough outing in his first appearance. He ultimately struck out the side in his inning of work, but not before allowing four hits and three-run HR to Aarom Baldiris. Still, his delivery looked crisp, and his fastball was coming in at 93-94 mph. The Royals plan to have Cedeno start games this season, so we look forward to seeing what he does in Wichita.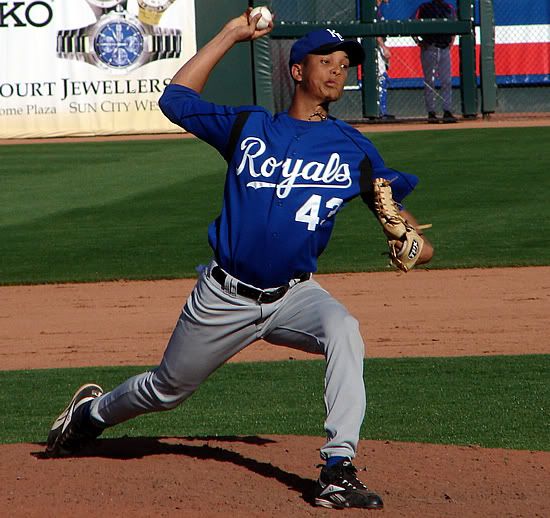 Leo Nunez
pitched twice while we were in Arizona, and he looked very solid both times. We're not sure if we saw the extra weight he reportedly put on over the winter, but we did see Nunez get his fastball up to 96 mph in his second appearance. It doesn't matter how many times we see it -- we still laugh uncontrollably whenever we see a little guy like Marvin throw the ball that hard. Thankfully, the Royals have ticketed Nunez for the minors this season, where we hope he'll get a chance to log some significant innings before coming back up to KC. The kid's got a special arm, and
RC
can't wait to see the final product after some seasoning in the minors.