Weekend notes: The rotation is settled

As we learned on Saturday, the Royals have assigned the fourth and fifth spots in the starting rotation to
Jeremy Affeldt
and
Denny Bautista
, respectively. Neither comes as a big surprise, although
RC
had figured that Bautista would begin the season as the fourth starter, and whoever won the fifth spot -- be it Affeldt or
Mike Wood
-- would contribute from the bullpen until the Royals needed a fifth starter on April 14. Instead, the Royals went a different route, and since they don't want Bautista working out of the bullpen for the next two weeks, he'll begin the season by making a start in Omaha.
Of course, this move carries with it a couple of ramifications. First, it assures that both
Jimmy Gobble
and
Joel Peralta
have made the team, while just a week ago it seemed certain that one of them would be cut (we figured Gobble would be let go). But even more interesting, the presence of both those pitchers on the roster still leaves the Royals with only 10 pitchers, since both
Mark Redman
and
Mike MacDougal
will begin the season on the DL. Therefore, there is now an additional bullpen slot open, which will undoubtably go to a player who is not currently on the 40-man roster.
Who might that pitcher be? We really have no solid idea, but the leading candidates are probably
Luke Hudson
and
Steve Stemle
, since they are the only two non-roster pitchers who haven't already been reassigned to a minor league club. Hudson figures to be a starter at Omaha this season, so if
RC
had to register an official guess at this point, we'd wager that Stemle breaks camp with the club, despite his lousy outing on Saturday (2.0 IP, 7 H, 3 R, 0 K). He's certainly not somebody we'd want to see with a game on the line, but he should be fine as a mop-up man for a month or so. Barring injury, whoever wins the spot should be the first player sent away once MacDougal returns.
As for the position player battles, nothing has yet been settled, and we still don't have any hints about whether the Royals will take an extra outfielder or an extra infielder with them when they head north next week.
Buddy Bell
further muddied the waters by announcing that
Shane Costa
is also a candidate for the fourth outfielder spot, so that leaves Costa,
Aaron Guiel
,
Chip Ambres
,
Joe McEwing
, and
Esteban German
battling for three spots on the roster (
Chris Clapinski
is also listed as a candidate, but come on...who really believes that?).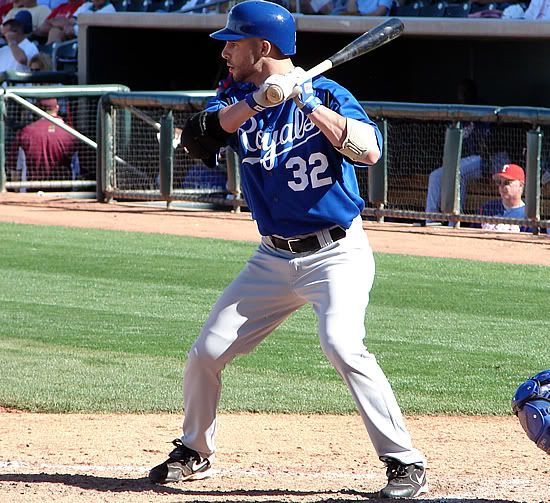 Might Shane Costa make the team? We doubt it.

Among those five, the only player we're confident in projecting a roster spot for is German, who still figures to serve as the primary backup infielder. Ambres is probably the safest bet for the fourth outfield spot, simply because he's the youngest and least likely to clear waivers if optioned to the minors. In our opinion, the real battle is between Guiel and McEwing, and while our preference between those two is definitely the former, we fear the Royals will probably opt to retain the infielder, particularly because
Matt Stairs
can still play outfield in a pinch. Regardless, the consequences of their decision will be short-lived, as Bautista's return to the team will signal the end of the five-man bench and the renewal of the 12-man pitching staff. In essence, the decisions not yet made are merely small fries. It will be interesting to see how everything unfolds. Moving on...
What's not to like about Dougie Fresh? RC is sold. Everything about Doug Mientkiewicz screams "BALLPLAYER," from the high socks and eye black to the pine tar covered helmet and refusal to wear batting gloves. He's got the coolest last name in the game, he picks errant throws off the ground like a dirt-covered Picasso, and much to the delight of RC, he once outraged millions of obnoxious Red Sox fans. And right now, nobody in baseball is swinging a hotter stick than our new favorite first baseman.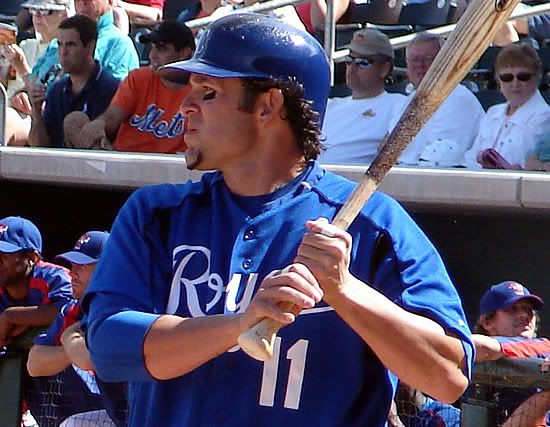 Doug Mientkiewicz is just cool.

After drawing an 0-fer on Saturday, Mientkiewicz is still sporting a cool .442 batting average in 44 at bats. No, spring training stats are nothing to get overly excited about (see McEwing), but there are far worse ways to begin a season. Mientkiewicz wanted to use this spring as an opportunity to get his confidence back after two sub-par seasons, and he seems likely to do just that.

Does he have any more .850 OPS seasons left in his tank? Nobody knows, and even RC's optimism doesn't allow us to make such a prediction. But we do know that Mientkiewicz will offer the Royals the type of patient, professional at bats that were sorely lacking last season (the last several seasons, for that matter). And while skeptics point to a myriad of defensive metrics that supposedly show Minky has lost a step in the field, not one of them can foretell the value that his greatest defensive asset -- his ability to dig throws -- will bring to the Royals' infield. Indeed, the effect Mientkiewicz will have on Mark Teahen and Angel Berroa will be difficult to measure, but we can't wait to see what it's like to have a competent defensive first baseman again.
We apologize for the shortage of posts in the last week. RC has been busy with some other boring junk (like studying for the GRE Exam), but we can promise that the diligence to which you've grown accustomed will return this week. We did manage to catch a ballgame on Friday night between Miami and the University of Maryland, and we'll have a report when we publish our draft update on Monday evening (we also plan to attend Sunday's game). In addition, a quick perusal of the weekend's collegiate box scores foretells some more movement on our list, along with a widening of the gap between the top player(s) on our list and the rest of the field. You'll have to check in with us over the next couple days to see what we're talking about. Stay tuned!