Notes from Wichita and elsewhere...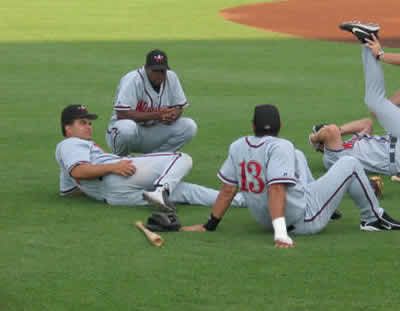 By Kent Ogle

Editor's Note: RC reader Kent Ogle attended the game between Wichita and Springfield on July 20, and his report from the game is below. He also was kind enough to take some photos, so please check them out. RC added a few captions on the photos we had saved, but at press time we were unable to recover some of Kent's other photos, which will be added to the bottom of this post as soon as we get them.
Wichita scored four of its five runs on home runs.
Josh Pressly
hit an impressive shot just right of center (400 ft) in the 4th. Leadoff hitter
Mel Stocker
followed with his longball in the 5th...just his second of the season, a shot down the 330 ft. right field line. It wasn't a cheap home run, but it certainly wasn't the moon shot that
Justin Huber
added in the 6th. Huber's homer was high and deep, and I stood up the moment it left the bat -- a true no doubter.
Mitch Maier
had another tough night, going 0-for-3, although he did hit a sacrifice fly. Here's a couple photos of Maier's swing: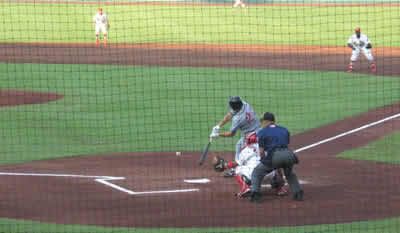 Maier swings at a low pitch. Great photo!
Another great photo of a poor swing...looks a little like Johnny Damon with the top hand flying off the bat
Kyle Middleton
wobbled in the second, but never really seemed to be in too much trouble after that, despite both runs being charged to him. Here's a photo of Middleton warming up in the bullpen:
Lefty
Nate Hoelscher
started the 8th and made both of the Springfield hitters he faced look silly. He struck them both out quickly, and
Frank White
then walked out of the dugout and took the ball away from him. I couldn't believe Frank would pull a pitcher that was looking so strong, but
Jonah Bayliss
came in and made his hitter look like a sissy-man too, and closed the door convincingly in the 9th.
On defense, all three outfielders made nice running catches.
Brett Groves
started back on one ball and had to race in to make a diving catch, but he made it.
Probably the hardest hit ball of the evening scooted right past Huber, who in my opinion should have been able to stop it, but the hometown scorekeeper awarded a hit. Justin had been holding a runner on first, so he released to the edge of the infield grass, and the ball got up on him in a hurry. He gave a backhand swipe at the ball (Ole'), but came up empty.
Later in the game, with runners on the corners, he fielded a ball and elected to not come home, turned to start a double play, had trouble getting the ball out, and had to settle for jogging over to first to record the out. The play allowed the Cards' second run to score. I think he decided to not come home because the batter was right-handed, and for a moment was probably in line with the throwing lane Huber needed to use.
Huber did, however, make a very nice dig on a throw from
Mike Aviles
, who short-armed one across the diamond. The ball bounced about four feet in front of Justin, but he came up with it.
And speaking of Aviles, he certainly has the tools! He gobbled everything up in his direction, and demonstrated a strong arm. He went deep into the hole at least twice to turn sure hits into 6-3 putouts in the scorebook. Here's a couple photos of Aviles: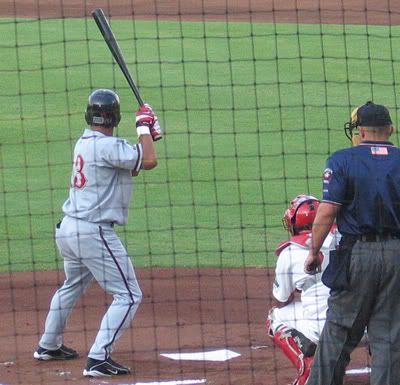 The only other weak spot on defense came when
Rudy Gomez
, who started at second, had trouble getting the ball out of his glove to Aviles on a potential double play. When he did get it out, Mike was already on the base, and had to stretch to catch it, throwing his timing off, and screwing up the DP. -KO
RC is very happy to announce that despite our slight dig at them yesterday, we've received permission from Rotoworld to include an Iframe feed on our site, which will provide steady updates on Royals players directly onto our sidebar. Rotoworld usually doesn't give feeds to new sites, but they were impressed with the quality of Royals Corner, so they agreed to provide it for us. A hearty thanks goes out to the folks at Rotoworld.com, as this provides us with yet another feature that greatly enhances the quality of our site.
RC's readers are apparently smarter than we are, because you correctly predicted that Runelvys Hernandez would be suspended for 10 games for his role in this weekend's brawl with Detroit. It's a fair punishment, and it's not exactly terrible news that Hernandez will now miss two starts, as we're sure he can probably use the rest. Buddy Bell got one game (to be served tomorrow), and Tigers pitchers Kyle Farnsworth and Jeremy Bonderman received six and five-game suspensions, respectively.
The KC Star today reported that Justin Huber "is scheduled for promotion later this week to Class AAA Omaha." That's an interesting move, and we wonder if it also signals that other promotions are forthcoming. RC predicts that we'll probably see a significant minor league reshuffling, as we wouldn't be at all surprised to see both Billy Butler and Kila Kaaihue promoted to Wichita in conjunction with Huber's promotion. Stay tuned.