What happens when the strike zone is the size of a baseball card? 20 runs and 38 hits. But at least the fans got doughnuts...
No, the strike zone isn't an excuse for tonight's lousy 14-6 loss to the White Sox. We're pretty sure they'd have lost anyway. But is there anything more frustrating than watching a game umpired by
Tim McClellan
? We think not. If it were up to us, we definitely would have let
George Brett
have his way with McClellan when he had the chance:
All you really need to know about tonight's game is that
Zack Greinke
wasn't very good, although he was the victim of some rotten luck and McClellan's strike zone, and that
David DeJesus
continues to be The Man. The Royals are now 0-10 vs. the White Sox this season, and that record doesn't look to get any better tomorrow, as
Jose Lima
goes up against Royal nemesis
Mark Buehrle
. Lima's been better lately, but sheesh, this one really looks like a mismatch.
If there is anything more frustrating than watching McClellan call a game, we think we've pinpointed it: doughnuts. Is there anything worse than watching 12,000 Royals fans go crazy when the Royals get their 12th hit, even though they trail by several runs? If RC ran Kauffman Stadium (which is inevitable...bwaa haaahaaa), the very first thing we'd do is stipulate that for fans to get their damned doughnuts, the Royals must not only get 12 hits, but also win. Oh yes...there will be big changes at the K when we take over, another being that anyone overheard referring to Kauffman Stadium as "the K" will be immediately ejected from the ballpark. Just because we can...
Negativity aside, on RC's official lunch break today, we decided to check out the boxscore from a game we attended last year in San Diego -- it was the game where Ken Harvey got hit in the back with a relay throw from right field on a sacrifice fly. Anyhow, looking at the lineup, we realized exactly how far the Royals have come toward building a team that's both competitive and fun to watch. After all, have we forgotten the days of this lineup:

Kansas City Royals (07/03/04)

1. J. Bautista 3b
2. Graffanino 2b
3. Harvey 1b
4. Stairs rf
5. Berroa ss
6. D. Brown lf
7. Mateo cf
8. Buck c
9. May p

RC has been to hundreds of Royals games over the years, and we don't ever remember being more depressed by the starting lineup than we were on that night one year ago. We look at the lineup now, as well as the young studs on the way, and we remember why we're so optimistic about the future of this team, even on a night in which the Royals looked pretty helpless.
Who in the hell is Bobby Jenks, and where in the hell did he come from? RC watched tonight in the late innings as Jenks dialed his fastball up to 101 mph, mixing in a ridiculous breaking ball. The Royals actually managed a few hits off of him, but we're not sure how anyone manages to put the ball in play against stuff so nasty. We'll be hoping that Jenks comes down with a serious arm injury before he really starts to screw us. (just kidding...sort of)
Prior to the game, the Royals optioned Mike Wood to Omaha and recalled Shawn Camp. The move stunned a lot of people, including Wood, but apparently Wood will be groomed in Omaha for a starting role. It's definitely not a reflection on Wood's performance thus far, which Buddy Bell made clear before the game:


"We sent Woody out basically to make him a starter, get his pitch count up," Royals manager Buddy Bell said. "Probably, he'll be down there 10 days to no more than two weeks and if there's a spot in the rotation for him to plug into, we'll do that. If our starters are still intact, we'll just put him back into middle relief."


Wood didn't take the news well, but we don't really care. With the rotation uncertain in the next month, this move makes a lot of sense, and we applaud the Royals for converting Wood to a starter, rather than recalling someone like Chris George or Ryan Jensen in a pinch. The Royals are planning ahead, and that's fine with us, even if it means putting up with Camp for a couple weeks.
Yesterday we mentioned that we saw the Mets #1 prospect Lastings Milledge in Bowie, and that we'd have some photos for you. A lot of folks have been critical of the Royals' 2003 draft, particularly because they took Chris Lubanski (who is currently leading our RC poll by a wide margin) over Milledge. After watching Milledge closely, we weren't terribly impressed.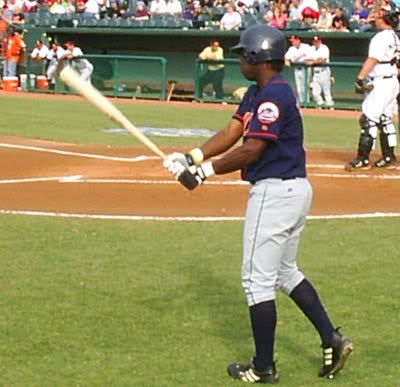 Our first impression of Milledge is that he's a little guy. We know he's listed at 6-foot-1, 185, but we don't buy that for a second. He looks more like 5-foot-11, 165. We could be off a little, but the fact is that he doesn't look anything like a 20+ HR hitter. Size aside, it became pretty clear that Milledge has some serious tools. He ran down a ball in the LF gap that seemed certain to be an extra-base hit, and his bat and hand speed are both very impressive. His swing is butt-ugly though, and it appears that he's having big problems pulling the ball. He certainly has the bat speed to hit with power, but we don't think he has either the size or the swing right now to do so. He's got a huge stride, and it looks like he has trouble staying back on breaking balls.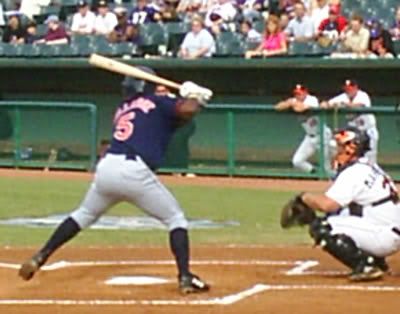 Last night, Milledge went 1-for-5 with a two-run single that plated the only two runs of the ballgame in a 2-0 Mets win. That catch we referred to above also probably saved two runs. His other at bats were two flyouts to RF (one to the warning track on what we believe was a broken bat), and groundouts to the 1B and 3B.

All told, he's certainly not the most impressive outfielder we've personally seen out of the 2003 draft class. That distinction would have to go to the Orioles' Nick Markakis.




Milledge definitely has the tools to be a good ballplayer, if he's willing to work hard and improve. But since this is a Royals blog, we don't want to pollute it too much with photos of enemy players, so we've compiled a few photos of Milledge on one page that you can view here. The point here is that after seeing Milledge, and hearing what we have about Lubanski, it's far too early to conclude that the Royals made a mistake with their first pick of the 2003 draft.
Finally, we have a few more notes from the minors. Providence (actually, the California League scheduler) intervened and gave High Desert an off-day, giving Billy Butler, who is mired in the first real slump of his professional career (2-for-28), a badly needed rest. We're not too worried about Butler, but it's always better to see the future of your franchise do well, rather than poorly.

Justin Huber slammed his 15th home run of the year in the first game of Wichita's doubleheader tonight, although he drew the collar in the second. Huber has been on a power surge lately, and his promotion to Omaha could come at any moment.

And finally, Idaho Falls lost, but RC's new favorite prospect Gary Perez continued his torrid pace, going 2-for-3 with a double and a triple, along with three more RBIs. Perez's batting average currently sits at .349.