Royals lose 14th and 15th in a row, but it was Saberhagen's day...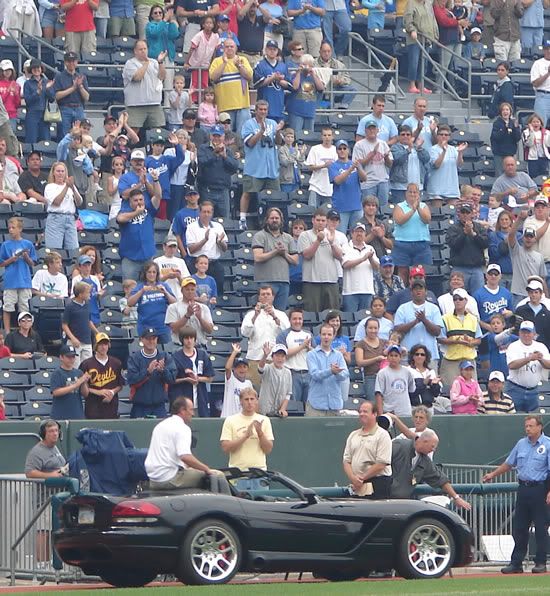 Bret Saberhagen is RC's official all-time favorite pitcher
Well, there's not a whole lot to add. This weekend was further evidence of the Royals' curse this season. Not only did they enter their 20th anniversary weekend of the 1985 championship, but they did so having lost 13 straight games, a new club record. And of course, in a season in which nothing can go right, the first two games of the weekend were rained out due to a monsoon which
RC
witnessed firsthand. The weather, along with the 13 straight losses, sufficiently drove down today's attendance to a miserable 17,568, which is really quite embarrassing on a day when the franchise's best pitcher was set to be inducted into the Royals Hall of Fame. And to make matters worse, the Royals then proceeded to get swept in today's doubleheader with a pair of one-run losses.
The ceremony itself was quite nice.
RC
has been to nearly all of the Royals Hall of Fame inductions, and this one was without some of the glitches we have previously witnessed -- such as high winds blowing over the portrait stand. We were able to snap some wonderful photos of Sabes, so tonight we've decided to post those in lieu of the other excellent photos we took before and during the game. Call it
RC's
official gesture of appreciation to the finest pitcher to ever wear a Royals uniform: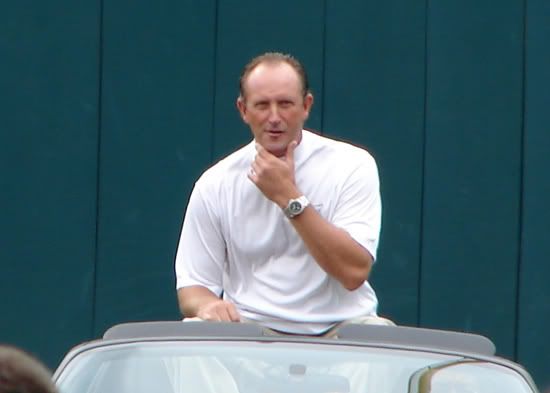 Sabes goofing around as always
"My fondest memories are on this field. It was just an honor to put on a Kansas City Royals uniform with these guys and go out in the trenches and try to achieve a World Series championship."

"The two Bretts, sharing a delicious moment." Nice ring, by the way.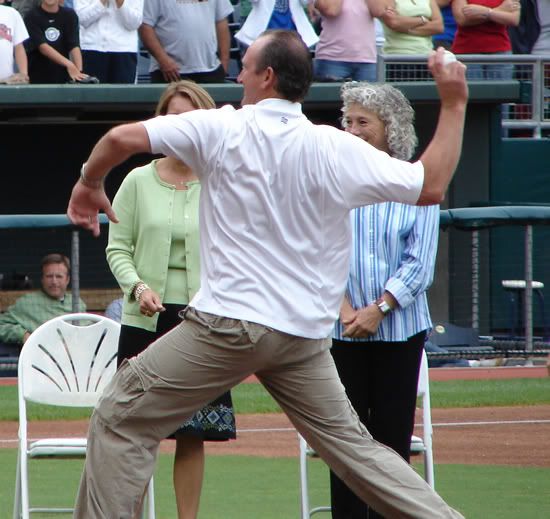 STRIKE! Sabes still has his form.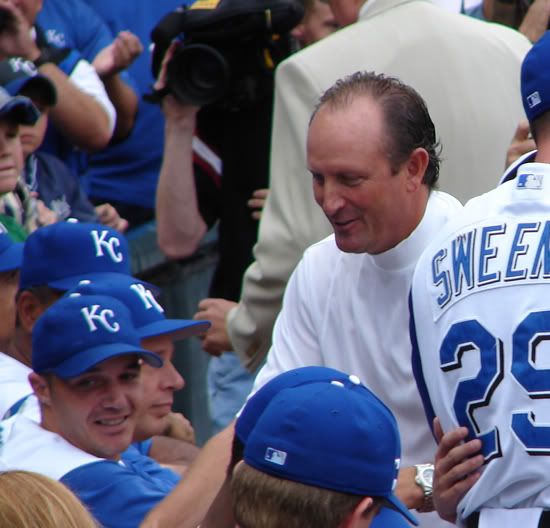 "Ha Ha! I am STILL better than all of you!"
Congratulations, Bret!