Royals salvage series finale by knocking the snot out of the Rangers...
Well, that was more like it.
RC
had planned to attend an Eastern League game on Sunday afternoon, but due to several factors -- of which general laziness was the most prominent -- we changed our mind at the last second and decided to watch the Royals game instead. The decision was a good one, as we had a great seat in front of
RC's
official television for the 17-8 butt whoopin' the Royals delivered to the Rangers.
This game produced a lot of things to be positive about. First and foremost, the Royals were able to provide a good showing for first round pick
Alex Gordon
, who was in town with his family and agent. Royals fans woke up to some good news today, as Gordon reportedly said he was getting closer to signing a deal. The kid clearly wants to play, so it would be nice if he could sign in time to get down to the Instructional League.
Another positive:
Jimmy Gobble
actually looked good. He's still building his stamina, so he lasted only 61 pitches over 4.1 innings, but Gobble did an excellent job holding a ridiculously good Rangers lineup at bay. Sure,
RC
Official Enemy
Rod Barajas
was absent from the Texas lineup, but that doesn't make Gobble's performance any less impressive.
Gobble was working a very nice curveball with a fastball that he topped out at 94 mph. He was consistently hitting his spots and changing speeds, and not many Rangers managed to get good swings against him. It will be interesting to see how the remainder of Gobble's starts go this season, but if he can keep bringing today's stuff to the table, he might have a chance to compete for a rotation spot next season. Again, it's far too early to even begin thinking about getting excited about Gobble, but we were definitely encouraged by what we saw today.
Mark Teahen has also been doing a nice job lately. Today he went 1-for-3 with a walk, a booming two-run double to center, and a sac fly. Over the last three games, Teahen is 6-for-10 with three doubles and seven RBIs. We noted in early August that Teahen's approach at the plate was improving, and he responded by posting his worst month yet - .159/.258/.232.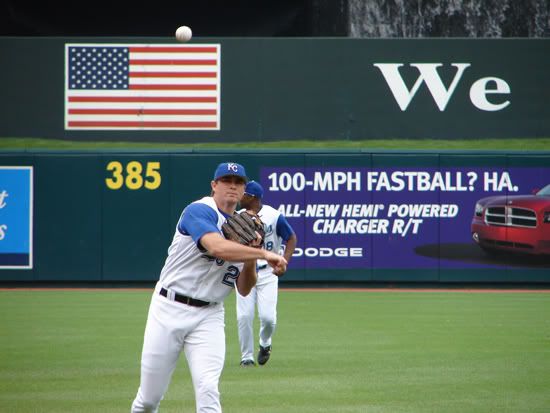 Is Mark Teahen improving?

Of course, he did see more pitches, and he did walk 11 times in 82 at bats. Even though his stats may not necessarily show the improvement we're talking about, we think it's pretty easy to tell by watching him that he's got a much better idea of what he's doing at the plate. He's off to a great start in September, and it would be fantastic if he could finish the season with a good month.

Now, if he could just start pulling the danged ball.
Emil Brown is also in the midst of a late-season rally. With today's 2-for-5 performance, Brown is now hitting .380 (19-for-50) in his last 13 games with five doubles, two triples, and two home runs. His bat speed -- which took off much of July and August -- seems to have returned, as Brown is again turning on inside pitches and hitting them hard, such as the double he smoked into the left field gap today. RC still maintains that Brown would be an acceptable and somewhat effective option as a space-filler in RF again next season, provided he doesn't expect a large pay increase.
And then, there's the hero of the day -- Angel Berroa. How is it possible for Berroa to look so good on some days, and so bad on most of the others? Today was one of those increasingly rare days when Berroa reminds us all that deep inside him somewhere lies a tantalizing source of God-given talent. Why can't he show it to us more often? Is he stupid? Is he lazy? Or is he just not that good? RC doesn't know, but we're getting awfully tired of waiting to find out.


What's the deal with Berroa?
As we mentioned on Thursday night, RC has been taking in this season's final weekend of minor league baseball. Tomorrow we'll be on hand for the season finale between the Bowie Baysox (Orioles) and Altoona Curve (Pirates). The game has serious playoff implications for both teams, as the Baysox trail the Curve by one game for the final Eastern League wild card spot. We expect to see a great game, and we'll be sure to get you some photos of RC's favorite (non-Royal) minor leaguer, Nick Markakis.

The last two nights, we've been scouting out a couple top White Sox pitching prospects, Ray Liotta (yes, that's his real name) and 2005 first rounder Lance Broadway, as the Potomac Nationals (Nationals) wrap up their season vs. the Winston-Salem Warthogs (White Sox).



"As far back as I can remember I always wanted to be a gangster."

Liotta is an interesting pitcher. A second round pick in 2004, Liotta has been dominant all season, first at Kannapolis, and then at Winston-Salem. Liotta's final line for the season was stellar: 172 IP, 161 H, 40 ER, 54 BB, 150 K, 2.09 ERA





"Right after I got here, I ordered some spaghetti with marinara sauce, and I got egg noodles and ketchup."



Liotta has a very easy delivery, and he features a fastball in the low 90s/upper 80s with good life, as well as an excellent curveball that he can add or subtract velocity from. In fact, his curveball looks very similar to what J.P. Howell shows when his stuff is working right. Liotta has a lot of confidence in the curve, as he wasn't afraid to use it in any count, including 3-0 and 3-2. In the game we saw, Liotta threw seven pretty solid innings, yielding five hits three walks and three earned runs while picking up the loss. Of the 104 pitches he threw, 66 went for strikes, and he was never far from the plate.

Liotta doesn't look much like an athlete, and he appears to have a very soft body, so he could have some trouble keeping weight off in the future. We don't have much trouble imagining him looking like Boomer Wells in a few years.

This was quite a contrast from Broadway, whose entire body screams athleticism. In fact, RC is pretty sure that we've never seen anyone who's reminded us so much of Zack Greinke. Almost everything is similar -- shape, size, athleticism, and mechanics -- and even his face is remotely similar. Broadway at 6-foot-4 is a couple inches taller, but everything else is a spot-on match.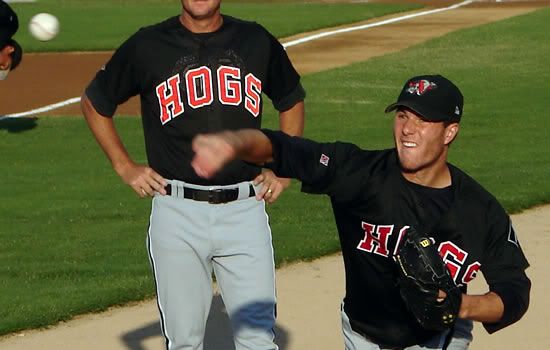 Broadway features an effortless low-90s fastball, and we don't think he'll have much trouble adding some velocity to that as he progresses. His best pitch appeared to be his hard curveball, which has a sharp break that prompted "oohs" and "ahhs" from the crowd the first time it induced a swing-and-miss. He uses the curveball primarily as a strikeout pitch, and we saw a somewhat useful change-up, which he used to set up his fastball. While he may look like Greinke, he wasn't nearly as good at keeping hitters off balance as Greinke was in the Carolina League, and they made him pay.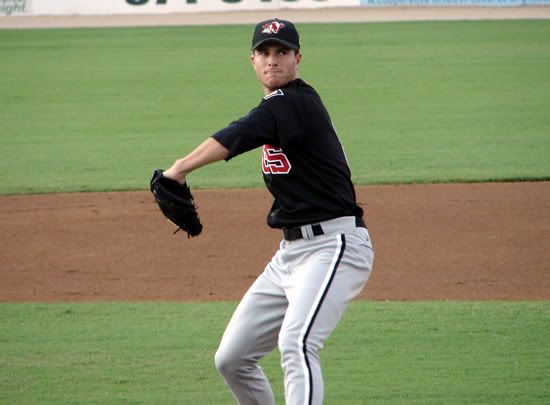 Broadway's mechanics are nearly identical to Greinke's.



Broadway had a rough outing in the game we saw. He was probably already on a strict pitch count after throwing a lot of innings in college this spring, but the nine hits he surrendered to the P-Nats knocked him out earlier than expected. He lasted only 3.1 innings and was charged with five earned runs and the loss. He didn't have problem throwing strikes, as 41 of his 57 pitches found the zone, but he was torched by a pretty mediocre Nats lineup. He'll probably enter the offseason being disappointed with his first season of professional ball, in which he posted a line of: 55.0 IP, 68 H, 28 ER, 20 BB, 58 K, 4.58 ERA.

All told, the White Sox should still be pleased with their pitching prospects, and the Royals are probably going to have to deal with both Liotta and Broadway someday. Broadway has struggled, but we think he's got the tools to be a very good pitcher, and Liotta looks like someone who's already got an awful lot figured out.