RC scouts some draft prospects...
RC, along with about 20 scouts, saw VCU pitching prospect Harold Mozingo on Friday.

Before the blizzard hit the D.C. area this weekend,
RC
drove to the tiny community of Farmville, Virginia, to see a pair of Top 100 college players in the country. Virginia Commonwealth University this season boasts two players ranked in the Top 55 by
Baseball America
, pitcher
Harold Mozingo
(#55) and second baseman
Scott Sizemore
(#48). The VCU Rams prevailed in the game 6-0 over Longwood University (
Michael Tucker's
alma mater), with Mozingo picking up the win after tossing six shutout innings, scattering three hits and no walks while striking out 10. Neither Mozingo or Sizemore figure to be drafted in the first round, but both could potentially be third or fourth round picks. As promised,
RC
took careful notes while watching both, presented below.
Harold Mozingo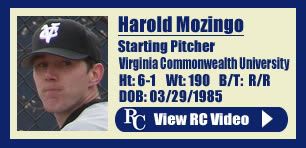 Despite a somewhat rough 2005 season (8-4, 5.17 ERA, 92.1 IP, 101 K), Mozingo entered this year as one of the better pitching prospects in college baseball. Much of his 2005 trouble may be attributable to the tiny ballpark (just 375 ft. to CF) at which VCU last season was forced to play their home games. This season the Rams have moved back to The Diamond in Richmond, home of the AAA Richmond Braves, and the spacious ballpark figures to greatly help out the VCU pitching staff.

Mozingo features three pitches, all of which he used effectively against the overmatched Longwood hitters. He located his fastball very well on both sides of the plate, and it sat in the 89-91 mph range all afternoon. His changeup is perhaps his best pitch, as he's able to repeat his arm angle well while subtracting about 10 mph. It has a nice tailing and slight sinking action, and we saw Mozingo use it effectively at 79-81 mph against both righties and lefties on both sides of the plate. His chief strikeout pitch is his curveball, which has a 10-to-4 break, and he seemed to use it mostly on the outside corner vs. righties and inside corner vs. lefties. He throws his curve at 70-71 mph, and it kept the Longwood batters off balance all afternoon.




One area of concern might be the arm angle on his curve. He doesn't hide the pitch well, and it's often easy to see his arm drop a few degrees when he's throwing his breaking ball (click here for an example of what we're talking about). He doesn't do it all the time, but RC can't help thinking that a better offensive team could exploit that pretty easily. Nevertheless, the pitch has nice movement, and Mozingo locates it quite well.

All told, Mozingo is a pitcher who RC would like to get another look at. Approximately 15-20 scouts were in the stands on Friday watching him pitch, and while we don't know if any were working for the Royals, we think Harold Mozingo is worthy of being on the radar. For more photos of Mozingo, click here, here, here, here, and here.
Scott Sizemore
Scott Sizemore last season put up a line of .364/.464/.673 with 12 HR in 214 ABs, and for his efforts was named a third team All-American by the National Collegiate Baseball Writers Association (NCBWA). This year, the NCBWA has named Sizemore a pre-season second team All-American, and many people are expecting big things from him.

RC really isn't sold on him. It's tough to write much of a report after seeing a player only once, but our initial impression is that Sizemore's power last season HAD to largely be the product of aluminum and the short field on which he played home games. He's got a short, quick stroke, but RC didn't see any kind of raw power that figures to translate well to the professional ranks, either in batting practice or the actual game.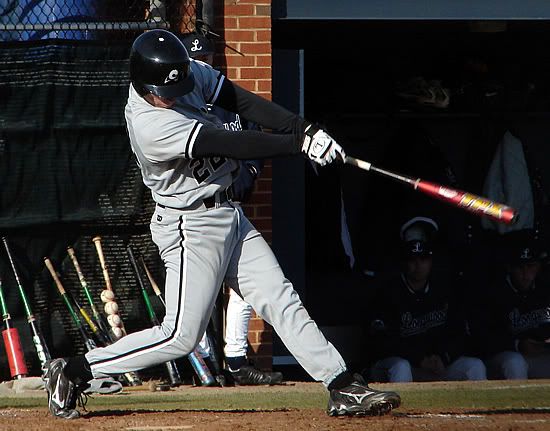 He's not a very big guy, and we just didn't see the type of carry on his fly balls that would suggest anything more than average power at second base. He could, however, be a solid line drive hitter. In the game, Sizemore went 1-for-4 with a double (on a well-placed fly ball down the LF line) and a walk.

Defensively, Sizemore does have a nice arm, but only when he's able set up and throw overhand. We saw him practice his double play turns during BP, and he wasn't able to get much on the throw to first base, nor did he look very smooth. He wasn't terrible, and we didn't get a chance to see him do anything during the game (nor did we get any solid idea of his range), but our initial impression is that his defense isn't much of an asset.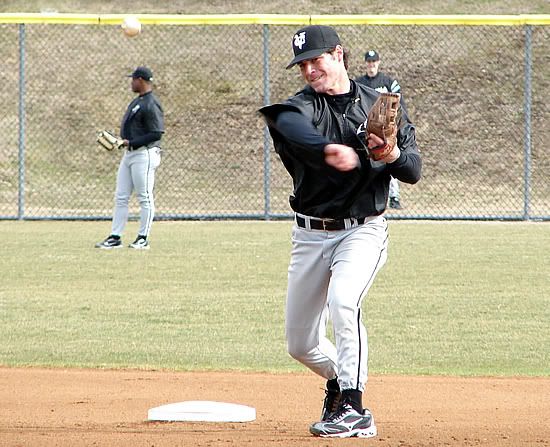 Again, this was merely a one-game look, so we could be completely off, especially when you consider that this was VCU's first game of the season. Sizemore does have some traits we like, and we'll keep an eye on what he does this season. For more excellent photos of Sizmore, click here, here, here, and here.

That concludes our first two scouting reports of the season. RC should undergo radical changes in the coming weeks, so we'll hopefully be able to come up with a better format/location for future reports (instead of plopping them front-and-center on the homepage). Up next, RC heads to North Carolina next weekend to see the 2006 debuts of potential first rounders Andrew Miller and Daniel Bard. We promise similar in-depth reports, photos, and video, so stay tuned!