Season in Preview: Corner Infielders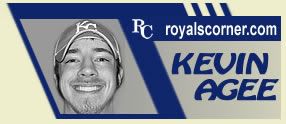 As Opening Day 2006 is right around the corner, it's time to take a look at where the Royals stand heading into this season. With the help of two great player projection systems (
Baseball Prospectus
'
PECOTA
and
Dan Szymborski
's
ZiPS
), I'll be discussing the state of the organization position-by-position over the next few days. We
covered the catchers on Monday
, and the corner infielders are up today:

MIKE SWEENEY  1B  AGE: 32              JUSTIN HUBER  1B  AGE: 23  
==================================     ==================================
PROJECTION     AVG     OBP     SLG     PROJECTION     AVG     OBP     SLG
PECOTA        .288    .349    .478     PECOTA        .262    .342    .449
ZiPS          .293    .355    .492     ZiPS          .279    .360    .443
==================================     ==================================
AVERAGE       .291    .352    .485     AVERAGE       .271    .351    .446
-
DOUG MIENTKIEWICZ  1B  AGE: 31         MARK TEAHEN  3B  AGE: 24
==================================     ==================================
PROJECTION     AVG     OBP     SLG     PROJECTION     AVG     OBP     SLG
PECOTA        .254    .333    .389     PECOTA        .262    .336    .406
ZiPS          .272    .369    .397     ZiPS          .260    .324    .380
==================================     ===================================
AVERAGE       .263    .351    .393     AVERAGE       .261    .330    .393
If you ever need any evidence that the Royals are a snakebitten organization, look no farther than the path
Mike Sweeney
's career has taken. If that sounds strange to you, don't worry, because you aren't crazy. It's true that Sweeney has been the one Royals player whose reliability to be "productive" has never really wavered, at least in a non-injury sense. However, take a moment and read Sweeney's player comment from the 2002 edition of
Baseball Prospectus
:
It appears he's settled into autopilot, a mode from which we can expect a .310 EqA for another 4,000 at-bats. Whether Sweeney will accumulate more than 300 of those at-bats as a Royal is unclear. It's beginning to get tiring watching the Royals make minor efforts to sign their best players while the team has some leverage, then make a self-destructive trade and blame the system for their inability to compete. If you were a supremely talented 28-year-old, would you stay in that environment?
As we now know, the answer to that last question was "yes" as Sweeney
signed a five-year, $55 million contract
with the team roughly one month after that comment was published and in stores. It was the largest contract in Royals history and meant approximately 33 percent of the team payroll would be tied up in four percent of the 25-man roster, but that didn't really matter to the Royals, who were sure to be getting one of the most coveted assets in the game: a right-handed bat with power and plate discipline. The next
Edgar Martinez
, if you will. It sure looked that way at the time, as Sweeney did appear headed towards another seven or eight seasons of .310 EqA (Equivalent Average) production.
In case you're wondering what EqA is (and I'm sure you are), it's
a metric developed by Prospectus
that measures total offensive value per out, with adjustments made for the player's home park, the level of offense for the league, and things of that nature. The beauty of EqA is that you can think of it in terms of a batting average, where any number below .250 is pretty bad, and every number at or above .300 means the hitter's really, really productive.
Getting back on point, things haven't exactly worked out the way the Royals had planned, or
Prospectus
expected. Sweeney's still with the team, but his level of production has been severely hampered by a myriad of back injuries that's caused him to miss 180 games since the start of the 2002 season. In a preceding article, I
detailed all the categories in which he's slipped
, but for the purposes of illustrating this commentary, his EqA hasn't been at .310 since 02, posting figures of .286, .277, and .292 in the last three seasons. It's production good enough to start at first base, but it isn't ideal, and probably isn't "worth" paying $11 million a year for.
In all likelihood but barring further injury, Sweeney has settled into autopilot, only he's headed for an EqA topping out around .285 before hitting his non back-induced decline phase. When we look back on the 2006 season, I think PECOTA and ZiPS will have nailed Sweeney's actual season production. He is what he is: a declining high-average hitter with marginal plate discipline and power for a first baseman/designated hitter. The Royals will take that and be happy, but he could've been so much more.
The beauty of Sweeney's presence is that his contract expires after the 2007 season, and that he can respectably hold down the fort at his position until prospect
Justin Huber
is ready to take over on a full-time basis. Huber, 23, has been compared to a young Sweeney ever since he joined the Royals in one of GM
Allard Baird
's greatest heists, a three-team deal in which Baird pilfered him from the Mets for waiver claim
Jose Bautista
. It's a comparison worth making, although it should be noted that despite Huber's solid walk rate in the minor leagues (0.13 per at-bat), his knowledge of the strike zone doesn't rival that of Sweeney's at the same age, as Huber is still prone to chasing high fastballs with two strikes.
Furthering the comparison, the Royals moved Huber from catcher to first base so he could focus more on his bat. In 2005 – Huber's first season playing in the organization – the move worked wonders for the native of Australia, as he battered Double-A pitching to the tune of a .343 average and a 1.002 OPS before, after recovering from a slow start, holding his own in 113 Triple-A at-bats, hitting .274 with a .905 OPS.
Long-term, Huber isn't nearly the prospect
Alex Gordon
or
Billy Butler
is, but he'll be plenty good anyway. If the average of his PECOTA and ZiPS projection is just a starting point, Royals fans have quite a bit to look forward to from Huber, who'll head back to Triple-A Omaha to make progress on his defensive footwork and instincts.
The signing of
Doug Mientkiewicz
made sending Huber back to the minor leagues an easier decision, but that wasn't the only reason behind it. The Royals headed into the offseason hoping to find a defensive-minded first baseman to counter Sweeney's supposed all-bat, no-glove style. Their intentions were good and sound, but so were
David Collard
's when he wrote the cinematic disaster that is
Annapolis
.
First, I really don't think that keeping Sweeney as a DH and off the field of play is going to keep his back problems from flaring up. In fact, playing first base and keeping it stretched out and active is probably better than having him sit on the bench for half an hour before coming to the plate and swinging a bat. Second, I've never believed Sweeney to be as bad defensively as the media and many, many fans believe. Ever since the days when he was learning on the job, Sweeney's become at least average at leading the pitcher to the bag and picking low throws out of the dirt, two of the most crucial skills for a defender at first base to have. And from a statistical standpoint, he's actually been better than Mientkiewicz during the last three seasons:

   Fielding Runs Above Average
=================================
        Sweeney      Mientkiewicz
2003       4               0
2004      –2              -7
2005      –2              –5
=================================
TOTAL      0             -12
The last time Mientkiewicz statistically had a good year defensively was 2002, and that means something despite how fuzzy defensive metrics are right now. Still, if Mientkiewicz's presence can somehow give
Angel Berroa
and
Mark Teahen
extra confidence and, in turn, fewer throwing errors, he'll have done his job. It's an unlikely scenario, but one that is certainly within the realm of possibility.
None of which is to say that I don't like him. Offensively, Mientkiewicz is simply a pest who used to torture Royals fans with clutch hits in his days playing for the Twins. He's almost a sure bet to draw a good number of walks with limited power, all the while annoying the opposing pitcher by fouling a lot of pitches into the stands. All bias aside, he's probably capable of hitting his 2006 projection, but his better days are far, far behind him. My expectation falls closer to his PECOTA than ZiPS.
Across the diamond, Teahen is the only third baseman listed on the 40-man roster, which is just one reason why 2006 is a crucial season for the 24-year-old. Imagine being one of the main characters in
Moneyball
, being the centerpiece in a trade involving
Carlos Beltran
, giving Royals fans everywhere a sense of hope by hitting the daylights out of the ball in September, only to have your job threatened by
Alex Gordon
, one of the most incredible hitting talents to come out of college in the past decade. This is the world in which Teahen lives, and I don't envy him for a second.
However, Teahen was challenged greatly to even make contact for much of his rookie season, but he overcame that obstacle by posting an .851 OPS in September. The improvement he showed was remarkable. Once a hitter whose passive approach at home plate was causing him to fall behind in the count with regularity, Teahen became more selectively aggressive as the season continued, which led to a higher walk rate in the second half and a 50 percent increase in his isolated power from the first half. He also began to hit the ball to his pull field with much more regularity, a trend that included a long grand slam off Cleveland's
Cliff Lee
that landed in the right center field fountains.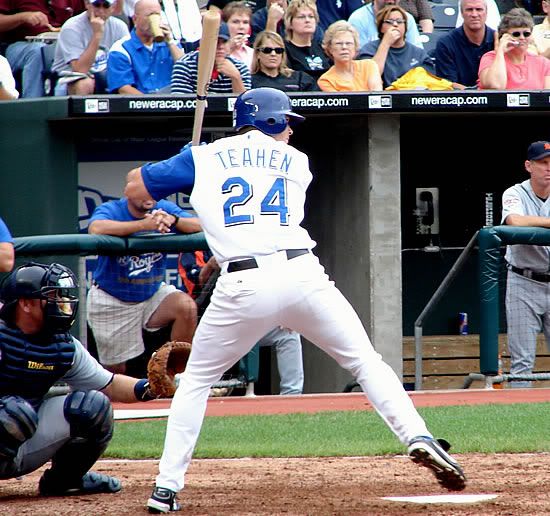 Defensively, there aren't many third baseman in baseball whose skills compare to Teahen's. His 20 errors suggest otherwise, but he has solid range to both sides, an outstanding arm that will get more accurate as his career progresses and incredibly soft hands when it comes to barehanding a dribbling infield grounder up the third base line. In some ways, he reminds me of
Scott Rolen
who, by the way, made 24 errors in his first full season in Philadelphia.
A good defender in his own right, it's possible that Gordon may take the hot corner by force, which would mean a move or a trade involving Teahen may happen someday. Regardless, the Royals are hoping that Teahen makes that decision more difficult than it needs to be by continuing to progress offensively and turning his Gold Glove potential into a trophy for his trophy case. If Teahen becomes a left-handed version of
Joe Randa
this year, the Royals will be thrilled.