Graffanino added, Ambres designated for assignment...
The Royals today took a giant step toward finalizing their roster for the season, claiming
Tony Graffanino
from the Red Sox and Rule 5 pick
Steve Andrade
from the Padres. To make room, they designated
Chip Ambres
for assignment, which means he must now clear waivers in order to be sent to the minor leagues. There's a chance another club could lay claim to Ambres, so the Royals might lose him.
So long, Chip.

As a Rule 5 selection, Andrade cannot be sent to the minor leagues, so it's almost certain that he'll now break camp as the Royals' final relief pitcher. The 28-year-old righty has a solid track record of success in the minor leagues, but we don't have much information on him other than his stats. Andrade was listed as the Angels' 30th-best prospect in the 2004
Baseball America Prospect Handbook
, which said he was very deceptive due to a "funky delivery and arm action with a head jerk," and that he "catapults himself toward the plate, a la
Robb Nen
." He could be an interesting guy to watch, and if nothing else, his acquisition helps to ensure that we won't see
Steve Stemle
make the club.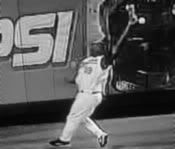 The Ambres decision is likely to cause some heartburn among statheads, who have always been entralled with his plate discipline.
RC
was starting to come around on the idea of Ambres making the club over
Aaron Guiel
, so we were a little surprised when we saw it was Ambres, not Guiel, who was booted from the 40-man roster. Nevertheless, we still maintain that Guiel is a better player right now, and Ambres isn't the type of player the Royals are ever likely to miss. Furthermore, Guiel gives the Royals another decent left-handed bat off the bench, and there's a better-than-even chance that Ambres won't even be claimed.
The other key implication of today's events is that it gives us our best idea yet of what the 25-man roster will look like when the Royals head north later this week. Barring trades, this is our best guess:
C: Buck, Bako
1B: Mientkiewicz, Stairs, Sweeney
2B: Grudzielanek
3B: Teahen
SS: Berroa
UT: Graffanino, German
OF: DeJesus, Brown, Sanders, Guiel
SP: Elarton, Mays, Affeldt, Bautista
RP: Burgos, Sisco, Dessens, Wood, Peralta, Gobble, Andrade
Our biggest concern now is about what happens when
Runelvys Hernandez
joins the rotation in mid-April. Before the acquisition of Graffanino,
Esteban German
figured to have a lock on a roster spot. Now, he seems to be the most likely player to be discarded on April 14. Of course, that assumes everything three weeks from now looks exactly like it does now, and we all know that trades, injuries, and circumstance have a funny way of changing things.
Editor's Note (Tuesday evening): As expected, we've learned that the Royals tonight also released Joe McEwing. RC wishes the best of luck to Joe, who by all accounts is one of the finest teammates and classiest players in baseball.