Renovations there will be!
As you may have noticed,
RC
over the past couple months has remained silent on the ballot initiatives that Jackson County residents voted on today. We've always thought it somewhat tacky for non-KC residents to take a public position on taxes they would rarely have to pay, and it seemed best to leave discussion of such polarizing issues to more appropriate forums prior to the election.
Now that the results are in, we must say that
RC
couldn't be more pleased with the outcome. Not only did Jackson County residents approve a $250 million facelift for one of baseball's most beautiful stadiums, but they also rejected the rolling roof scheme. In our eyes, the Royals were the big winner today, as the wheels have been set in motion to build a revenue-generating machine. Today's vote not only enhances the Royals' long-term ability to compete, but it also ensured that they'll stay in KC for at least 25 more years by locking them into the new lease they recently signed.
RC
has been to most of baseball's new downtown stadiums, and while they certainly offer some benefits that the Truman Sports Complex does not, Kauffman Stadium is so beautiful and perfect that talk of abandoning it always seemed silly. As with any election, there were devious tactics and shenanigans deployed by both sides, but for us, the main question always boiled down to our love of Kauffman Stadium. Jackson County today ensured that it will be a long time before we have to hear such nonsense again, so kudos to them!
RC
sends
Kevin Kietzman
and
Bob Fescoe
and the rest of the seething crew at 810 our condolences.
Sorry about the lack of a report from Opening Day. It was a long day for RC, and we didn't even take our camera to the game. The Royals played a pretty solid game, and we liked what we saw from Scott Elarton, Doug Mientkiewicz, and Mark Grudzielanek. Ambiorix Burgos looked dominant out of the pen, and David DeJesus had the type of solid at bats we expect to see from him all season.

We weren't thrilled when we heard boos raining down upon Mike Sweeney after he tapped out to the pitcher with a man on third base, but after checking with the Elias Sports Bureau, we learned that Sweeney was in fact the first $11 million player in baseball history to do so with a man on third base and less than two outs. Kansas City certainly taught him a lesson on Monday, and it's one we hope he doesn't forget anytime soon.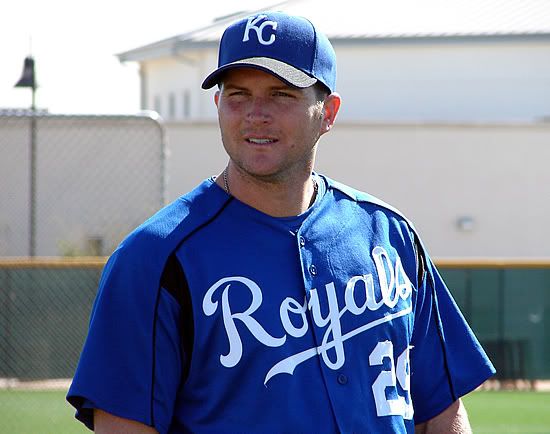 Damn you, Mike Sweeney!



We're sure that he'll never do that again after realizing how much Opening Day fans (or as Sweeney accurately calls them, "Chiefs fans") don't appreciate him not coming through 100 percent of the time. Boy, does he have egg on his face...
RC will be at Wednesday's Royals game as the boys in blue attempt to exact revenge against Jemrey Bodnemran (he'll never notice that we spelled his name incorrectly, teehee). We'll be toting our camera as Joe Mays takes the hill, and we plan to have a full report for you tomorrow evening. Also, our draft update promises to be a little slow in the making this week, but we should have something for you in the next couple days. To spoil the suspense, we don't anticipate any real movement on our list, as North Carolina's Andrew Miller continued to display the dominance that has thus far put him heads and shoulders above the rest of the '06 draft class.