Sunday notes: Roster settled, RC sees Max Scherzer
When
RC
last set foot on the University of Kansas campus seven years ago, we left with a hangover, a black eye, and someone else's shoes. Saturday afternoon's baseball game between Mizzou and KU set the stage for our triumphant return, and although
RC's
alma mater ultimately lost, we got a good look at pitching prospect
Max Scherzer
.
Scherzer,
RC's
third-ranked draft prospect
, was pitching for the first time in three weeks, having missed the previous two weekends with bicep tendinitis. The Tigers' coaching staff was very careful with him, imposing a strict 70-pitch limit. As it were, Scherzer tired after four innings and only 54 pitches, and he was lifted for a reliever to start the fifth inning. In his four innings, Scherzer allowed a run on five hits and two walks while striking out two.
Stuff-wise, Scherzer was pretty erratic, although we suppose that's to be expected after a long layoff. He did hit 99 mph a couple times in the first inning, but by the fourth inning, his fastball velocity was down to the 93 mph range. He worked in a few nice-looking changeups at 82-84 mph, and his breaking balls ranged from 85-89 mph. The command really wasn't there, but it wouldn't be fair to judge him in his first outing back.
We plan to get another look at him next weekend, as the Tigers host the Nebraska Cornhuskers. We'll write up a detailed report about Scherzer after that game, and we'll provide you with some exclusive video of both him and Nebraska's
Joba Chamberlain
. In the meantime, you can check out some more Scherzer photos by clicking
here
,
here
,
here
, and
here
.
Well, the Royals' roster has been finalized, and once again, RC missed badly with our projections for the final two spots. We had figured that Joel Peralta and Steve Andrade were locks for the club, but of course, they weren't. The final two spots went to Luke Hudson and Steve Stemle, much to our suprise.

In Peralta's case, his demotion to Omaha isn't really a big deal. He's still in his option years, so the Royals can freely move him up and down without exposing him to waivers. Though he didn't make the club out of spring training, he'll be back up soon enough, and RC figures we'll all see a whole lot of Peralta during the course of the season.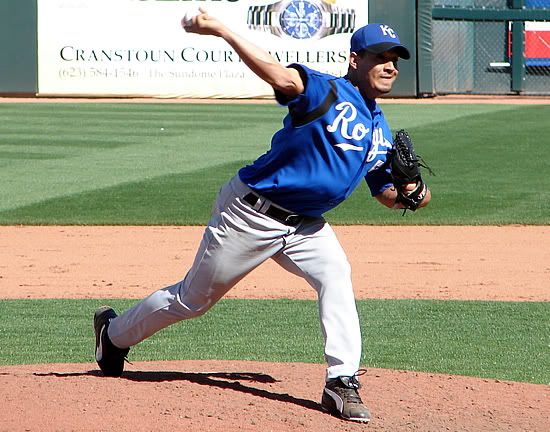 Peralta's demotion surprised us, but he'll be back at some point.



We were a bit more surprised by Andrade's failure to make the club. Though he only arrived in Royals camp less than a week ago, his status as a Rule 5 draftee meant that the Royals would lose him if he didn't make the 25-man roster. Apparently the Royals found Andrade's presence in the organization less valuable than whatever Stemle brings to the table.

Not that there's necessarily anything wrong with the Royals' reasoning. Oh, this move set off another round of vicious Baird bashing, such as the rant in our right sidebar by our friends at Rotoworld. But we guarantee that the person who wrote that has never seen Andrade pitch. RC certainly hasn't.

How could the Royals cut loose a pitcher with such stellar minor league numbers? It's simple -- they weren't confident in his ability to replicate those numbers at the Major League level. This could have been the result of any number of factors, but most likely it was because the Royals didn't think his stuff was good or consistent enough to get Major League hitters out. And clearly, the number of organizations though which Andrade has passed since December is a testament to the fact that the Royals aren't alone in that opinion.

It's nothing new for a pitcher -- particularly a relief pitcher -- to dominate in the minors with stuff that isn't Major League caliber. Remember Chris DeMaria? The Royals picked up DeMaria in the minor league portion of the 2004 Rule 5 draft, and in 2005, DeMaria continued to dominate the minor leagues. On stats alone, DeMaria looked like a complete stud. However, as we later learned, DeMaria got by in the minors by relying on an above-average changeup, and little else. One-pitch pitchers don't succeed in the Majors, and DeMaria, now in the Brewers' organization, isn't likely to be an exception.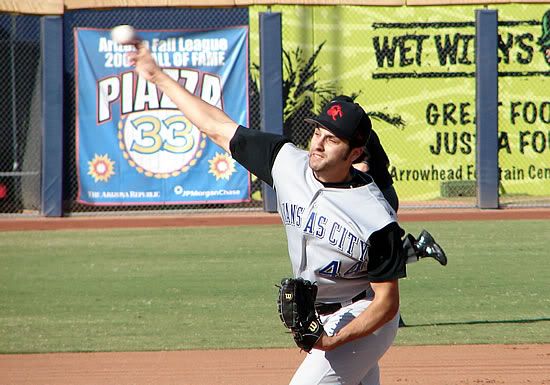 Chris DeMaria's minor league numbers were every bit as good as Andrade's, but we don't bemoan his departure.



We don't know if Andrade is a similar case. Our guess is that there's something about his stuff or delivery that gives organizations a reason to believe his minor league success won't translate to Major League success. Ultimately, he may prove the Royals, the Padres, the Devil Rays, the Blue Jays, and the Angels all wrong, but judging from the number of actual baseball people (rather than Rotoworld geeks) who have passed after actually seeing him pitch, our bet is that he probably won't.

RC certainly isn't wild about seeing Stemle and Hudson on the roster, but we're willing to give both a chance. One will likely be gone when Mike MacDougal returns, and Peralta is only a short phone call away if the other falters. Also, it's important to remember that we're talking about the 24th and 25th men on the ballclub -- regardless of what unfolds, it's not likely to have any real impact on the success or failure of this team.

That's it for today. RC is presently stationed at Western Command in Kansas City (RCWCOM), and we're all set to attend tomorrow's home opener. We've got tickets for three Royals games this week, and we don't have to return to Eastern Command until Sunday night. We're not sure how much content we'll be able to provide for you this week, but we'll do our best. Keep checking back frequently for updates.