What in the hell was that?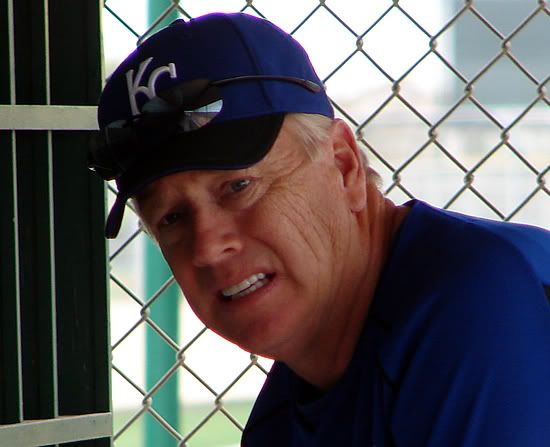 Well, Chapter One of the
Joe Mays
reclamation project didn't go quite as smoothly as hoped, as the Royals dropped a heartbreaker, 14-3. The game started with a
Curtis Granderson
missile off the pad on top of the right field fence, and it got worse from there. Mays surrendered rockets right and left, and with the exception of a three-inning scoreless stint, he was completely ineffective. His velocity wasn't bad, as he was throwing his fastball in the low 90s consistently, but Mays left far too many pitches up in the zone to be successful.
Unfortunately, the Detroit barrage continued against a succession of Royals relievers after Mays left the game in the fifth.
Steve Stemle
and
Mike Wood
were simply terrible, and
Jimmy Gobble
, despite striking out two batters, got hit pretty hard as well. The only solid performances on the mound were put in by
Luke Hudson
, who tossed 1.2 perfect innings, and
Andrew Sisco
, who came in after Wood was ejected and promptly struck out the side with his mid-90s heat. Hudson surprised us a bit, as he mixed a 96 mph fastball with a knee-buckling upper-70s curveball. 810's
Bob Fescoe
said that a scout told him that Hudson had the best stuff of any pitcher he saw in Arizona, and he certainly lived up to that reputation today.
At least Hudson looked good today.
Defensively, the Royals looked an awful lot like the 2005 squad.
Angel Berroa
misplayed a routine ground ball for an error,
Emil Brown
looked lost in left field, and even
Reggie Sanders
couldn't haul in a line drive that looked as though it hit the pocket of his glove. There were a couple nice plays turned in by
Mark Grudzielanek
and
Mark Teahen
, but overall it was the type of team defensive performance that
RC
had hoped was behind them.
And to make matters worse, the team looked completely lost at the plate against
Jeremy Bonderman
, who was in complete command of the game with his 99 mph fastball and dazzling breaking stuff.
David DeJesus
was the only player who consistently got good swings all day, but even he only had one hit to show for it (a scorching triple to right-center to lead off the game).
Mike Sweeney
again drew boos for failing to get him home from third with one out, and Grudzielanek didn't look anywhere close to making solid contact.
The only bright spots offensively, if you can even call them that on a day like this, were impressive home runs by Brown and
Shane Costa
. Costa's dinger was a screaming line drive into the lower fountain in deep right-center, and Brown's two-run shot banged high off the sign above the 385 ft. mark in left. Both, of course, were too little too late, but at least it was nice to see Costa carrying his spring training swing into the season.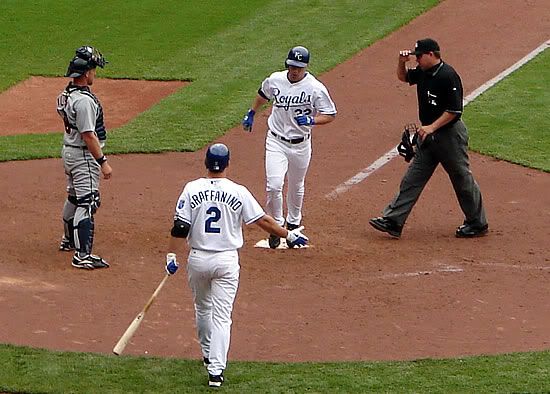 Shane Costa launched a home run off of Jamie Walker in the ninth.

All told, it was a very disappointing day at the stadium, and it ran
RC's
record at Royals games over the last two seasons to a depressing 1-13 (not counting spring training). Of course, it's important to remember that there are 160 games remaining in the season, so the incessantly negative squaking on the message boards and talk radio after just two games is ridiculously premature.
There is one other bright spot we feel necessary to report on.
RC
after the first inning defeated
RC
correspondent
Chris Ray
in the 810 AM pitch-off on the Jumbotron. Ray tried to psyche out
RC
before the contest by telling us that he knew he was going to lose. When that didn't work, Ray resorted to cheating by punching
RC's
golden pitching arm. But alas, his shenanigans were unsuccessful, as
RC's
fastball registered 62 mph on the shamefully inept radar gun at the Little K, while Ray could muster only a pitiful 61. This was a tremendous victory for
RC
, and it's one that promises to eat away at the deep recesses of Ray's tiny black heart. We certainly won't let him forget it anytime soon.