2005 Draft Update...
RC correspondent Craig Weddle has chimed in with a review of the Royals' 2005 draft picks. Here's an updated look at the players selected this summer, most of whom have passed the two month mark of their young baseball careers.

Going into the draft, a lot of people viewed the Royals draft strategy as "
Alex Gordon
and a bunch of signability picks." Considering the speed with which most of their picks (Gordon excluded) signed, money did seem to have been a factor in the Royals' decision making. The Royals signed 13 of their top 15 picks very quickly, then added #3 pick
Chris Nicoll
a few weeks later. Once Gordon signs next month, the Royals will have signed all the players they planned to sign, while still having some intriguing draft-and-follow guys to watch.
It's still very early, but the performances of the "signability guys" have been very encouraging. To keep this from becoming too long, we'll limit our review to the Royals' top 10 picks (plus one).
First we'll look at the high school guys:
Jeff Bianchi
(#2) was the MVP (1.241 OPS) of the Arizona League until he had back problems. Described as a five-tool guy when drafted, he certainly hasn't disappointed. If his health clears up, it's possible he could start the 2006 campaign at High Desert. Not bad for a pick that had some people scratching their heads.
Joe Dickerson
(#4) was another pick that had people complaining about the Royals going cheap. On draft day we heard that he was "toolsy", didn't hit with much power, but had plus defensive ability. His performance in the Arizona League has been very good (.903 OPS) and he could start 2006 in Burlington.
Brent Fisher
(#7) has a respectable ERA of 3.38, but an eye popping K/BB ratio of 60/11. High school kids are young enough, but Brent just turned 18 this month. He has an average/above average fastball with an above average breaking ball. I think he could join Dickerson in Burlington come April.
Nick Doscher
(#8) has struggled and will do some work in the instructional league before starting out in rookie ball next year. He has plus defensive skills, with good power potential.
As for the college guys:
Chris Nicoll
(#3) signed later than most of the picks and has only made four brief starts for Idaho Falls (IF). Chris logged a lot of innings this year at UC-Irvine and the Royals don't want to overwork him. Chris is described as a 3-pitch starter with good command of the strike zone. His ERA (1.84) is solid, and High Desert appears to be his likely destination in 2006.
Shawn Hayes
(#5) has struggled and will likely start 2006 back in IF. He's got good size with above average tools. Like
Brian McFall
a couple years back, he played in a wooden bat league.
Ryan DiPietro
(#6) has logged the most innings for IF. While going winless, his K/BB ratio is a respectable 41/14. Ryan has a "fringe" fastball with an above average breaking ball. He will probably begin 2006 in Burlington.
In addition to drafting a high school catcher (Doscher), the Royals then drafted college catchers with picks 9, 10, 15. All three started out at IF.
Kiel Thibault
(#9) is a year older than the other two and hits with more power. His OPS (1.058) is very good, and he could start out at High Desert next year.
Jeff Howell
(#10) has hit well (.890 OPS), but without much power. Burlington is likely his starting point in 2006.
Brady Everett
(#15) has done so well (1.050 OPS) that he has already been moved up to High Desert. Brady has very good plate discipline and doesn't strike out much. High Desert is probably where he will start out 2006. Defensively he is the weakest of the three. - CW
Well, the Royals miniature winning streak ended tonight with a loss at the hands of the mighty Red Sox. However, RC did take a few positives out of the game.

Zack Greinke did not deserve to give up five runs. We've been watching him all season, and he had some of his best stuff and command of any start this year. He rarely missed his target, his breaking balls were crisp, and his fastball was still reaching the mid-90s in the sixth and seventh innings.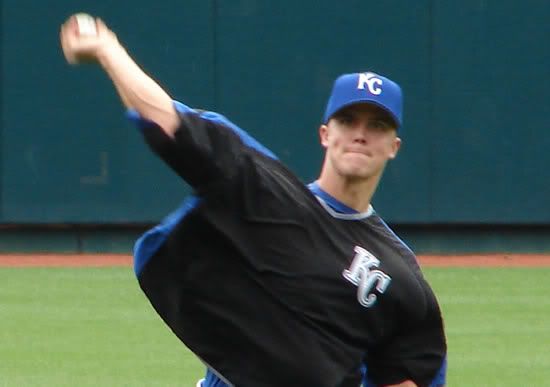 Greinke actually looked really good tonight, but still lost his 15th decision



He simply ran into a lineup tonight that doesn't miss mistakes, but if he pitched like this all the time, Greinke is going to win far more games than he loses.

We were also somewhat pleased to see Donnie Murphy bounce back in the ninth inning -- after striking out in his previous three at bats -- to deliver a two-run single to right field. Folks, it's no secret that Murphy has struggled in KC, but RC is absolutely convinced, after watching Murphy extensively in the minors, that he has what it takes to be a quality second baseman in the Major Leagues. Believe it or not, the kid can pull the ball with power, and he really is an excellent defensive second baseman.

In another organization, he would spend at least another year (probably even two) in the minor leagues, but the Royals have nothing to lose by letting him play in KC now. We just hope that both the fans and the organization will remain patient with him, because he's still in over his head right now. However, we're confident he will start to figure things out. Call it a leap of faith if you must, but we're confident he will become a valuable player.
Royals Nation woke up to some great news today, as it was reported by the KC Star and the Omaha World-Herald that 2005 first round pick Alex Gordon has no intention of going to class this fall. In fact, the World-Herald reported the following:


[Gordon] said Monday he never intended to attend class. The enrollment was completed last spring as a precautionary measure at the advice of his academic adviser in Lincoln.

"I think they've already dropped my classes," he said.

See, all that worrying for nothing. It was merely a negotiating tactic, and it appears to have worked. Gordon will visit Kansas City on September 3-4, and both he and the Royals believe a deal will be completed soon, maybe even early enough to send Gordon to the Arizona Fall League later this year.