Off-day notes on our trip to Richmond...
As many of you know,
RC
was in Richmond this past weekend for a couple triple-A games between the Tigers' and Braves' International League affiliates. The main draw was on Saturday evening, which was a game that featured two of the minor leagues' hottest pitchers, the Tigers'
Joel Zumaya
, and the Braves'
Chuck James
.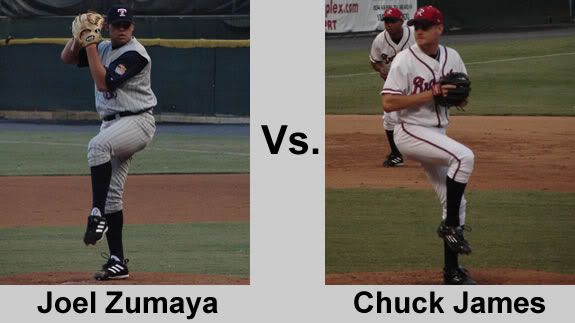 Zumaya is known as a power guy, and James is more of a soft-tossing, crafty lefty. Both pitchers certainly lived up to that reputation when we saw them.
Zumaya was bringing heat in excess of 96 mph, and doing it quite easily. The scouting report we read prior to the game said that he didn't have a changeup, but by God, we saw him whip out a pretty nasty change on several occasions. In fact, we later learned that Zumaya added a change to his repertoire this season, and that's a big reason he's been so effective.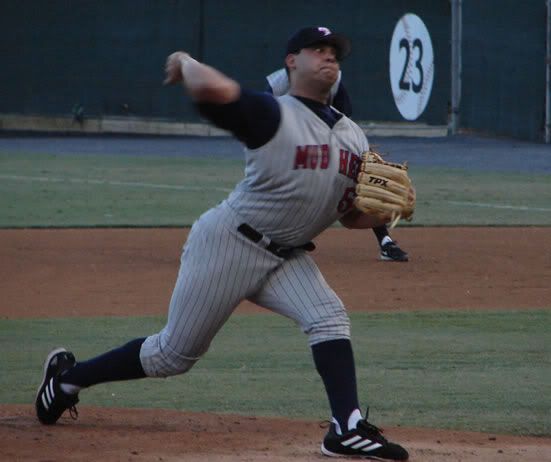 Of course, the pitch that impressed us the most wasn't his change, nor was it his fastball. It was a hard slurve he whipped out on only a few occasions that looked absolutely unhittable. It comes in looking like a fastball, but then, about 20 feet in front of the plate, it has a late but significant 12-to-6 breaking action.
RC
couldn't figure out if it was a slider (because of the speed) or a curve (because of the break). But alas, we were informed that it was a slurve, an explanation that satisfied us. Call it whatever you want, but it's nasty, and
RC
fears future Royal encounters with that crazy pitch.
However, if anything encouraged us at all about Zumaya, it's that his control still needs a lot of work. We saw him throw 99 pitches, only 57 for strikes. Zumaya only walked two, but he was clearly missing his catcher's target all night. His stuff got him out of trouble, as he surrendered only two runs and five hits in six innings, but when you see his delivery, it's pretty easy to hypothesize why he has trouble with his control.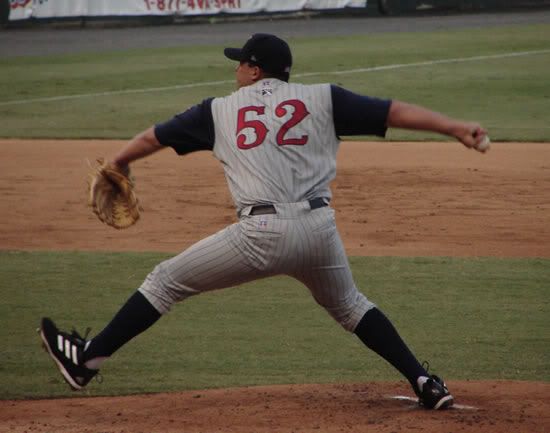 There's just an awful lot going on there. Zumaya's delivery is awfully exertive, and we can see how it would be difficult to repeatedly replicate his mechanics to the point of generating effective control. Nevertheless, Zumaya clearly has the stuff to be a very successful pitcher, and if he can hit his target just a bit more often, he's going to be a star.
Chuck James
, on the other hand, probably isn't going anywhere. Oh, we were incredibly impressed with his control, but he also benefitted quite a bit from a very generous strike zone by the home plate umpire. His fastball was in the low 90s/upper 80s, and his curveball, while effective against lefties, wasn't anything to get us terribly excited. He changed speeds well, and his changeup was probably his only above-average pitch, which he throws with nice tailing movement. On the night, James threw 95 pitches, 65 for strikes, and he also went six innings, striking out eight and walking two while surrendering three earned runs, all coming on a three-run double by former Royal
Gookie Dawkins
.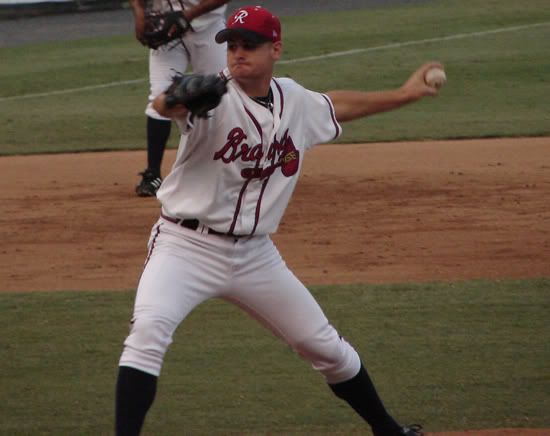 A couple interesting notes on James. Although we saw no evidence of any attitude problems, he apparently has quite a reputation.
Baseball America
reports that he was drafted significantly later in the 2002 draft than he otherwise would have been, due to injuries suffered just days before the draft in a stupid stunt. Apparently, James tried to jump off a roof into a swimming pool, only he missed.
Baseball Prospectus
says that James "is to a good attitude what
Marion Barry
is to ascetic restraint," and that "there's a good chance that he'll one day be on the business end of a highly publicized clubhouse ass-beating." Funny stuff.
A few other notes from Richmond:
Braves 3B prospect Andy Marte is going to be a fine (and maybe even great) Major League player. About that there is little doubt. But after watching him this weekend, RC has concluded that it would be silly to include him baseball's top five prospects, let alone label him "the best prospect in baseball," as Baseball Prospectus did prior to this season.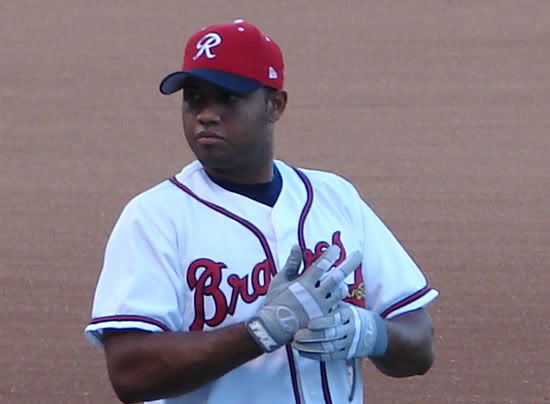 Marte is going to be a good Major Leaguer.



On the year, the 21-year-old is batting .268/.368/.486 with 17 HR in 354 at bats. Those are very solid stats, especially for someone who is among the youngest players in triple-A. And of course, he still has loads of time to get better.

Now, we're not going to say we weren't impressed with Marte. We were, and we even saw him go 4-for-4 on Sunday. But it's just that when we saw him, we didn't see someone who was so far ahead of everyone else on the diamond that he easily stood out as the best player.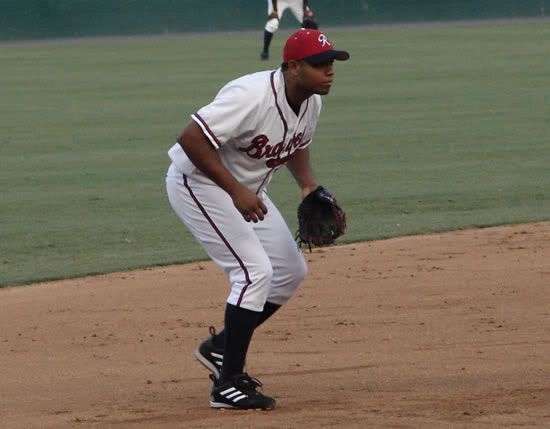 We saw a grounder bounce off of Marte's glove, but the scorekeeper generously awarded a hit, rather than an error.

Yes, it probably takes more than two games watching from box seats to determine such a thing, but we've been to a heck of a lot of minor league games, and it's usually quite obvious when someone is simply ahead of the game. As for Marte, he's just never dominated any level, and he's certainly not dominating in Richmond. Chalk it up to youth if you want -- Marte has been among the youngest players at every level he's played -- but RC wants to see some domination before we're willing to call someone the best prospect in baseball.





Left: Marte flies out to left. Right: Marte strokes a single to right field.



Of course, as we mentioned yesterday, this was our first triple-A experience, so it's quite possible that the players at such a high level are closer to each other in skill level than they are in the low minor leagues we are accustomed to watching. It's also quite possible that if you stuck Marte in a league filled with other 21-year-olds, we'd see the dominating performance that we require. So perhaps we're completely full of it. Hey, that's certainly an equally valid possibility.
For those of you who bemoan the Royals farm system, just remember that the Tigers are far worse off than KC. Oh sure, the Tigers have a couple top notch pitching prospects in Zumaya and Justin Verlander, but position-wise, the upper levels of their minors are nearly barren of talent. In fact, there are really only two guys worth mentioning, and neither projects as much of a player. The two prospects are Tony Giarratano (SS - Erie) and Ryan Raburn (2B - Toledo). We don't expect to ever hear much out of either.





That's Giarratano on the left, Raburn on the right

.
Finally, RC saw some old friends at the games this weekend, both playing for Toledo. Yes, former Royals Gookie Dawkins and Alexis Gomez have found homes in the upper levels of the Tigers' minor league system, joining Byron Gettis for a triumverate of "what could have been."



What happens when you wash out of the Royals organization? You become a Tigers farmhand. That's excellent news for Ken Harvey.