Royals off and running again...WINNING streak stands at two.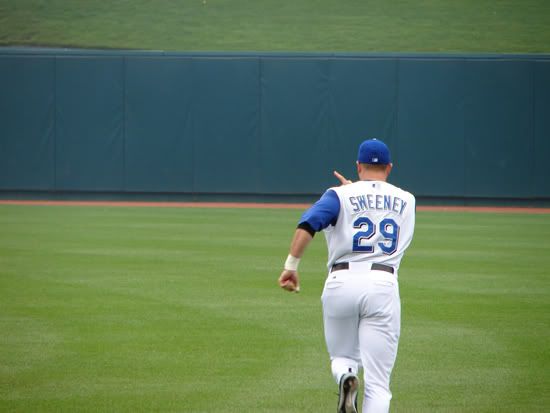 Wow, what a weekend! Due to our travels,
RC
hasn't seen much of the two wins, but boy, it sure feels nice not having to write some variation of "Royals lose again." The bullpen these last two days has been excellent, and while the offense is still sputtering, it's nice to be able to win two out of three from a team that can run out starting pitchers
Rich Harden
,
Barry Zito
, and
Joe Blanton
in consecutive games.
If the weekend had any negatives, they came in the form of a couple minor injuries to
David DeJesus
(rib cage muscle pull) and
Runelvys Hernandez
(lower back strain). However, DDJ pinch ran today and should be back in the lineup on Tuesday, and Hernandez said after the game that his early exit (after two innings) was merely precautionary.
After a day off, the Royals return to action on Tuesday at Kauffman Stadium vs. the Boston Red Sox.
Zack Greinke
will try to make it three in a row, matching up with Sox starter
David Wells
.
Dick Kaegel today reported that the Royals are in talks with Matt Stairs, who is eligible for free agency following this season.


"[Allard Baird] wants me back so we're negotiating a contract," Stairs said.

"We do have some interest," Baird said. "He's done a quality job. We've used him more than we anticipated when we originally signed him. He's done a solid job on the field as well as in the clubhouse."

We really like having Stairs around, so we're pleased to hear this. However, we hope to see a dramatic decrease in the big guy's playing time next season. With Justin Huber and Mike Sweeney splitting time at 1B, there shouldn't be too many at bats available for a 38-year-old with a beer league softball swing. With luck, the Royals will finally use Stairs as they intended to when they first signed him in 2003 -- as a left-handed bat off the bench.
Reports out of Kansas City are that first round draft pick Alex Gordon will not go to class tomorrow at the University of Nebraska. No big surprise there. It's an aggressive negotiation, but Gordon is simply not going to walk away from a guaranteed $4 million this early. If he doesn't ultimately get what he wants, he may go back into the draft (although we HIGHLY doubt the Royals will let that happen), but that breaking point is still over nine months away. August threats are meaningless.


A special thanks goes out RC friend Chris Ray, who at our direction made his first RC post yesterday in our absence. And a big congratulations is also in order. Ray, you will remember, saw his first son delivered on July 27, approximately 30 minutes after Emil Brown stroked a walk-off single in a 6-5 victory over the White Sox.

If God has a sense of humor, it just might be a sick, twisted one at that. Chris is, as we stated before, undisputedly the world's biggest Royals fan. And until Saturday night, his son, Brett -- who he named after the greatest Royal of all -- sported an unfathomable 0-19 lifetime record. During the streak, RC demanded that Brett's body be searched for any anti-Royal birthmarks, and we suggested that it might not be a bad idea to sprinkle some Kauffman Stadium fountain water over his crib, "just to see what happens." However, our repeated requests were summarily dismissed, and quite rudely at that.

Well, it turns out our fears were all for nothing. Congratulations again to Brett Ray, for the first two of what we're now sure will be many victories!


The little guy finally saw his first wins!
As we mentioned on Friday, RC was in Richmond over the weekend to check out some prospects and watch a great pitching matchup between Joel Zumaya and Chuck James. The focus of our attention was on two players: Zumaya and Braves 3B prospect Andy Marte. We'll have a detailed report for you tomorrow, but for now, please enjoy a couple photos we took: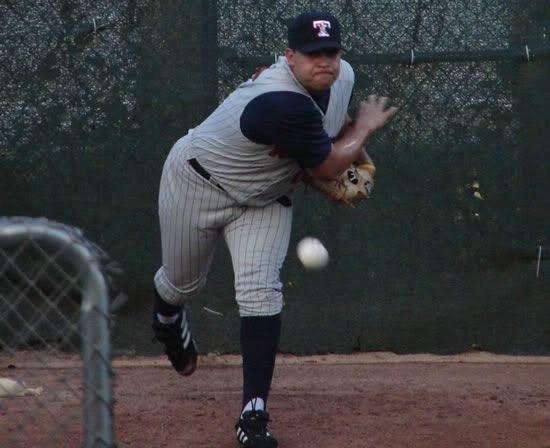 Joel Zumaya is a beast with a great fastball, a great slurve, and little control.


Baseball Prospectus this year labeled Andy Marte as the best prospect in baseball. We'll tell you why that was stupid.


Be sure to check in with us tomorrow.