Sour sixteen...
Bob Schaefer just couldn't pick out a win on Monday in Buddy Bell's absence.
This is depressing. Yes, it's been depressing for a while, but
RC
watched tonight as the Mariners' super-prospect
Felix Hernandez
carved up the Royals like a skilled veteran. Even though
Runelvys Hernandez
countered with some good stuff (although giving up six runs), the Royals never even had a chance. It was another ugly game all around, and
RC
is getting really tired of waiting for this team to win again. It is simply amazing that KC hasn't tasted victory since July 27. We are at a loss for words.
Tomorrow
Zack Greinke
will take the mound vs.
Joel Pineiro
, so the Royals may finally be able to end this horrible streak. Of course, Pineiro shut the Royals out for eight innings in his only previous start against KC (in 2002), so we won't be holding our breath.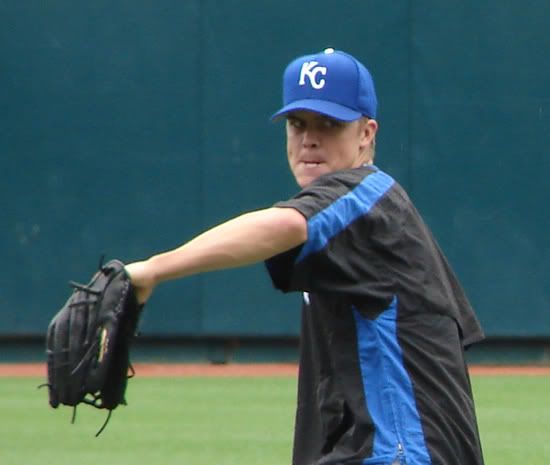 KC needs a good start from Zack tomorrow.
RC's readers have spoken, and you have decided that Terrence Long is the most worthless player on the roster. With 55 percent of the vote, T-Long beat out other worthy candidates such as Denny Hocking, Joe McEwing, and Jose Lima. We were not surprised by the result, and frankly, RC completely agrees with our readers.

We can be honest. It wasn't long ago that RC was able to rationalize T-Long's playing time. We figured Long was being given a chance to play his way onto a contender, so the Royals could dump his remaining salary this season (or at least a portion of it) on a team trying to make a run. "Let him play in July," we said then, "because that still leaves the Royals two full months to figure out what they have in the oufield for 2006." Even when the July 31 trading deadline passed without resolution, we weren't terribly concerned, because the real trading deadline for an overpaid, below-average player is actually the August 31 deadline.

We figured then that Long would be given a few more days in August, but if nothing developed quickly, he would either be benched or released in favor of younger players like Chip Ambres (primarily), Matt Diaz, or Shane Costa. After all, those three will actually be with the organization next season, whereas Long will be nothing more than a distant memory.

Of course, that hasn't happened. Long still plays nearly every day. To make matters worse, with a recent calf injury to Matt Stairs, we've even been unfortunate enough to see Long finding his way into the cleanup spot a couple times in the last week.





Why is T-Long still taking at bats from Chip Ambres?



This is unacceptable. Let us be clear when we say that this makes absolutely no sense. None! There is no rationalizing T-Long's continued presence in the KC lineup, particularly when it's costing someone like Ambres playing time. The fact is that we don't yet know what we have with Ambres, but NOW is the time to find out, NOT Spring Training 2006. If Chip played every day, the Royals might lose an extra game or two, but at least they'd know whether or not the kid can play, and that's crucial information to have when Allard Baird sets about filling out the 2006 roster this offseason.

Long's departure from this team is long past due, so if Baird can't trade him immediately (if he could, he would have done so by now), the Royals should either bench him or waive him. RC doesn't often find ourselves at odds with our official hero, but in this case we just can't figure out what's going on.

Moving on to better things...
If you haven't yet signed up for the Royals Corner Daily Prospect Update (DPU), you'd better do so immediately! We plan to send out our first e-mail update tomorrow night, and it promises to be controversial. RC has expanded our prospect list to the top 20 Royals prospects, and tomorrow we will release it for scrutiny. Of course, the only way you'll get access to that premium content is to sign up for the DPU right now.

For all subsequent DPUs, our crack team of minor league gurus will provide a daily update on what those top 20 prospects did the previous night, as well as anything else noteworthy from the Royals' minor league system. After the season, we'll provide occasional updates on the Arizona Fall League and winter ball, as we get them. To sign up, simply send a blank e-mail to Royalscorner-subscribe@yahoogroups.com and follow the instructions, which will require you to send a confirmation e-mail (Editor's note: you do NOT have to sign up for a yahoo ID).

And don't worry, Alex Gordon is not on our new top 20 list, for those of you who worry about such things...