RC's look ahead at 2006...
Last week, we promised to take a look at next season's Royals roster. This is a difficult task, because despite what that Royals ultimately do,
RC
does not expect to see any significant move toward contending in 2006. Rather, the focus must remain on development and evaluation, and our 2006 roster reflects that. Everything the Royals do must be geared toward competing in 2007, regardless of how much pressure there is to make a splash in the free agent or trade market.
Today,
RC
takes a look at the position players and our expectations for this offseason. We will cover the pitchers tomorrow.
Expected 2006 roster (position players):
John Buck
Paul Phillips/Matt Tupman
Mike Sweeney
Justin Huber
Matt Stairs
Donnie Murphy
Angel Berroa
Andres Blanco
Mike Aviles
Mark Teahen
David DeJesus
Emil Brown
Chip Ambres
Shane Costa
Catcher:
John Buck
remains the starting catcher, but if the Royals don't see improvement in 2006, then they need to start looking for an alternative. Looking through the organization, the only possible future starting catchers still reside in low-A ball and below, so they will not be ready by 2007. Therefore, the Royals should spend next season figuring out if Buck is a long-term answer, and if they conclude that he isn't, then they need to begin looking for a catching upgrade via trade in 2006 or free agency after the season.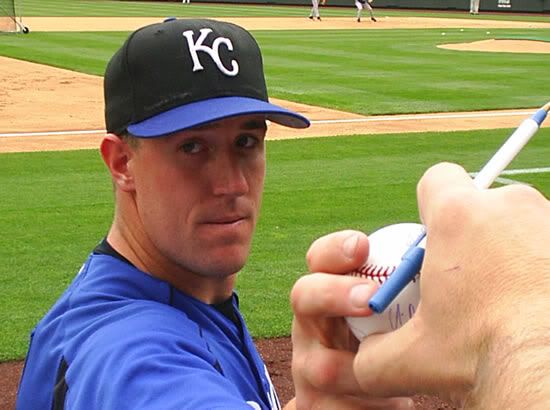 Will Buck ever develop into the player the Royals hope? We sure hope so.
The backup catcher position can be filled easily from within the organization.
Paul Phillips
is currently getting a shot to show that he belongs, but don't be surprised if
Matt Tupman
also gets a crack, either in September or in spring training.
First base:
Justin Huber
will finally arrive, and he will most likely split DH/1B responsibilities with
Mike Sweeney
. Also in the mix will be
Matt Stairs
, who will, God willing, see only extremely limited playing time in the field.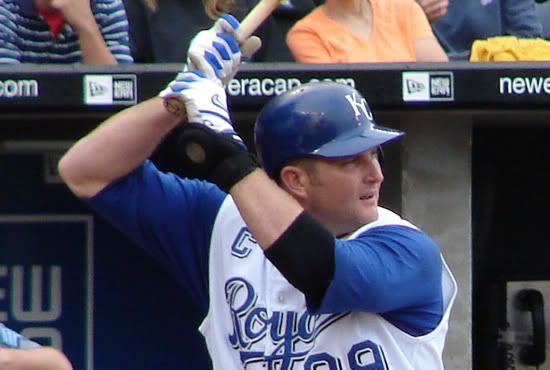 KC needs another good season out of Mike Sweeney.

Second base:
RC
does not believe the Royals will give up on both
Donnie Murphy
and
Ruben Gotay
by signing a free agent second baseman this offseason. As you know,
RC
is a big fan of Murphy, and we believe that in time, he will be a perfectly capable second baseman. However, we have heard some grumblings in the media that the Royals view Murphy's upside as little more than a utility player, and that they are in fact serious about signing a second baseman.
If that happens, then Murphy becomes the organization's primary utility man, but for the time being, we're still penciling in Murphy's name as the second baseman in 2006. We want to see the Royals give him a full season to see what he can accomplish. If he still hasn't shown improvement by late July, the Royals should pursue other options via trade and/or free agency in the offseason.
Third base:
Next season is more pivotal for
Mark Teahen
than anyone else on the roster. We'd hesitate before calling 2005 a failure for Teahen, because he has played better defense and improved his plate discipline throughout the year. But the fact is that his line of .230/.297/.340 makes him the most unproductive third baseman in all of baseball, a smidge behind even
Mike Lowell
and
David Bell
, according to
Baseball Prospectus
.
RC
wasn't expecting much out of Teahen this season, but we never imagined he'd have only 27 extra base hits at the end of August.
Third base is an offensive position, and Teahen simply MUST hit better than that. For 2006, he remains our third baseman of choice, but he must start pulling the ball more often. It simply doesn't make any sense how a guy built like Teahen can hit with so little power. That power is in there somewhere, and Teahen has to find it, or he's going to be replaced, defense be damned.
Since even before
Alex Gordon
was drafted,
RC
has penciled him in as KC's starting right fielder in 2007. We're not doing that anymore. Rather, we now want the Royals to leave Gordon at third base for the time being, as a backup plan in case Teahen fails. If Teahen starts hitting next season, the Royals can begin getting Gordon work in the outfield in preparation for 2007. If Teahen doesn't start hitting, then Gordon needs to be the man to step in at third.
Shortstop:
If it were up to us,
Angel Berroa
would not be KC's shortstop in 2006. We would trade him for luggage if offered. However, Berroa's contract pretty much ensures that he'll continue making stupid blunders on the Royals' behalf for at least another season. Therefore, we have penciled him in as the starter in 2006.
If we had our druthers,
Andres Blanco
would be the man at the six, because while we know he wouldn't hit, at least he'd make the plays on defense. Such an arrangement would also mean that we wouldn't have to constantly ask ourselves how such a physically gifted athlete could be such a lousy, dumb baseball player. But oh well. Sooner or later the Royals are going to come to the conclusion that the $10 million they have committed to Berroa through 2008 is a sunk cost regardless of whether or not he's in the lineup, and that being the case, there's no reason to continue putting up with his stupid play.
Of course, there's also some good news here. The Royals have built a good deal of depth at shortstop in the low minors, and there is help on the way. Just not yet.
Utility infield:
If the Royals sign a second baseman, then either Murphy and/or Blanco becomes the primary utility man. If Murphy stays at second, then
RC
believes you could see
Mike Aviles
on the Royals roster in 2006. Aviles can play SS, 2B, and 3B, and Blanco plays 2B and SS. In this arrangement, Blanco could start at 2B vs. tough righties, while Murphy would be the primary second baseman at all other times.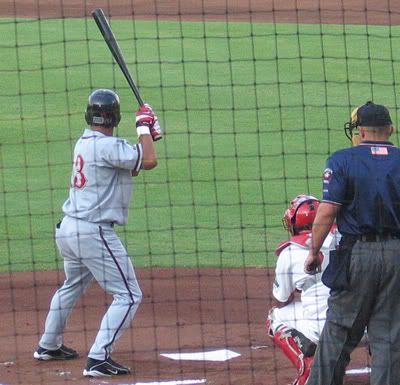 Aviles' bat could be a plus in a utility role.
Aviles was rated as the best defensive shortstop in the Arizona Summer League in 2003, but he's been dreadful with the glove this year (40 errors). He boasts a strong arm, but his range is limited and his footwork around the bag at second base is pretty ugly. However, his bat could be an asset off the bench in a utility role, and
RC
wouldn't mind seeing him get a shot. In addition,
Ruben Gotay
could find himself back in the mix, as a backup to Murphy and a left handed bat off the bench. More likely, however, Gotay will start 2006 in Omaha.
Center Field:

We separate CF from the other outfield positions because it's not even really worth writing about.
David DeJesus
will patrol center for the Royals until he no longer wants to be a Royal. Hopefully
Allard Baird
this offseason can get DDJ to agree to extend the length of time between that point and now by signing him to a long-term contract. DeJesus is quite simply "the man," and he is
RC's
Official Favorite Player.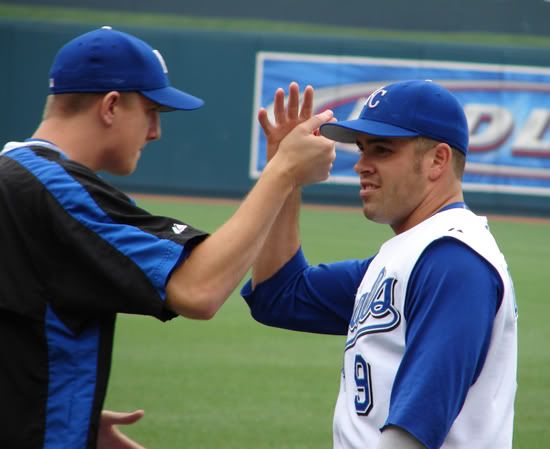 Hats off to DeJesus, who has just been named RC's Official Favorite Player!
Corner outfield:

Looking at the potential free agent list, we just don't know who is a good fit. We are hesitant to want to sign anyone to anything longer than a one-year contract, because there are several potentially good outfielders in the pipeline (
Billy Butler
,
Chris Lubanski
, and
Alex Gordon
) who should be ready soon. Much also hinges on whether or not the Royals believe in Teahen, or if they feel that Gordon is going to be the third baseman of the future.
The key thing to remember is that the Royals are not going to compete for anything in 2006. Next season is one in which you hope to see significant improvement, but 2007 must remain the focus. Therefore, expensive contracts are a waste, particularly in the outfield, unless they secure a player who will be productive for several years. And when you see the free agent list below, you'll see that there really isn't any outfielder available who can fit that description.
We expect the Royals to roll with
Emil Brown
in 2006 because he's cheap, and we don't know if the Royals will be able to entice a free agent outfielder to come to KC. Emil has no future in KC beyond 2006, but in the meantime he can at least give them some professional at bats, and he's completely benchable if a potential replacement emerges, either from the minor leagues or through a trade. We also wouldn't mind seeing
Matt Diaz
get an extended look, in lieu of Brown if need be. And of course,
Aaron Guiel
could get a shot in a platoon role.
RC
wants to see left field serve as the rotating proving ground for our marginal outfield prospects,
Chip Ambres
and
Shane Costa
. We don't expect either to become overly productive players, but their platoon should be an audition of sorts for the role of fourth outfielder of the future. If Butler continues knocking the cover off the ball in the minors, he'll become the everyday left fielder sometime during the season, and the Royals can move Ambres and/or Costa to right field.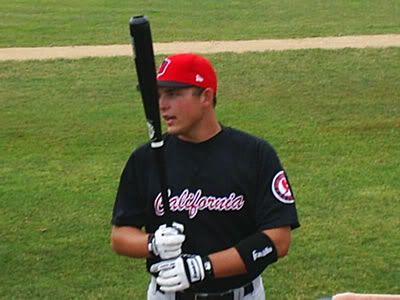 RC expects Butler to take over in left field at some point in 2006.
Potential free agents – offense:
RC
has identified a few players who might be able to help the Royals next season. However, none are ideal fits, and we would not be surprised, or terribly disappointed, if none are signed.
On the infield, we like
Bill Mueller
,
Rafael Furcal
,
Nomar Garciaparra
, and
Mark Grudzielanek
. If last year's free agent market is any barometer, Furcal will demand the highest ransom, in the form of multiple years at over $5 million per season. The chances of the Royals signing him are almost nothing, as they don't seem terribly interested in supplanting Berroa as the shortstop quite yet. Furcal will attract significant interest from a number of clubs, so a bidding war in which the Royals cannot compete is likely to occur.
If the Royals are serious about signing a free agent second baseman, Grudzielanek is likely to be their first and most serious target. Grudz is making $1 million this season for the Cards, and he's putting up numbers (.303/.342/.419) in line with his career averages. He's probably due for a slight raise, but he's definitely someone the Royals should be able to sign.
Mueller is primarily a third baseman, but he has played second base. He'd be a defensive liability there, but his bat might make up the difference, provided he's actually willing to sign up to play second. Again not likely, but Mueller is an intriguing player.
Of course, if you're interested in intrigue, you could do worse than to target Garciaparra. Ravaged by injuries the past couple years, Nomar again this offseason probably won't get any multi-year offers, so he'll be looking for a one-year contract. If the Royals want to take a risk, they could throw some money at Garciaparra and move Berroa to second. Don't count on it though.
In the outfield, the pickings are slim. The only potential outfielder worthy of a multi-year deal is
Brian Giles
, but he'll be 35 next year, and there should be a number of teams willing to overpay for him for a span stretching into his late 30s or early 40s. He could help the Royals next year, but we'd be leery of offering him a big bag of money for multiple years. Rather, we think the Royals ought to wait until the 2006 offseason to break the bank on a free agent outfielder, if the need still exists.
The cheaper outfielders available are also very limited. Among the list, only
Jacque Jones
,
Preston Wilson
and
Rondell White
figure to be affordable upgrades. Of course, "upgrade" is a relative term, as
RC
really doesn't long to see any of the above in Royal blue next season.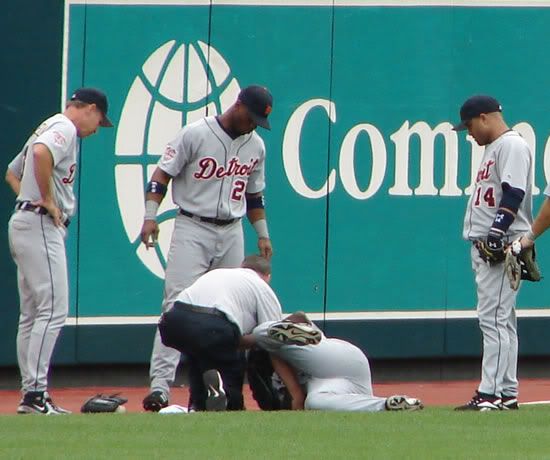 Rondell White's season ended in KC earlier this month. Will his next game be played as a Royal?

That's it for the position players. Be sure to check in with us tomorrow, as we take a look at the 2006 pitching staff. While we don't expect major moves to happen with regard to position players, we do think there are some things the Royals can do to significantly upgrade the pitching staff.