DeJesus shows Damon what a real center fielder looks like...Royals beat champs!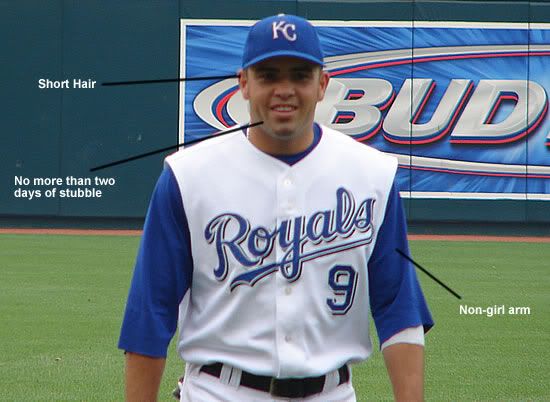 We hope Johnny Damon was taking notes tonight
Well, that was certainly one hell of a game. It had it all...frustration, redemption, great pitching,
Angel Berroa
stinking, a rain delay, and more frustration, but somehow the Royals pulled out a 4-3 victory in 11 innings.
David DeJesus
, of course, was the hero. DDJ went 3-for-4, walked twice, and blasted a two-run HR in the fifth inning to tie the game. He also scored the game-winning run in the 11th inning on a short pop-up to left field off the bat of
Chip Ambres
. DeJesus beat the throw by a few inches, sparing Ambres the embarrassment of twice failing to get the winning run home with a runner on third and less than two outs (he struck out in the 8th with the bases loaded).
The bullpen tonight was also incredible, throwing 5 1/3 shutout innings.
Ambiorix Burgos
relieved starter
D.J. Carrasco
and threw 1 1/3 heart-stopping innings, which climaxed with a full count strikeout of
Jason Varitek
on a nasty splitter.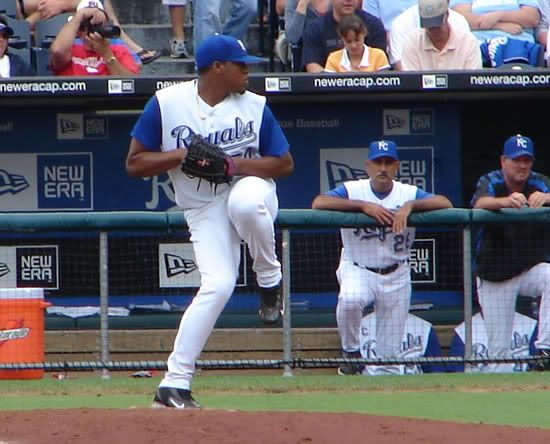 Burgos is the man! RC has ever-growing confidence in the awesomeness of Amby.

Jeremy Affeldt
then pitched an effective eighth (finally lasting an entire inning), and
Mike MacDougal
tossed a brilliant ninth. Of course,
Andy Sisco
probably turned in the best performance of all, blowing away the middle of the Sox order with two perfect innings. It was fitting that Sisco got the win.
All told, it was a satisfying victory for the Royals, and they'll go for their second straight series win tomorrow in the rubber match. The Royals go up against
Curt Schilling
, who is making his return to the Boston rotation after mixed results as their closer. This one could go either way, as nobody is sure what to expect from Schilling.
RC
will be at a minor league game in Woodbridge, Virginia (checking out a couple Astros prospects --
Hunter Pence
and
Ben Zobrist
), but we'll listen to the game on our official XM portable radio, and we've already set our DVR, so we should have our usual analysis for you tomorrow night.