RC's look ahead at 2006 -- the pitchers...
Yesterday,
RC
listed the position players who could comprise the Royals' 2006 roster. Today, we round out the roster with our look at the pitchers we expect to see in Kansas City next year.
Expected 2006 Pitching Staff:
Zack Greinke
Runelvys Hernandez
Denny Bautista
J.P. Howell
Free agent
Mike MacDougal
Ambirorix Burgos
Andy Sisco
Mike Wood
D.J. Carrasco
Jonah Bayliss/minor leaguer/free agent
Starting rotation:
The top two guys,
Zack Greinke
and
Runelvys Hernandez
, are locked into their spots. We have been encouraged by Hernandez's progress this season, and though we don't know if he'll pitch again this season (because of back pain, shoulder tightness, and pending suspension), we're pretty sure that we can count on him to deliver at least a league-average performance again next season.
In order to be a Royals fan, one must have faith, and we are simply not convinced that Zack won't become a quality pitcher again. With a guy like Greinke – who has seemingly endless talent – the Royals must be patient. And while this season has been a tremendous disappointment, the long-term future of the Royals is largely dependent upon the performance of Greinke, perhaps more so than any other Royals player. KC needs to keep starting him, and we're sure they will.
Behind the top two, things get a bit murkier.
Denny Bautista
has shown flashes of brilliance, but he's had trouble staying healthy. His future may ultimately be in the bullpen, as
Guy Hansen
suggested earlier this year, but we don't expect the Royals to give up on him as a starter just yet. If he's healthy, he has to be slated for a rotation spot.
Hopefully Guy's guys do better next season.
We are also anticipating that
J.P. Howell
gets a rotation spot. Of course, much of this is dependent upon his performance for the remainder of the season. Howell is still green, so it wouldn't hurt to have him spend a full season in Omaha. However, the Royals clearly believe Howell will develop faster at the Major League level, so they haven't been afraid to push him. If he isn't overwhelmed in his September starts, he's nearly a lock for next season's rotation.
For the final rotation spot, we want to see the Royals go outside the organization, either through free agent signing or through a trade. Sure, there are a few candidates in house, such as
Mike Wood
,
D.J. Carrasco
, and
Andy Sisco
. But we think both Wood and Carrasco would be more valuable as the bullpen's long-relievers and occasional spot starters. And as much as we'd love to see Sisco get a shot at starting, we don't think the Royals are terribly interested in removing him from the bullpen, where he has excelled.
If the Royals are going to improve their team in the offseason, this is precisely where it is most likely to happen. The number of available quality starting pitchers is far greater than the number of available quality outfielders.
Clearly, the free agent prize of the offseason is going to be
A.J. Burnett
. The Royals have no chance of signing him, because they simply won't be able to outbid the larger market teams that will be throwing money at him. After Burnett, the next tier is occupied by guys like
Matt Morris
and
Kevin Millwood
. We'd be surprised if Morris actually leaves St. Louis, and we understand Millwood would prefer to stay with Cleveland, but the Royals, if interested, might be able to lure one away with a truckload of money.
Of course, we doubt any of those guys will be in Royal blue next season. Instead, we expect the Royals will probably sign someone like
Esteban Loaiza
or
Paul Byrd
– guys who can be expected to give around 200 innings of reasonably well pitched baseball. There are also a couple really old guys, like
Jamie Moyer
and
Kenny Rogers
, who might be looking for a final resting place, so to speak.
We don't expect to see a major signing for the rotation, but if the Royals really want to make a splash, this is probably the position where they'll do it.
Bullpen:

Ahhh, the bullpen. As bad as this season's been, the bullpen has truly been the lone bright spot. The triumvirate of
Mike MacDougal
,
Ambiorix Burgos
, and Sisco has been nothing short of tremendous. Saturday's disaster aside,
RC
feels very comfortable when a lead is handed over to these guys, and we have no doubt that all three will headline next year's bullpen.
As for the other spots, we already mentioned Wood and Carrasco, and both would be major improvements over the riff raff the Royals have run out at the back end of the bullpen for the past several years. No, they won't be great, but their job will be to keep the games close, and they're perfectly capable of doing that.
The final spot is a wild card.
Jonah Bayliss
has pitched well, and if he continues doing so in September, he's the odds on favorite for the final bullpen spot next season. Several other candidates from within the organization also exist, such as
Chris Demaria
and
Leo Nunez
, and any of them also has a chance.
Of course, you'll notice the absence of one pitcher from our list:
Jeremy Affeldt
. Affeldt is eligible for arbitration again in the offseason, and we'd be willing to bet a keg of
Murphy's Home Run Ale
that if he isn't traded after the season, Affeldt will be non-tendered. And good riddance.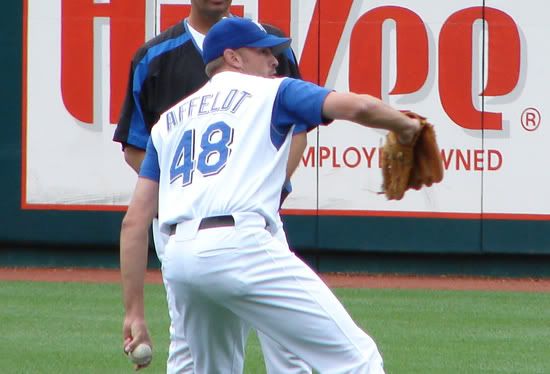 Goodbye, Jeremy.
Well, that concludes our look at the 2006 roster. As you can see, we do not expect many major moves, nor do we anticipate a significant move toward competing next season. The onus for an improvement in the standings rests mainly upon the shoulders of our youth, and the Royals will go no further than their young core can take them. If the Royals fail to improve next season, and it becomes obvious that competing in 2007 is nothing more than a pipe dream, then the Royals will face some very tough decisions about the direction of the ball club.
As for us, we'll continue watching with great interest, because we still believe the pieces are there.
So, the Royals went to Yankee Stadium, and they got swept. Affeldt blew a huge lead on Saturday, and Greinke got lit up today. But forget about all that junk…

Did you see that catch by David DeJesus? Holy crap, that was absolutely unbelievable, easily one of the finest plays we've ever seen a Royal make. On the catch, DDJ landed on and sprained his shoulder, so he'll be out for at least a few days. That sucks, but several years from now, nobody is going to remember that he missed a few games...they'll remember that catch! If you haven't yet seen the play, then forget about the rest of this column and go straight to the Royals homepage, where you can see the video. Here's the link. Amazing!
Finally, RC was in Frederick today for a doubleheader between the Frederick Keys (Orioles) and the Myrtle Beach Pelicans (Braves). We took note of two players, pictured below.

The first is Nolan Reimold, a freakishly strong and very Swedish-looking player who was drafted in June and has already advanced to high-A Frederick. RC has seen him play in three games now, and he's homered in two of them, including the first game today. He'll definitely be listed as one of the Orioles' top prospects next season, so take note.


Reimold pictured immediately before hitting a home run.


Reimold pictured immediately after hitting a home run. Look at that monster...

The other is the first true catching prospect we've seen this year, Jarrod Saltalamacchia. We actually saw Salty hit a homer in a game back in July, but we didn't pay much attention to him then (sorry, we have no excuse).



Jarrod Saltalamacchia: Funny name, serious catcher.

He's a big, athletic-looking catcher who throws well and bats from both sides of the plate. He struggled mightily in the second game vs. a lefty, but his swing from the left side looks very smooth. This guy is going to be really good. As if the Braves didn't already have enough prospects…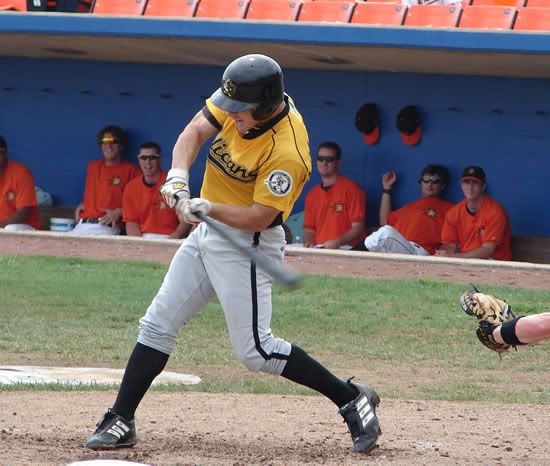 Saltalamacchia looks much more comfortable batting from the left side of the plate.
Saltalamacchia has a very good arm, and he'll be catching for Atlanta someday.